The road away from the abyss: 10 climate promises the financial system needs to keep in 2022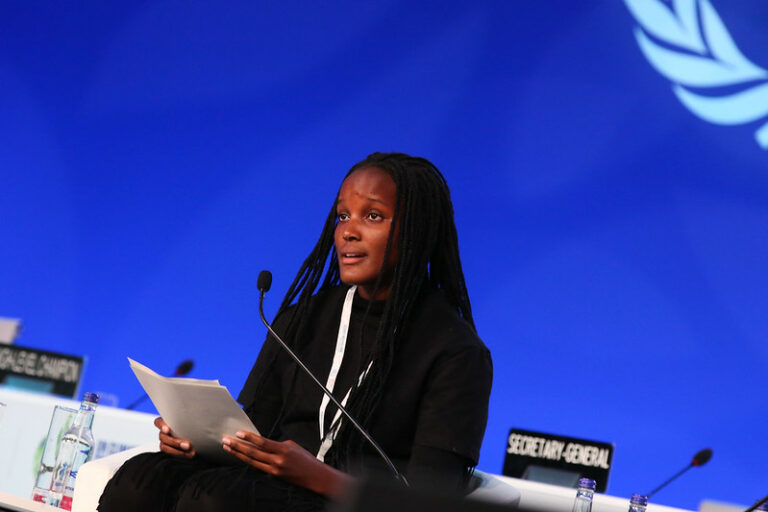 Building on the outcomes of COP26 will be critical to achieving a sustainable financial system, say Nick Robins and Danae Kyriakopoulou, as they highlight 10 areas of opportunity to be seized this year.
"I am here right now to ask business and finance leaders: show us your faithfulness, show us your trustworthiness, show us your honesty," declared Ugandan climate activist Vanessa Nakate at the COP26 meeting in Glasgow. Nakate's words point to the central issue of trust in the climate promises made by governments, development and commercial banks, investors and insurers and central banks and regulators – as well as the promises that they should have made.
The world left Glasgow a few steps closer to a sustainable financial system. Governments' net-zero commitments now cover 90% of global emissions, with notable pledges from India and Nigeria. Yet global emissions at the end of this decade are expected to be twice as high as required for keeping global warming to 1.5°C.
Decarbonisation pledges are becoming more common in private finance, with more than 450 institutions with combined portfolios of over US$130 trillion having joined the Glasgow Financial Alliance for Net Zero (GFANZ) – see Table 1.
Table 1: Net-zero pledges by governments and financial institutions
| | | |
| --- | --- | --- |
| | Governments with net-zero targets | Financial institutions with net-zero targets |
| End 2020 | 127 countries covering around 63% of global GHG emissions are considering or adopting, net-zero targets | 30 institutions with US$5trn in assets have net-zero targets, > 2% of total assets |
| Early 2021 | 131 countries covering 73% of emissions are considering or adopting net-zero targets | 160 institutions with $70trn in assets have net-zero targets, c. 21% of total assets |
| November 2021 | 140 countries covering 90% of emissions have announced net-zero goals | 450+ institutions with $130trn+ in assets have net-zero targets, c. 40% of total assets |
Sources: Climate Action Tracker, Glasgow Finance Alliance for Net Zero, UN
Still, fundamental financial inadequacies need to be fixed urgently. In the words of United Nations Secretary-General Antonio Guterres, "we are on the edge of an abyss". Here, the political economy will be crucial. With Egypt hosting COP27 later this year, the International Monetary Fund/World Bank annual meetings taking place in Morocco, and Indonesia chairing the G20 group, key milestones will be shaped by countries from the Global South.
To earn and maintain trust, players across the system must use 2022 as an opportunity to deliver on their promises.
1. Honour and exceed the $100 billion climate finance commitment
The oldest and most iconic promise for industrialised countries to meet in 2022 is the delivery of $100 billion in climate finance for developing countries. The failure to realise this as intended by 2020 was recognised as a breach of trust at COP26. Meeting the pledge in 2022 would help restore faith in climate negotiations. Industrialised countries have drawn up a delivery plan for how to do so.
But public finance should not stop there. Estimates by the Grantham Research Institute suggest that developing countries (ex-China) will need an additional $8 billion in climate finance by 2025 and close to $2 trillion per year by 2030. Some of this will come from domestic public and private sources, but a clear increase beyond the $100 billion of public finance is needed.
2. Produce net-zero transition plans
The 450-plus members of GFANZ have committed to setting out the steps to achieve short-, medium- and long-term net-zero goals within 12 months of joining. In some jurisdictions, including the UK and the EU, the publication of such financial sector transition plans is becoming mandatory. Transparency on planned capital allocation will be critical to ensure their credibility.
3. Finance adaptation and resilience
With global average temperatures already rising by 1.1°C, the priority for developing countries is increasing finance for adapting to future physical shocks as well as securing compensation for the loss and damage they have already endured.
Finance for resilience, adaptation, and loss and damage remains stuck in an under-investment rut, focusing on millions and billions rather than the trillions needed across the financial system. For this to change materially, not only will industrialised countries have to commit new public financial resources, but the rules governing the financial system will need to factor the physical impacts of climate into every decision.
4. Phase out fossil fuel finance
With the International Energy Agency concluding that there is no need for investment in new fossil fuel supply to achieve net zero, a key task for 2022 will be to accelerate public and private sector action to wind down finance for fossil fuels. In Glasgow, 34 countries promised to end public financial support for fossil fuels in 2022. Alongside a sustained emphasis on phasing out coal, COP26 also witnessed progress towards ending oil and gas, with the launch of the 12-country Beyond Oil and Gas Alliance. The need to power past gas has been accentuated by the current energy market crisis. So, in 2022, the financial sector needs to match governments' ambition through clear commitments to cease new investment in fossil fuels and support the responsible phase-out of existing assets.
5. Make the connection between climate change and nature
Financial institutions will need to go beyond the energy system to reach net zero. Only around 30 financial institutions, representing $8.7 trillion of global assets (less than 5%), have committed to addressing the causes of deforestation. This compares to a pledge by 141 governments representing over 90% of global forest cover at COP26 'to halt and reverse forest loss and land degradation by 2030'.
With the COP15 biodiversity summit scheduled for April, there is considerable scope this year for banks and investors to set credible pledges to cease financing for deforestation and land use that damages both climate and biodiversity.
6. Upgrade the financial rules of the game
At COP26, the 100 members of the Network for Greening the Financial System issued the Glasgow Declaration. In 2022, central banks and supervisors will need to upgrade their efforts to support the net-zero transition, respond to rising climate-related physical risks and integrate the loss of biodiversity into plans to green the financial system. The focus should be on increasing capacity in jurisdictions where progress has been more subdued, and in facilitating consistency of data, taxonomies and standards.
2022 will also be the first full year of the International Sustainability Standards Board, and a particular focus will be on the elaboration of the climate-related disclosures prototype.
7. Deliver on inclusive carbon pricing
Complementing regulatory efforts, fiscal policy for climate action should be guided by the principles of effectiveness, efficiency and fairness. 2022 should be the year when inefficient fuel subsidies are eliminated, and resources redirected to investments in innovation and infrastructure. Carbon taxes can help boost fiscal revenues that can be directed to delivering a just transition to net zero. Adjusting price signals to shift economic activity to lower-carbon sources will be crucial to correcting market failures. The German government has made carbon pricing one of the top priorities for its G7 presidency agenda this year.
8. Set standards for voluntary carbon markets
Following years of negotiations, COP26 delivered a rulebook for international cooperation through carbon markets under Article 6 of the Paris Agreement. The breakthrough sets the stage for enhanced use of voluntary carbon markets.
Efforts this year should focus on scaling up the market in a credible way. Setting high-integrity standards should be a priority to address scepticism in the market. Emphasis should be placed on avoiding disincentivising technological transformation in energy and industry through an oversupply of low-cost offsets. As countries in the Global South set their own net-zero goals, the production of emissions in carbon markets will be constrained and can be focused on where the greatest developmental and environmental benefits can be achieved.
9. Put people at the heart of climate finance
COP26 made it clear that climate finance needs to support a just transition to net zero. In 2022, this means investors, commercial banks and development banks making sure that their climate plans incorporate provisions for decent work, social dialogue and community empowerment. A key priority will be putting the $8.5 billion South Africa Just Energy Partnership into practice. This initiative can serve as a blueprint for other emerging economies.
10. 'Whatever it takes': transformational financing for the climate emergency
The tenth promise is one yet to be made: a transformational financial package fit for the scale of the climate emergency. At COP26, Barbados Prime Minister Mia Mottley compared the $25 trillion in quantitative easing following the 2008 financial crisis and the pandemic with the level of climate ambition. "Had we used the $25 trillion to purchase bonds that financed the energy transition, we would be keeping within 1.5 degrees," she declared, suggesting an annual increase in special drawing rights of $500 billion for 20 years to finance the transition instead of the modest $50 billion being proposed for adaptation. This is a moment for real strategic leadership from both the G7 and the G20.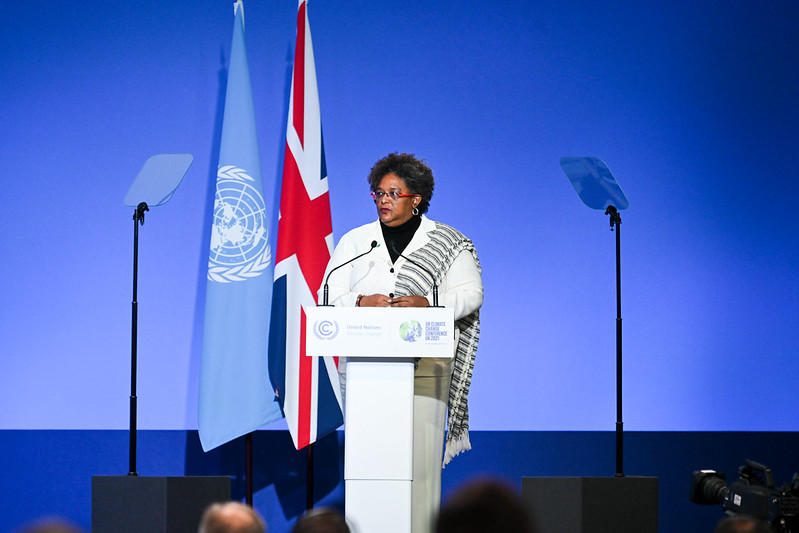 2022 will be a moment of truth for the climate finance promises that have already been made – and a time to make new commitments that respond to the gravity of the climate outlook. This means not just more climate finance but, crucially, better and fairer finance to avoid greenwashing and meet the imperatives of climate justice.
A shorter version of this commentary was first published by OMFIF on 19 January 2022.