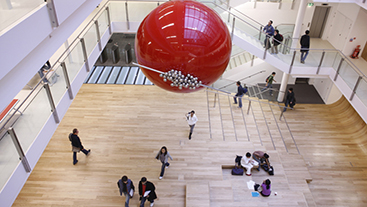 The Institute hosts a vibrant group of PhD students working on climate change and environmental topics. They receive their research training in one of the School's teaching departments, being placed according to discipline. They then carry out their research in the Institute, supervised by members of the Institute and/or by our Associates in other parts of LSE.
---
General PhD opportunties
How to apply
The Institute does not handle PhD applications directly. To apply to study in an area of interest please follow the London School of Economics and Political Science (LSE) application process.
You should apply via the teaching department closest to your interests. This is often the Department of Geography and Environment, which has PhD programmes in Environmental Economics, and in Environmental Policy and Development. Applications to other departments such as Economics, Government, International Relations, Law, Social Policy and Statistics are also welcome.
Funding
There are various funding opportunities for Institute students, including LSE scholarships and, for EU students, scholarships from the UK's Economic and Social Research Council (ESRC).
The Institute also awards its own scholarships, usually 1-2 each year. These are comparable to ESRC scholarships in paying your tuition fees and offering a stipend to cover living expenses. Applications are welcome on any topic within the remit of the Institute's research.
The deadline for applying for an Institute scholarship (to start in the autumn of 2023) is 16th December 2022. Please provide your name, email address, applicant number, and the PhD programme and Department applied to and send in an email to Gri.Phd-Enquiries@lse.ac.uk. PhD applications can still be submitted for consideration until May 2023 but these applications will not be considered for funding. Any such applications will need to be made via your chosen teaching department (see above).
Supervision in the Institute
The following Institute staff are currently available to supervise PhD students:
Declan Conway
Marion Dumas
Candice Howarth
Elizabeth Robinson
Misato Sato
David Stainforth
Frank Venmans
In addition, you may wish to consider our Associates.