What can we expect from the new German government on climate – and where should its priorities lie?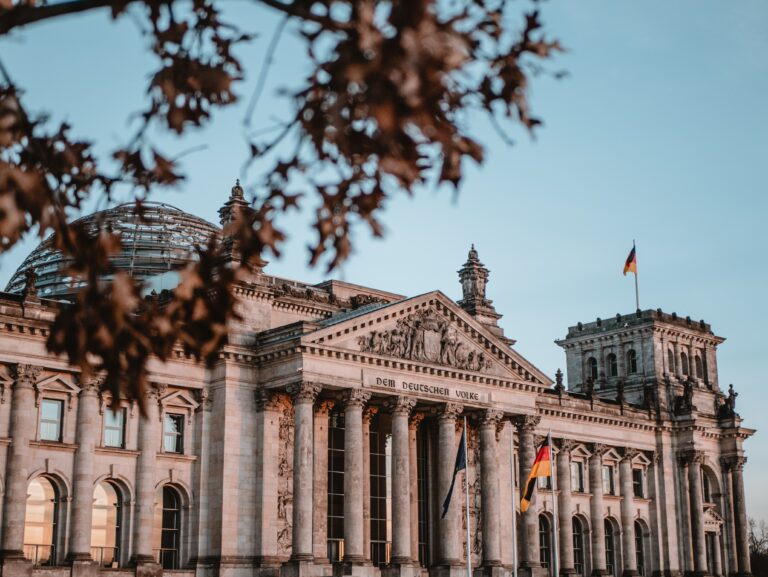 A few months on from Germany's elections, a new 'traffic light coalition' has now been formally voted into power. Anika Heckwolf unpacks what the new government's manifesto says on climate – and what that means for the global climate agenda.
Germany's federal elections of September 2021 brought an end not only to the 16-year-long chancellorship of Angela Merkel, who decided not to run again, but also to the so-called 'grand' coalition of the Christian Democratic Union-Social Democratic Party (CDU-SPD), which had governed Germany since 2013. In its place, the country's first three-way coalition composed of the Social Democratic SPD, the Green Party and the pro-business Free Democrats (FDP) was formally voted into power last week (8 December).
Germany has only eight years left to reduce its emissions by almost 30% from 2021 levels to meet its recently revised legislated target. So what does the country's first 'traffic light coalition' – named for the three parties' main colours – promise on climate?
Concern about climate change in Germany is on the rise
In the summer of 2021, mere weeks before the elections, the climate was front of mind for many German voters. One poll showed that 36% of the population considered it the most pressing issue facing their country. Western Germany had just been hit by devastating floods which killed more than 220 people, so perhaps this was no surprise (a rapid attribution study found that climate change had made the floods up to nine times more likely). Even before then, Fridays for Future, Germany's student strikers, were regularly mobilising hundreds of thousands of protesters of all ages, displaying the increasing concern felt by large parts of the population about the Government's perceived lack of climate action.
This concern was shared by Germany's highest court: just months prior to the floods in July, the ruling CDU-SPD coalition was forced to amend its first national climate law, passed in 2019, after the constitutional court ruled that it was insufficiently ambitious. The revised law brought forward Germany's target date for climate neutrality from 2050 to 2045 and strengthened the 2030 emissions reduction target from 55% to 65% on 1990 levels. However, there was no accompanying roadmap illustrating how these targets could be reached. And while Germany met its annual reduction target in 2020, likely due to a pandemic-induced reduction in economic activity, it is set to miss its 2021 target by a wide margin.
To get Germany on track to an emissions pathway that is consistent with keep warming below 1.5°C above pre-industrial levels, the stronger end of the temperature target of the Paris Agreement, the new government needs urgently to come up with solid plans for a rapid and sustainable reduction in emissions.
The new coalition's plans are promising…
The coalition's plans for the next four years are set out in its manifesto, unveiled at the end of November. Titled 'Dare more progress', it contains long sections on climate policy and, promisingly, singles out the need to reach the goals of the Paris Agreement as the Government's number one priority.
The manifesto sets out a range of ambitious national climate policy targets:
Completing Germany's energy transition, with a ramp-up in renewables, is a key focus: the coalition wants Germany to produce 80% of its electricity from renewable sources by 2030 (compared with around 45% currently), to be achieved primarily through a massive expansion in wind and solar energy.
A promise to phase out coal "ideally" by 2030 could mean that Germany, the largest coal user in Europe, will no longer lag behind its Western European neighbours, who have all pledged to abandon coal for power generation by 2030 at the latest.
To speed up the decarbonisation of transport, the coalition wants to see 15 million electric vehicles on the road by 2030 (up from less than half a million today), and expand charging infrastructure.
The new government wants to double the number of passengers using public transport and put 25% of freight on rail by 2030, by investing, for the first time, "significantly more" in rail than in road from 2022 onwards.
…but not yet 1.5°C-compatible
Other targets lack detail or are missing completely:
A previously touted gas boiler ban by 2035 and full gas exit by 2040 did not make it into the treaty, and a promise to continue building new gas plants, as long as they are 'hydrogen-ready' – has raised concerns about the Government's excessive reliance on natural gas as a transition fuel.
Plans around natural climate protection and biodiversity appear a lot less developed than some mitigation actions and lack clear targets.
Plans to phase out transport-related fossil fuel subsidies similarly lack detail.
A clear commitment to a definite coal exit by 2030, and an accompanying strategy, are missing.
And while the coalition treaty expresses support for the European Commission's 2035 phase-out date for internal combustion engines (ICEs) – a target the German auto industry, unlike some of its international counterparts, has so far been refusing to support – the manifesto contains loopholes that mean ICE vehicles can continue to run on synthetic fuels post-2035. (Those that use so-called 'e-fuels' rely on expensive, energy-intensive technology that is unlikely to become competitive with already well-established electric vehicles.)
Mixed reception
Initial reactions by German environmental organisations and think tanks have ranged from scepticism to cautious optimism. There is applause for prioritising climate change and for certain individual initiatives in the manifesto, but also concern that overall, the promises fall short of what is needed. Indeed, a Climate Action Tracker (CAT) analysis of Germany's strengthened Climate Law had already pointed out that the 65%-by-2030 target, which has been confirmed but not strengthened by the coalition, is insufficient to put Germany on a 1.5°C pathway.
CAT's analysis suggest that a 69% emission reduction target is needed, which could be achieved with policies including a 90% renewable energy target for electricity and 95% electric vehicle sales by 2030. But the policies in the coalition's treaty, while more ambitious than previous ones, fall short of these benchmarks.
To put Germany on a pathway to reach 'climate neutrality' (net zero emissions) by 2045, the coalition will need to urgently refine targets and plans and start to deliver real action. A new 'super-ministry' for Economy, Energy and Climate Protection, headed by Green Party Co-leader Robert Habeck, gives the Greens, the party with by far the greatest climate policy ambitions, unique levers to shape the new Government's agenda early on. However, big projects are likely to face opposition from Finance Minister Christian Lindner (FDP), well known for his debt-aversion. While Linder has promised to run an 'enabling ministry', clashes between the Greens and the market-orientated FDP seem unavoidable and could turn into major stumbling blocks for the coalition. The liberals will have to remember the coalition's commitment to progress and its recognition that the country urgently needs investment, both private and public.
Internationally, Germany now needs to lead by example
What Germany does matters for Europe and the world. As Europe's largest economy and biggest emitter, one of the most influential voices in the EU, and host of the G7 presidency in 2022, Germany's commitments and actions are key to the global climate change agenda.
In this regard, passages in the manifesto on international climate policy, which include commitments to strengthen multilateral cooperation on the Sustainable Development Goals and the Paris Agreement and to use the G7 presidency to set up an international "climate club", are a welcome sign that Germany plans to better use its diplomatic weight to raise climate ambition internationally. So too is a commitment to solving major global challenges, including climate change, together with the EU, and the intention to turn Europe into a continent of "sustainable progress" through launching an investment plan for transnational projects.
Looking beyond the EU, the proposed international climate club, an initiative that would aim to increase cooperation and implement tougher climate action among member countries, can play an important role in this agenda. However, to be successful, Germany needs to ensure that the club is a broad, inclusive initiative that focuses on establishing and jointly monitoring high standards. It must also show a commitment to the Paris Agreement, to investment and innovation, and to free and fair trade – and steer away from protectionism.
Germany's commitment to deliver its share of the $100 billion climate finance pledge to poorer countries, and to increase spending in the future, is equally important for the global climate agenda. As a leader on climate and, together with Canada, co-chair of the Climate Finance Delivery Plan, Germany is well-placed to convince other developed countries to contribute their fair share.
As last year's G7 host, the UK made sure climate featured prominently on the group's agenda. During its presidency, Germany will have the important task of maintaining the momentum generated by the G7 as well as the G20 and COP26 summits and ensuring that the G7 continues to evolve into one of the global motors of decarbonisation. The coalition's recognition of the important role Germany can play in international climate policy is therefore promising, and the policies it outlines in its manifesto will be of utmost importance.
To be a credible leader, the government now urgently needs to provide more details on how it plans to achieve its targets, and step up implementation to convince countries in the G7 and beyond to 'dare more progress' too.