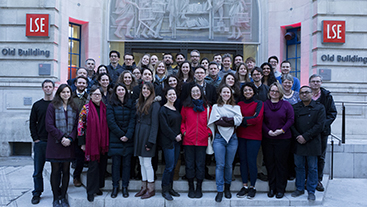 We are currently recruiting for the following posts at the Grantham Research Institute at LSE:

Policy Analyst – Sustainable Finance
Salary from £36,647 to £44,140 pa inclusive of London allowance
This is a fixed term appointment for 12 months
The Grantham Research Institute on Climate Change and the Environment at the London School of Economics is pleased to invite applications to the above post.
Sustainable Finance is one of the Grantham Research Institute's key themes and we are looking for a Policy Analyst to carry out policy-oriented research in collaboration with the Institute's staff. This post is focused on the role of finance delivering the just transition towards a net zero and resilient economy in the UK and beyond. The work will involve research on how to incorporate both environmental and social standards into investment decision-making within the private and public financial sectors.
The appointee will produce data analysis and research to support the Institute's policy team in formulating policy materials aimed at decision-makers in the public, private and third sectors. The appointee will play an active intellectual role in the life of the Institute.
Candidates should have a postgraduate degree in environmental economics/finance, environmental/energy policy, economics, finance, management, or a related field. They should also have work experience in sustainable finance (in particular with regards to the social aspect), as well as strong analytical skills with the ability to produce high-quality research in a timely manner. They should also have excellent presentation skills.
We offer an occupational pension scheme, generous annual leave and excellent training and development opportunities.
Interested in applying?
If you have any technical queries with applying on the online system, please use the "contact us" links at the bottom of the LSE Jobs page. Should you have any queries about the role, please email gri.hr@lse.ac.uk
The closing date for receipt of applications is 1 November 2020 (23.59 UK time). Regrettably, we are unable to accept any late applications.
---
Research Assistants (Transition Pathway Initiative)
The Grantham Research Institute on Climate Change and the Environment is recruiting part-time, hourly-paid research assistants (ORAs) to start as soon as possible. The ORAs will work with Dr Michal Nachmany and the Transition Pathway Initiative research team, focusing in particular on delivering data and analysis to a new investor-led Net Zero corporate benchmark.
Responsibilities will include:
Collecting, analysing and performing quality control on company data that feeds into benchmark indicators;
Engaging with companies and investors and integrating their feedback into final assessments;
Performing data analysis on the data set and generating graphs, charts, and short data summaries.
The ideal candidate has, or is currently undertaking, a Masters degree in environmental economics/finance, environmental/energy policy, corporate sustainability, economics, finance, management, or a related field, and will have:
Knowledge and experience in applied research and policy analysis;
Strong analytical skills, with the ability to produce high-quality research and analysis in a timely manner;
Strong quantitative skills, including proficiency with spreadsheets and spreadsheet-based models;
Excellent and proficient IT skills, including advanced Excel skills, as well as Word, Powerpoint, etc. – for creation and development of databases and related publications;
Good understanding of issues in sustainable finance and investment;
Excellent interpersonal and communication skills, both written and oral, with the ability to communicate with internal colleagues, collaborating institutes and external bodies;
Ability to communicate complex ideas and technical issues to a range of different non-technical audiences.
Candidates should be available to commence as soon as possible and work between 15 hrs a week (for current students) and 29.5 hrs a week (for recent Masters graduates) until end March 2021, with some flexibility. Candidates must have the right to work in the UK.
The hourly rate is between £15 and £20 (including holiday pay) depending on previous experience and qualifications.
Shortlisted candidates will be asked to attend a short interview.
If you would like to discuss the role, please e-mail Dr Michal Nachmany at m.nachmany@lse.ac.uk.
Please send your CV, alongside a short covering letter and one piece of evidence of relevant written work (this can be university coursework, or from a recent job), no later than 23rd October 2020, to gri.hr@lse.ac.uk, citing MN20-001.
---
For details of job opportunities within the rest of LSE please visit the LSE Jobs website