Making transition plans just: how to embed the just transition into financial sector net zero plans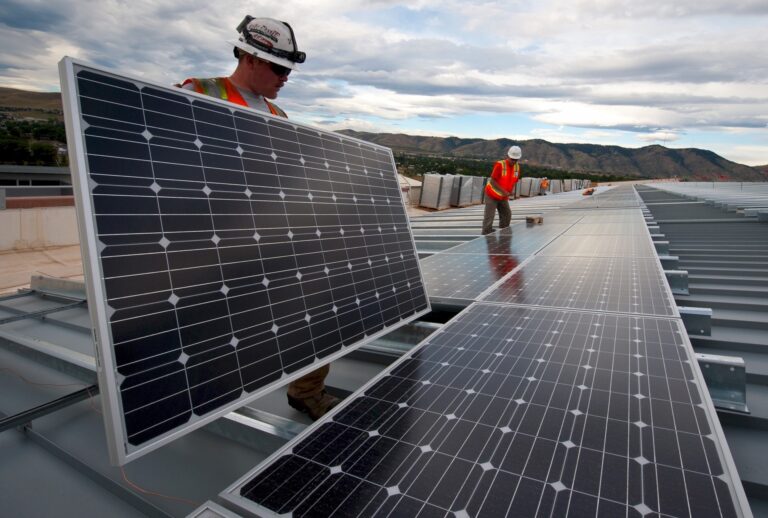 This report provides guidance to financial institutions on how they can incorporate consideration of the social dimension of climate action – in other words a just transition – within their net zero transition plans.
A just transition for workers, communities and consumers is essential to enable the shift to a net zero economy. Commitment to the just transition has been made in global climate agreements and by governments, and there are growing efforts by business, trade unions, civil society and financial institutions to translate this imperative into practical implementation.
To accelerate climate action, these efforts need to intensify, and this means embedding the just transition into the emerging generation of net zero transition plans.
Key messages
Financial institutions have a responsibility to ensure that their net zero transition plans reflect how they will take account of the implications for people.
A first step is to anchor net zero plans in the existing just transition principles from the International Labour Organization (ILO). This means applying and respecting well-established social, labour and human rights standards and goals throughout a net zero plan.
The three key factors for financial institutions to consider are: (i) anticipate, assess and address the social risks of the transition; (ii) identify and enable the social opportunities of the transition; and (iii) ensure meaningful dialogue and participation in net zero planning.
It is critically important that financial institutions get net zero plans right from the start by incorporating support for the just transition, and then take an iterative and learning approach to further improvement.
Key transition factors and stakeholders for financial institutions to consider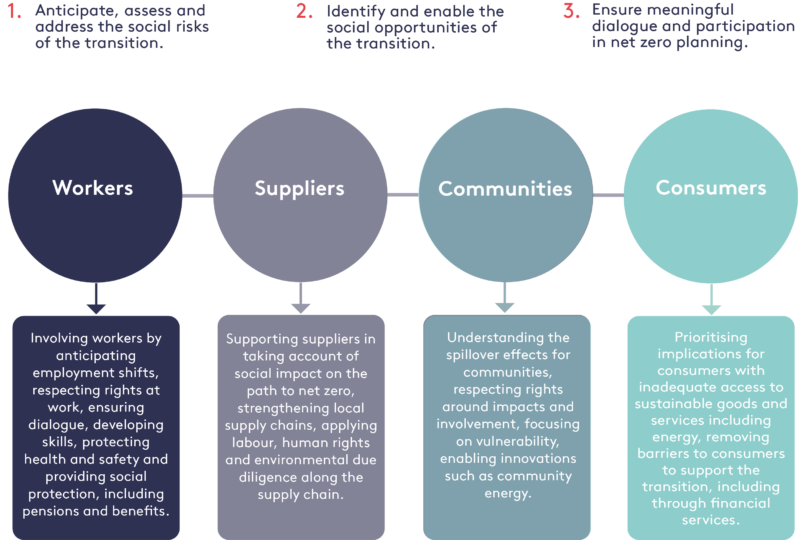 Recommendations
The recommendations to financial supervisors, banks and investors provided in this report are designed to align with the emerging net zero transition planning framework of the Glasgow Financial Alliance for Net Zero (GFANZ). The report's 11 recommendations for financial institutions, mapped to the five GFANZ themes, include:
Foundations: Commit to embedding just transition factors as part of the overarching goals, ambitions and foundations of their net zero transition plans. This means considering the just transition as part of disclosing net zero objectives, targets and timelines.
Implementation strategy: Assess the social implications of net zero plans and draw up just transition responses tailored to sector and geographical priorities.
Engagement strategy: Engage with corporate clients and investee companies so that they include just transition factors within their own net zero transition plans and deliver these factors with clear objectives, resourcing and disclosure.
Metrics and targets: Develop and disclose metrics to measure progress on just transition goals and activities, and produce evidence of the just outcomes of net zero plans.
Governance: Ensure that the just transition dimension of net zero transition plans is overseen by the board and that decision-making processes are inclusive of staff across the organisation.
The recommendations also draw on the experience of the UK-based Financing a Just Transition Alliance (FJTA), which is coordinated by the Grantham Research Institute.