Financing a Just Transition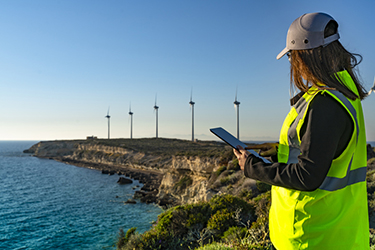 Overview
The just transition in the international context
Delivering the just transition in the UK

Overview
The Financing a Just Transition programme is designed to identify the role that finance can play in connecting action on climate change with inclusive development pathways. This builds on the commitment within the Paris Agreement on climate change to support a just transition for workers and communities. At the 2018 COP24 climate conference, 53 countries signed the Just Transition Declaration, which recognised the need to factor in the needs of workers and communities to build public support for a rapid shift to a zero-carbon economy.
The programme started in February 2018 with work on the role of investors in the just transition through the Investing in a Just Transition Initiative. In July 2019, its scope widened to cover the role of banks, with a specific focus on UK banks, through the Banking on a Just Transition project. The programme is international in scope, with a dedicated focus on the UK.
From high-level recognition to dedicated measures
Figure: Components of the just transition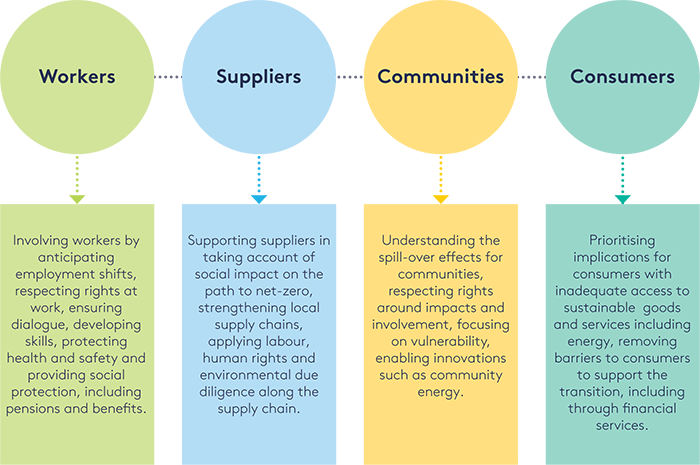 More than five years after the Paris Agreement, high-level commitments to the just transition are being translated into practical action by a small but growing number of governments and businesses, often working with trade unions and other stakeholders. Investors are also recognising their responsibility and role in delivering a just transition. The task that lies ahead is how to translate this high-level ambition into operational steps that investors can take to deliver both integrity and impact.
As decarbonisation targets are increasingly set, the just transition is gaining traction as an essential element in the successful acceleration of the transition to net-zero, in both the energy system and wider economy.
As the transition picks up speed, the location of job losses and employment gains is receiving increasing attention, in the need to avoid 'stranded workers', 'stranded communities' and 'stranded countries', as well as to make sure that new green jobs are also quality jobs. Impacts are also beginning to be recognised beyond job effects. For communities that derive a substantial amount of their economic activity from unsustainable activities, such as a fossil fuel power plant, asset closure can also have significant effects on the community's tax income, affecting all public spending, including on new infrastructure.
The strategic importance of the just transition is clear, and first efforts are being made by governments, businesses and investors to deliver this. These now need to be scaled up across all countries and sectors and deepened to produce real-world outcomes.
The just transition in the international context
The just transition needs to be taken forward in every country and sector of the economy and is core to the global agenda to accelerate climate action. Here, our work commenced with the publication of an international guide for investor action together with Harvard's Initiative on Responsible Investment and the International Trade Union Confederation and the Principles for Responsible Investment. This is available in four languages (English, Espanol, Francais, Italiano). Building on this, in 2021 we produced a global framework of just transition expectations that investors can use to promote the transition in the companies they own.
The real test of the just transition will be in major emerging and developing economies, where investment needs for net-zero and climate resilience are greatest while access to and cost of capital can be a challenge and social safeguards tend to be weaker. In this context, partnerships with development finance institutions will be particularly important. Here, the LSE is a partner in the CDC's Just Transition Finance Roadmap initiative. The initiative looks to identify the key features of effective financing in key emerging economies, notably India and South Africa.
Key projects and publications
Articles and commentaries
Delivering the just transition in the UK
Building the UK's net zero economy will involve investments approaching £6trn between 2021 and 2050. This unprecedented financial mobilisation will not only deliver essential emission reductions, valuable savings, macroeconomic benefits and investment returns, but it can also be a driver of more and better jobs, revitalised communities and reduced inequality across the country.
Since 2018, we have been working to identify how the financial sector can support the just transition in the UK. This has involved working with institutional investors, banks and other financial institutions, as well as trade unions, civil society and regional organisations. A key priority has been the local and regional dimension of the just transition as part of our membership of the Place-based Climate Action Network. A particular focus of our work has been to connect green finance and social impact investing, notably in the framework of the UK's green sovereign bond programme. In November 2020, over 40 banks, investors and financial institutions joined forces with universities and trade unions to launch the UK's Financing a Just Transition Alliance (FJTA).
The Financing a Just Transition Alliance
The objective of FJTA is to translate the growing commitment to a just transition across the financial sector into real world impact. This means delivering the UK's climate goals in ways that provide positive social results in terms of workers and communities and leave no-one behind.
The Alliance will aim to identify concrete steps that the financial sector can take to scale up climate action which also delivers positive social impact, both in terms of maximising the social benefits of net zero and also making sure no one is left behind. Achieving this will help to accelerate progress towards the UK's climate goals, generate real social outcomes and contribute to long-term financial success.
The Alliance will concentrate its work on three levels:
financing a just transition by business
financing place-based needs across the UK
national action and policy frameworks
In July 2021, a number of Alliance members supported a letter sent to the prime minister to urge for ambitious policy action around the just transition.
The Alliance presented the findings of the first year of its collaboration in Just zero: 2021 report of the UK Financing a Just Transition Alliance.
FJTA is coordinated by the Grantham Research Institute on Climate Change and Environment. For more information please contact Sabrina Muller, Brendan Curran or Nick Robins.
Alliance members:
Abundance Investment
Aberdeen Standard
Amundi Asset Management
Aviva Investors
Barclays
Belfast Climate Commission
Big Society Capital
Bridges Fund Management Limited
British Business Bank
Brunel Pension Partnership
CANDRIAM
CCLA
CDC
Charity Bank
Church Commissioners
Church of England Pensions Board
Climate-KIC
Ecology Building Society
EdenTree Investment Management
Edinburgh Climate Commission
Ethex
Federated Hermes
Finance Innovation Lab
Food, Farming and Countryside Commission
Franklin Templeton
Friends Provident Foundation
Green Finance Institute
HSBC UK
Impact Investing Institute
Impax Asset Management
Institutional Investor Group on Climate Change
Investor Forum
L&G
Lloyds Banking Group
Local Authority Pension Fund Forum
Nationwide
NatWest
Nest
Principles for Responsible Investment
Pure Leapfrog
Rathbone Greenbank Investments
Responsible Finance
Royal London Asset Management
Santander
ShareAction
South West Mutual Limited
Thirty Percy Foundation
Triodos UK
TUC
UK 100
UK Finance
UKSIF
Unity Bank
Yorkshire and Humber Climate Commission
The Place-Based Climate Action Network, as well as the Grantham Research Institute, London School of Economics, are also members.
Key projects and publications
Articles and Commentaries