Financing a Just Transition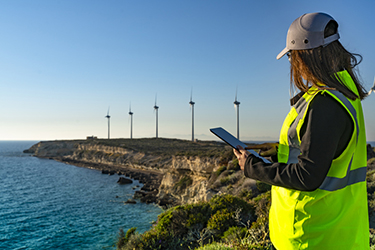 Overview
The just transition in the international context
Delivering the just transition in the UK

Overview
The Financing a Just Transition programme is designed to identify the role that finance can play in connecting action on climate change with inclusive development pathways. This builds on the commitment within the Paris Agreement on climate change to support a just transition for workers and communities. The programme started in 2018 with work on the role of investors in the just transition through the Investing in a Just Transition Initiative. In 2019, its scope widened to cover the role of banks through the Banking on a Just Transition project. The team has now built– up considerable experience in the practical financial implications of the just transition in different sectors and regions.
The Grantham Research Institute is currently establishing a Just Transition Finance Lab to be a world-leading centre for experimentation and excellence in the financial solutions needed for a just transition to a net zero and nature positive economy.
The Lab will have four key interlocking objectives:
The design and deployment of financial tools and instruments for the just transition.
The development and application of metrics to measure just transition performance.
The identification of appropriate policy reforms to mobilise finance for the just transition.
The construction of a strong body of illustrative and empowering case studies that demonstrate how just transition finance can be practically achieved.
The Lab is being launched in 2024.
The just transition in the international context
The just transition needs to be taken forward in every country and sector of the economy and is core to the global agenda to accelerate climate action. Here, our work commenced in 2018 with the publication of an international guide for investor action together with Harvard's Initiative on Responsible Investment and the International Trade Union Confederation and the Principles for Responsible Investment. This is available in four languages (English, Espanol, Francais, Italiano). Building on this, in 2021 we produced a global framework of just transition expectations that investors can use to promote the transition in the companies they own. The LSE team has focused on financing a just energy transition, as well as exploring what the financial challenges of a just nature transition involve.
The real test of the just transition will be in major emerging and developing economies, where investment Currently, a key focus is how just transition principles can be incorporated into net zero transition plans produced by financial sector institutions, and into major asset classes such as bonds. The real test of the just transition will be in major emerging and developing economies, where investment needs for net zero and climate resilience are greatest while access to and cost of capital can be a challenge and social safeguards tend to be weaker. Here, we have focused on the just transition finance agenda in India, working in partnership with British International Investment and others.
Key projects and publications
Articles and commentaries
Delivering the just transition in the UK
Since 2018, we have been working to identify how the financial sector can support the just transition in the UK. This has involved working with institutional investors, banks and other financial institutions, plus trade unions, civil society and regional organisations. A particular focus of our work has been to connect green finance and social impact investing, notably in the framework of the UK's green sovereign bond programme. Another priority has been the local and regional dimension of the just transition as part of our membership of the Place-based Climate Action Network (PCAN). Nick Robins is also a member of Scotland's Just Transition Commission and Brendan Curran has worked on several projects related to mobilising capital for local investment programmes, including working on Innovate UK-funded projects with PwC and Jacobs.
The Financing a Just Transition Alliance
In November 2020, the Grantham Research Institute established the UK's Financing a Just Transition Alliance (FJTA), which brings together over 50 banks, investors and financial institutions with universities and trade unions to translate the growing commitment to a just transition across the financial sector into real world impact. The Alliance presented the findings of the first year of its collaboration at COP26. One result of its work has been the establishment of the Just Transition Working Group (which the Institute co-chairs) as part of the UK Government's Transition Plan Task Force. Current priorities involve looking at sector- specific just transition finance priorities in agriculture and in housing.
Alliance members:
Abundance Investment
Aberdeen Standard
Amundi Asset Management
Aviva Investors
Barclays
Belfast Climate Commission
Big Society Capital
Bridges Fund Management Limited
British Business Bank
Brunel Pension Partnership
CANDRIAM
CCLA
CDC
Charity Bank
Church Commissioners
Church of England Pensions Board
Climate-KIC
Ecology Building Society
EdenTree Investment Management
Edinburgh Climate Commission
Ethex
Federated Hermes
Finance Innovation Lab
Food, Farming and Countryside Commission
Franklin Templeton
Friends Provident Foundation
Green Finance Institute
HSBC UK
Impact Investing Institute
Impax Asset Management
Institutional Investor Group on Climate Change
Investor Forum
L&G
Lloyds Banking Group
Local Authority Pension Fund Forum
Nationwide
NatWest
Nest
Principles for Responsible Investment
Pure Leapfrog
Rathbone Greenbank Investments
Responsible Finance
Royal London Asset Management
Santander
ShareAction
South West Mutual Limited
Thirty Percy Foundation
Triodos UK
TUC
UK 100
UK Finance
UKSIF
Unity Bank
Yorkshire and Humber Climate Commission
The Place-Based Climate Action Network, as well as the Grantham Research Institute, London School of Economics, are also members.
Key projects and publications
Articles and Commentaries