Are 'green' jobs good jobs? How lessons from the experience to-date can inform labour market transitions of the future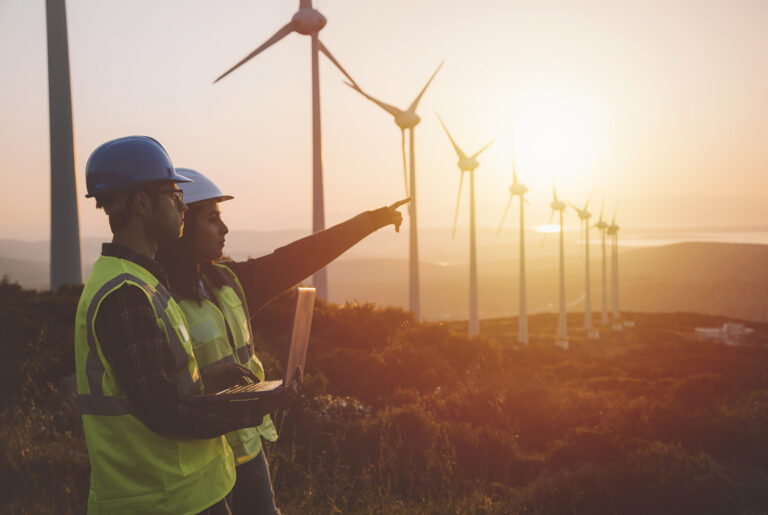 By Anna Valero, Jiaqi Li, Sabrina Muller, Capucine Riom, Viet Nguyen-Tien and Mirko Draca
As governments worldwide are increasing their commitments to tackling climate change, efforts are growing to quantify and characterise the 'green economy', and to identify opportunities to be seized and challenges to be overcome in the transition to the net-zero economy of the future. The aim of this report and accompanying policy brief is to shed light on the quantity and quality of current green labour markets, to inform policy action and future research for the net-zero transition.
Main messages
Research on green jobs often uses a narrow definition of the green economy that does not cover all the jobs that will be important for driving forward the net-zero transition.
In contrast, the authors apply a broad approach to the UK and European economies.
They find that around 20% of jobs in the UK and 14 European economies can be considered directly and indirectly green, taking a broad, occupation-level definition of the 'greenness' of jobs.
They find some evidence that greener jobs tend to be 'better' jobs.
Workers in some types of green jobs, particularly those that are new occupations related to greening the economy, are likely to be educated to a higher level and be on permanent contracts, though there are differences in these relationships across countries, sectors and regions.
For the UK, the authors also find that greener jobs tend to pay higher wages, and are more resilient to automation.
Greener jobs tend to be occupied by older workers and men. Policymakers will need to ensure equitable access to green, future-fit jobs. Educational and training requirements of 'green' jobs will need to be met with new education and skills policies, including improved incentives for firms and individuals to train.
Defining green jobs
The authors apply an occupation-level classification of 'green jobs' developed by O*NET in the United States. The O*NET database distinguishes three occupational categories that differ regarding the effect of the transition to a climate-neutral and sustainable economy on occupations. Figure 1 illustrates the 'greenness' of these three categories. The narrowest definition of a green job would focus on the new and emerging category but these, together with enhanced skills jobs, can be considered 'directly green' since they involve explicitly green tasks as defined by O*NET. Increased demand jobs are a broader concept and are considered 'indirectly green'.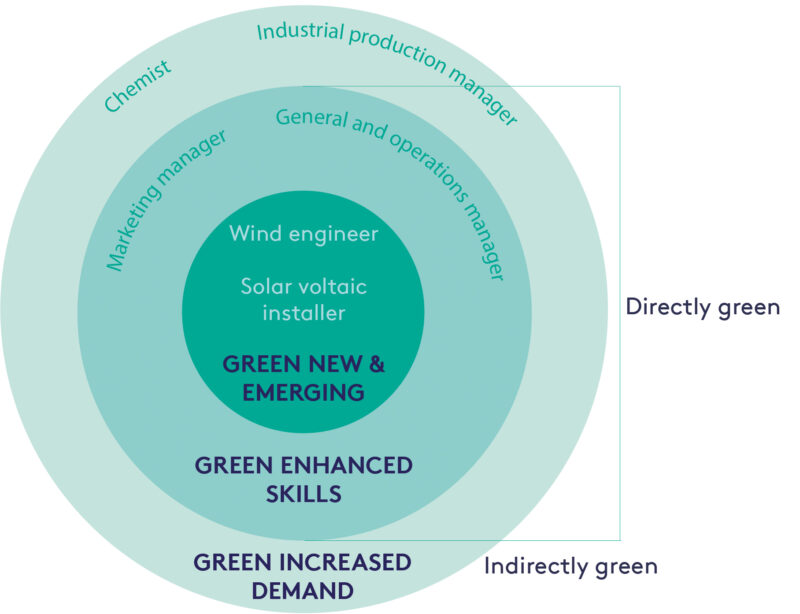 Report produced with the Centre for Economic Performance and the Programme on Innovation and Diffusion (POID)
About the authors
Dr Anna Valero is a Senior Policy Fellow at the Centre for Economic Performance and the Deputy Director of the Programme on Innovation and Diffusion (POID). Jiaqi Li is a Research Assistant for Anna Valero and a MRes/PhD student at Warwick University. Sabrina Muller is a Sustainable Finance Policy Analyst at the Grantham Research Institute. Capucine Riom is a PhD candidate in Economic Geography at LSE and a Research Assistant for the Grantham Research Institute and the What Works Centre for Local Economic Growth. Dr Viet Nguyen-Tien is a Research Economist at the Centre for Economic Performance. Mirko Draca is a Professor at Warwick University, Director of the Centre for Competitive Advantage in the Global Economy (CAGE) and a Research Associate at the Centre for Economic Performance.