Election 2019: What the main parties' manifestos say about zero-emissions transport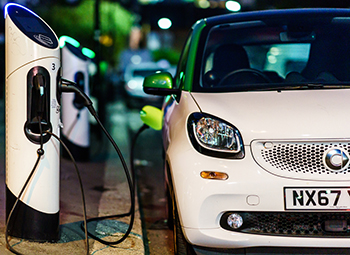 Sam Unsworth analyses the Conservative and Labour Parties' manifesto pledges on surface transport decarbonisation and the opportunities offered by growth of the zero-emissions transport sector on the path to net-zero greenhouse gas emissions in the UK
The UK's legal commitment to reach net-zero emissions of greenhouse gases by 2050 will require a series of structural transitions across the economy. The transport sector is one sector that requires significant change. In 2017 it accounted for 23% of total UK greenhouse gas emissions, with passenger cars alone responsible for 14% of total UK emissions.
To realise the shift to reach net-zero, as well as co-benefits such as cleaner air, policies are required in the UK to accelerate demand for zero-emissions passenger vehicles and for other clean modes of transport such as cycling. However, there is also an opportunity for the UK to supply the zero-emissions vehicles needed for this transition, in the UK and overseas. As demand for zero-emissions vehicles grows both domestically and internationally, the markets to supply goods and services related to them will grow in parallel, part of the 21st century's sustainable and inclusive growth story.
The Grantham Research Institute has been conducting analysis into the nature and scale of this opportunity for the UK, and how it can maximise the economic growth benefits associated with it. There are multiple policy pathways to both decarbonise surface transport and drive growth from goods and services related to zero-emissions vehicles. In the run-up to this week's General Election both the Labour and Conservative Parties have made announcements relevant to the transport sector in their election manifestos and supporting documents,[1] which this commentary places under the spotlight. The aim is to highlight the extent to which these parties' public commitments are consistent with recommendations made by independent government advisory bodies such as the Committee on Climate Change and the National Infrastructure Commission, as well as the author's own analysis.
Of course, election manifestos do not provide a comprehensive picture of how a government intends to address specific aspects of policy when in government, such as transport decarbonisation and automotive industrial strategy. Thus, the manifestos cannot be expected to respond to every piece of advice from advisory bodies. Furthermore, there are multiple pathways to zero-emissions surface transport (e.g. varying reliance on public transport). While the amended Climate Change Act now requires the next government to decarbonise the entire economy by 2050, the political parties have a choice over which parts of the economy to prioritise for growth and job creation. It is therefore challenging to label individual policy announcements within a manifesto as being either compatible or incompatible with net-zero. This commentary does not make judgements on whether the scale of funding offered by each party for particular aspects of decarbonisation is commensurate with the challenge in question, or whether the funding plans are feasible overall.
Still, the manifestos indicate the areas of climate change policy where parties are likely to pay greater attention, which is significant given increasing public concern for climate change. This commentary therefore assesses the extent to which the manifestos for the two main parties provide coherent foundations to transition towards decarbonisation in the context of road transport. Where there are possible gaps or limited detail, we indicate that further information is needed in order to ensure that transport decarbonisation is a core priority for the next government.
How the manifestos incentivise demand for zero-emissions vehicles and infrastructure
In its net-zero advice, the headline recommendation from the Committee on Climate Change to achieve net-zero emissions by 2050 from road transport is to ban by 2035 at the latest the sale of new cars and vehicles that are powered by fossil fuels. Labour commits to "aim" for this phase-out by 2030 in its manifesto. The Conservatives are currently targeting 2040 and make a manifesto commitment to "consult on the earliest date" possible. The CCC also emphasises that the Government should, by 2025, have communicated to consumers that any vehicles powered by fossil fuels cannot be driven on UK roads by 2050. Neither manifesto mentions this as a policy. While it is unsurprising that the Parties are unwilling to promise such a firm regulation in their manifestos, this policy will need to be adopted by the next government at some point in the next five years – and likely sooner – if net-zero emissions in the transport sector before 2050 is to be pursued credibly.
Beyond this, the CCC does not specify particular policies needed to spur demand for zero-emissions vehicles from consumers. However, it emphasises the importance of "continuation of financial incentives for electric vehicles, through commitment to continued grant schemes or through greater differentiation in the tax system".
The Labour manifesto contains detail on consumer support that broadly aligns with the CCC's guidance, including a £3.5 billion package of interest-free loans for electric vehicles and removal for two years of the £320 Vehicle Excise Duty (VED) surcharge on electric vehicles with a price above £40,000 purchased for private fleet use.
The Conservative manifesto does not detail demand-pull policies, apart from a commitment to invest in electric buses, which the Labour manifesto also features. Demand-pull policies focused on medium and heavy duty vehicles (MDVs and HDVs) such as taxis and vans have been proven to be effective in decarbonising fleets as well as creating local production opportunities, as large fleets often have a single owner and/or manufacturer who can make unified procurement decisions. For instance, the London Electric Vehicle Company (LEVC) now manufactures electric taxis in Coventry; this decision appears to have been spurred by demand-side policies and regulation focused on taxis in London, and incentives targeted at public buses could have a similar impact. Labour's commitment to transition towards electric vehicles for paramedics could serve a similar purpose.
The CCC's net-zero advice also highlights the potential role of softer incentives for zero-emissions vehicles such as access to bus lanes, free access to congestion charge zones or clean air zones and free parking. The Conservatives commit to "setting strict new laws on air quality" and Labour commits to a new Clean Air Act, "with clean air zones". The scope and robustness of air quality regulation enacted by either Party will determine the extent to which it directly spurs uptake of zero-emissions vehicles. The CCC also emphasised the importance of tackling misconceptions regarding electric vehicles, such as concerns around their performance and environmental impact relative to conventional vehicles. Neither of the two party manifestos mentions this issue.
The manifestos of both parties promise significant policies on charging infrastructure. This has been highlighted by many commentators as a significant barrier to the deployment of zero-emissions vehicles. The CCC does not indicate the scale of funding needed to provide sufficient charging infrastructure. The Conservative manifesto commits an additional £600m for the charging infrastructure for electric vehicles on top of the £400m already committed, with Labour pledging a significantly larger figure of £3.6bn. The way in which this funding is spent will be critical, considering in particular the impact of significant scale-ups of charging for electric vehicles on local power distribution networks.
How the manifestos incentivise UK supply of goods and services for zero-emissions vehicles
Both political parties acknowledge in their manifestos that decarbonisation represents a UK growth opportunity. The Conservatives claim they will deliver "two million new high quality jobs in clean growth" and Labour states: "Our Green Industrial Revolution will create at least one million well-paid, unionised jobs in the UK." The CCC highlighted "an opportunity for the UK automotive manufacturing sector to become a world leader in the development and production of Ultra Low Emission Vehicles". It will be critical to stimulate domestic demand for zero-emissions vehicles in order to realise this opportunity, and industrial policies will play an important role.
Our 2018 report on Sustainable Growth in the UK set out four key pillars for growth across the economy: innovation, skills, infrastructure and cities. Below we look at how the two main parties address these.
Innovation
Both parties make economy-wide pledges in their manifestos on innovation that could benefit UK production of goods and services for zero-emissions vehicles. The Conservatives commit to increase the R&D tax credit rate from 12 to 13 per cent in order to meet a target of 2.4% of GDP spent on R&D by 2027 – the Labour Party sets an equivalent target of 3% by 2030. It will be critical to ensure that incentives specifically target zero-carbon innovation in sectors such as passenger vehicles as opposed to facilitating innovation in high-carbon alternatives. The Conservatives mention they will "review the definition of R&D", but in the context of cloud computing rather than zero-carbon goods and services. Labour commits to "rewrite the Treasury's investment rules to guarantee that every penny spent is compatible with our climate and environmental targets"; this could be an effective means to steer innovation towards goods and services for zero-emissions vehicles, if properly implemented.
Skills
Skills feature as a priority in both manifestos, although neither makes specific reference to the skills needed for production of zero-emissions vehicles in the UK. The Conservatives propose a £3bn National Skills Fund focused on helping businesses find and hire the workers they need; skills shortages were highlighted as a critical barrier in the UK automotive sector in the 2016 Automotive Industrial Partnership (AIP) for Skills roadmap. Their manifesto commits to consider the recommendations of the Augar Post-18 review of education and funding, which has thorough and wide-ranging recommendations for UK education. However, the Conservatives do not explicitly mention one of the Review's headline recommendations: to create a coherent national network of further education colleges that deliver in-demand skills needs focused on England's qualification levels 3 to 5 (e.g. vocational qualifications such as BTECs, trade diplomas, technician qualifications and Foundational degrees). This recommendation is linked with significant skills gaps in the automotive sector identified by the AIP for Skills roadmap.
Labour commits to providing six years free training at Levels 4-6, with maintenance grants for disadvantaged learners. Labour more clearly associates its Skills commitments to climate change as a broad priority, such as through its proposed Climate Apprenticeship programme. However, it is not clear how Labour will demarcate 'climate' apprenticeships in complex sectors such as automotive. There is insufficient detail in the manifesto to determine whether the Conservatives' £3bn National Skills Fund could provide the skills needed to boost UK competitiveness in the production of zero-emissions vehicles.
Infrastructure
Both parties make significant promises on infrastructure for the production of zero-emissions vehicles. The Conservatives commit to finance one large scale battery manufacturing facility (known as a Gigafactory), with Labour committing to finance three (a £3bn investment), building on the existing commitment from the Treasury and the Department for Business, Energy and Industrial Strategy in support of UK battery production. Nonetheless, the UK appears to be losing out on large-scale battery production, with the vast majority of recent private investments (from Chinese and Korean firms) in European battery production taking place in Eastern Europe. Significant scale-up of public investment could help the UK close the gap with leading battery producers such as China, Germany and the USA.
While the cross-party ambition in this area should be commended, investment should be made carefully to avoid inefficient use of public funds, given the UK may be more competitive internationally in other goods and services such as smart-charging for electric vehicles and connected and autonomous vehicle testing. Funding decisions should consider the UK's competitiveness in a range of goods and services related to zero-emissions vehicles.
Cities
Cities and decentralised policymaking more broadly feature in both manifestos. The Conservatives' Towns Fund would aim to improve local economies, although the party has not made specific announcements related to the role of cities and regions in driving growth from passenger vehicles. The Conservatives have indicated that of the £100bn announced for infrastructure in the manifesto, £4.2bn of this would be spent on devolved local public transport to improve public transport outside London.
Labour includes a Local Transformation Fund in each region to fund infrastructure projects, and its regional manifestos break down nationwide commitments related to the automotive industry into specific localities (e.g. the three Gigafactories are to be built in Stoke-on-Trent, Swindon and South Wales).
The role of international trade in the manifestos
The UK's automotive sector is deeply dependent on global value chains, with the UK both importing and exporting a wide range of components. The EU is particularly important in this respect, with 53% of UK-produced vehicles exported to the EU. In its 2013 'Driving Success' strategy for the automotive sector, the UK government placed heavy emphasis on connectedness to the EU, explaining that government and industry had identified "maintaining proactive engagement with the European Union so that the UK has continued access to the Single Market and an influential voice in the development of Regulations" as being "key to the attractiveness of the UK".
The Conservatives plan to take the UK out of the single market and the customs union. This is likely to harm UK competitiveness both in the short term due to disruption to trade and in the longer term due to the impacts that leaving, together with changes in foreign direct investment and immigration, will have on productivity.
Labour proposes a permanent and comprehensive UK-wide customs union should it take the country out of the EU, along with close alignment with the single market, which would limit disruption and damage. From an economic perspective, recent LSE analysis indicates that the Conservative Party's policy on Brexit is likely to be more damaging to the UK economy than either remaining in the EU or a Labour-negotiated deal.
Both manifestos make reference to support for UK exporters. The Conservatives propose using export finance to increase the access of UK businesses – particularly SMEs – to emerging markets. Labour claims it will champion exports from the environmental goods and services sector and end all UK Export Finance support for fossil fuel projects. It is not clear if Labour is defining fossil fuel projects as any projects related to fossil fuel consumption; it may refer to fossil fuel power generation, as opposed to exporters of internal combustion engines, for instance. Analysis by the Grantham Research Institute indicates that UK Export Finance could be redesigned to offer preferential support (e.g. more concessional lending rates) to UK-based businesses seeking to export goods and services compatible with zero-carbon transport systems. The Government could consult on a longer term date by which to phase out support to UK businesses producing goods and services for conventional vehicles powered by fossil fuels.
How the manifestos balance the focus between different forms of transport
While a transition towards zero-emission vehicles is the main way the Committee on Climate Change recommends that transport should be decarbonised, the CCC also notes that modal shifts could play a significant role. The CCC assumes that 10% of car miles can be shifted to walking, cycling and public transport. Labour and the Conservatives both make pledges to invest in large rail projects and cycling infrastructure, with Labour committing a significantly larger sum on cycling.
These modal shifts do not render funding for improvements to road infrastructure incompatible with net-zero ambition, given road transport will continue to play an important role as part of an integrated system. What is significant is the nature of improvements to road infrastructure. The CCC emphasises that road infrastructure should encourage people to view cycling as a safe option, which will require "substantial expenditure". The Grantham Research Institute's 2018 Sustainable Growth report similarly emphasised that building new roads encourages car use, which increases the demand for more roads and highways, and locks in personal transport behaviours and pollution, whereas building cycle-ways as part of road improvements increases bike use. The National Infrastructure Assessment published by the National Infrastructure Commission in 2018 emphasises that the UK already has a programme of major strategic road and rail projects in the pipeline, and that plans need to take account of impacts, for instance, of connected and autonomous vehicles on future transport usage.
One of the Conservatives' most striking manifesto commitments is £28bn for roads. The £1bn for charging of electric vehicles is a positive step, but it is critical that all funding for road infrastructure is committed to improvements that align with a net-zero transport vision. The Labour manifesto does not make comparable commitments on road improvements beyond those mentioned above.
The road ahead
In its net-zero advice, the Committee on Climate Change highlights the need for strong policy and regulatory frameworks that provide industry with the confidence needed to transition to zero-emissions vehicles. Yet, the Conservatives' manifesto highlights the role they played in bringing INEOS Automotive to the Shropshire town of Bridgend to build vehicles with internal combustion engines (ICE), securing 500 jobs. While jobs in the automotive sector should be welcomed and protected, UK demand for ICE vehicles will disappear in a decarbonised transport system.
It is critical that whichever party wins the election takes meaningful steps to scale up zero-emissions vehicles, on both the supply and demand side.
Sam Unsworth's current work at the Grantham Research Institute is on sustainable growth in the UK. He is leading a study on goods and services related to passenger vehicles which will be published early in 2020.
[1] Other Parties have also made significant announcements in this area; the analysis in this article focuses only on the Conservatives and Labour as the two largest UK political Parties.
This commentary was first published in Business Green.