Book launch | The economics of climate-resilient development
Professor Sam Fankhauser and Dr Thomas McDermott host a panel debate to launch their new edited volume 'The Economics of Climate-Resilient Development'. The panel includes a number of the contributors to the volume.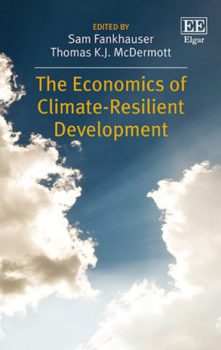 Panellists
Dr Eva Ludi, Overseas Development Institute
Dr Thomas McDermott, University College Cork
John Ward, Vivid Economics
Dr Swenja Surminski, Grantham Research Institute, LSE
Dr Hélia Costa, Grantham Research Institute, LSE
Some climate change is now inevitable and strategies to adapt to these changes are quickly developing. The question is particularly paramount for low-income countries, which are likely to be most affected. This timely and unique book takes an integrated look at the twin challenges of climate change and development.
The book treats adaptation to climate change as an issue of climate-resilient development, rather than as a bespoke set of activities (flood defences, drought plans, and so on), combining climate and development challenges into a single strategy. It asks how the standard approaches to development need to change, and what socio-economic trends and urbanisation mean for the vulnerability of developing countries to climate risks. Combining conceptual thinking with practical policy prescriptions and experience the contributors argue that, to address these questions, climate risk has to be embedded fully into wider development strategies.
The book is available to purchase through the publisher here and a discount is available here.