Seizing sustainable growth opportunities from tidal stream energy in the UK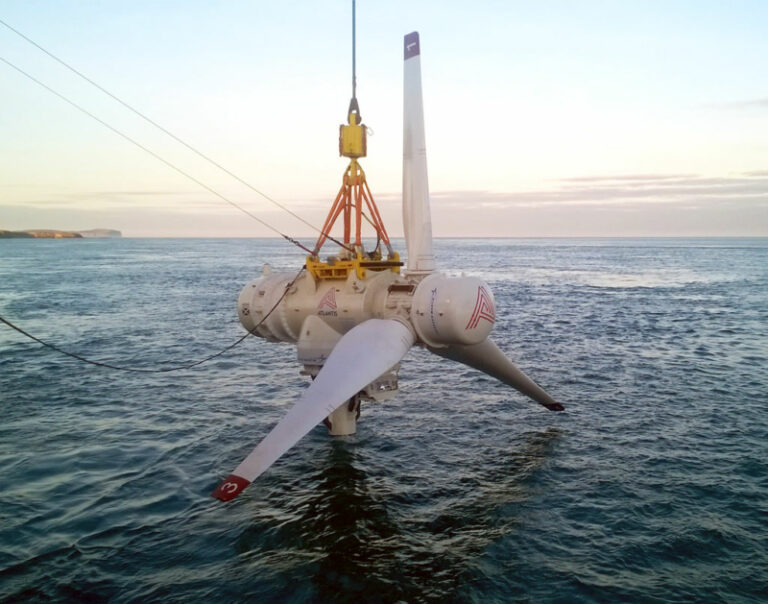 Tidal stream energy (sometimes referred to as tidal current energy) is a way of harnessing renewable energy by capturing kinetic energy from fast-flowing water driven by tidal currents.
The global development of tidal stream energy to date has been limited by high technology costs, poor access to government subsidies, uncertainty over the technology's environmental impacts and too few examples to build a track record of technology performance over sustained periods. As a result, the sector remains very much in its infancy.
However, the UK currently the global leader in tidal stream energy development. The country has both the greatest tidal stream generation capacity (both installed and under development) and the largest quantity of tidal stream technology developers.
This report assesses the potential contribution of tidal stream energy to sustainable growth in the UK, drawing on a review of the existing literature and new analysis of trade and patents data. This assessment is used to determine whether tidal stream energy constitutes a strategic priority for sustainable growth in the UK, and if so, what the immediate steps should be to maximise potential growth opportunities from the sector.
Key messages
Tidal stream devices typically use underwater turbines to extract energy from
moving water driven by tidal currents. The UK has around 10 MW of tidal stream generation capacity installed, which represents over half of the world's currently operational capacity.
As a sizeable domestic renewable resource with high predictability, tidal stream energy has the potential to contribute to sustainable economic growth in the UK, enhancing net zero efforts, improving energy security and generating jobs across the country.
The UK is a specialised innovator of tidal stream energy technologies, ranking fifth in the world on a measure of specialisation based on patenting activity. The UK is more specialised in tidal stream energy than in other clean technologies, including offshore wind, nuclear, and carbon capture, usage and storage.
Investments in tidal stream energy innovation yield higher estimated economic returns for the UK relative to other clean technology areas. Investments in tidal stream energy can also contribute to regionally-balanced growth.
The UK could capture export opportunities from high-value products relevant for tidal stream energy such as turbines, in which it is already specialised. But the UK's ability to secure such opportunities will depend on timely investments in the domestic supply chain.
Increased support for innovation could keep the UK at the frontier of technological development for tidal stream energy, enabling it to scale up a low-carbon energy source in its own waters, and to capture export opportunities when the global market picks up.
Scotland is well-placed to lead the development of tidal stream energy. Expertise developed in Scotland can support the sector's growth in the rest of the UK.
Recommendations for policymakers
An explicit statement of government ambition in tidal stream energy would help to drive private sector investment into the domestic supply chain and the delivery of the technology at scale in UK waters. This could be in the form of a domestic deployment target in gigawatt terms, as advocated by industry.
The Contracts for Difference (CfD) scheme can continue to be utilised to scale up relatively established tidal stream technologies in the UK. A continued ringfencing approach for tidal stream energy can accelerate deployment and catalyse drivers of cost reduction for the technology, as previously seen in offshore wind.
Government can maximise sustainable growth opportunities from tidal stream energy by coordinating policy across deployment and supply chain development. In particular, proactive coordination across the Department for Energy Security and Net Zero, the Department for Business and Trade, and the Department for Science, Innovation and Technology is needed on this agenda.
Government should consult with industry to explore which mechanisms can most effectively carry early-stage tidal stream concepts to commercialisation, building on the UK's innovative strengths in tidal stream technology to create economic benefits.
A holistic strategy for the offshore economy that includes tidal stream alongside CCUS and offshore wind is likely to yield greater economic benefits than pursuing any single area alone. The UK demonstrates complementary specialisms for these three technologies at both a national and regional level.