El cambio climático y la transición justa: Guía para la toma de decisiones de los inversores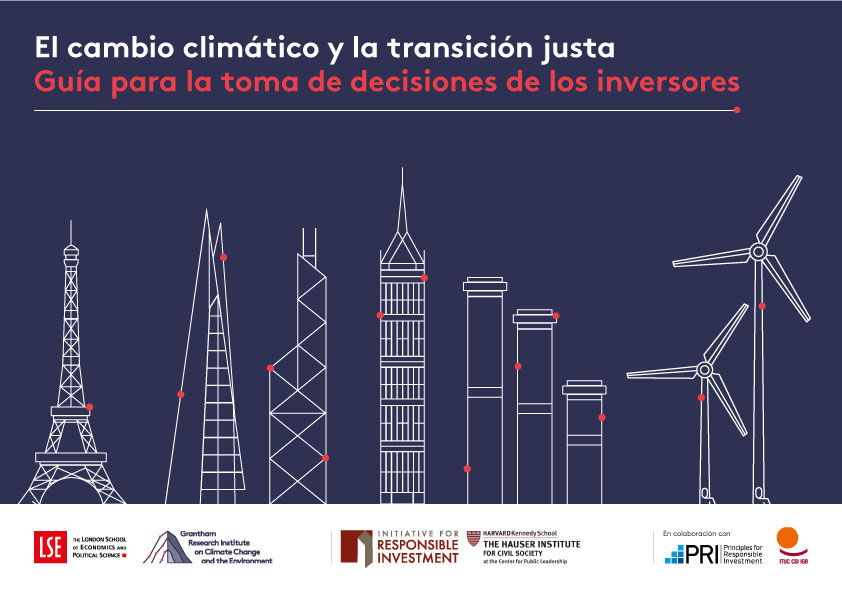 En el marco del Acuerdo de París sobre cambio climático de 2015 se incluyó una «transición justa» para los trabajadores y las comunidades , todo ello como respuesta de la economía mundial al cambio climático.
En esta guía se indica cómo los inversores pueden alcanzar el objetivo de una transición justa en el marco de sus prácticas operativas fundamentales. La guía se basa en un análisis internacional de enfoques de inversores de eficacia probada ya existentes y en un diálogo exhaustivo con los inversores, para proporcionar un marco que pueda aplicarse tanto por parte de instituciones concretas como a través de iniciativas de colaboración.
La traducción del presente informe ha sido financiada por BNP Paribas Asset Management
---
La iniciativa Invertir en una Transición Justa (Investing in a Just Transition) está liderada por el Grantham Research Institute on Climate Change and the Environment y la Iniciativa sobre Inversión Responsable. Se ofrece en colaboración con los Principios para la Inversión Responsable (PRI) y la Confederación Sindical Internacional (CSI).
La iniciativa trabaja para identificar el papel que pueden desempeñar los inversores institucionales para vincular su acción sobre el cambio climático a procedimientos de desarrollo inclusivos. Se basa en el compromiso dentro del Acuerdo de París para apoyar una transición justa.