Changement climatique et transition juste: Guide pour orienter l'action des investisseurs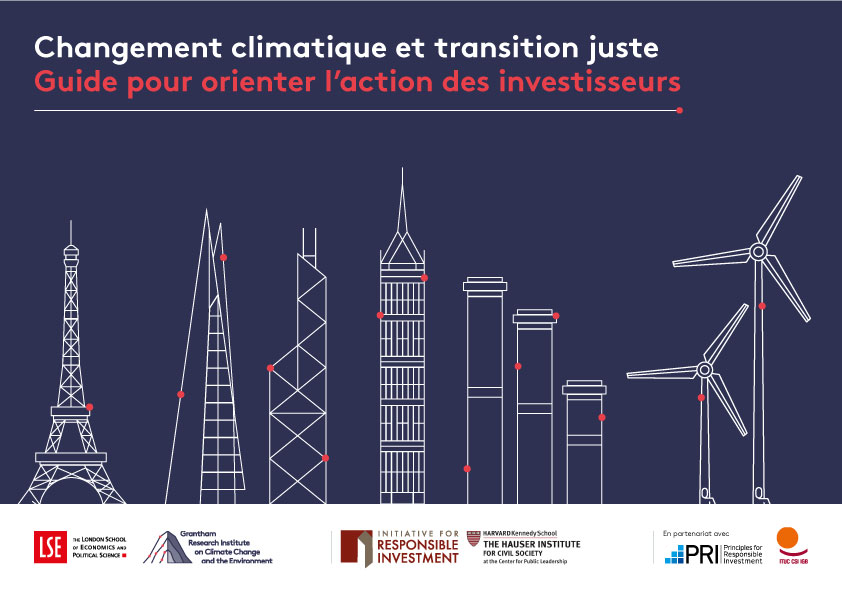 Le principe d'une « transition juste » pour les travailleurs et les communautés dans la réponse du monde économique aux changements climatiques figurait dans l'Accord de Paris de 2015 sur les changements climatiques. Ce guide présente les leviers d'action dont disposent les investisseurs en vue de poursuivre l'objectif d'une transition juste dans le cadre de leurs pratiques opérationnelles.
Le guide se fonde sur une étude internationale des diverses approches déjà expérimentées avec succès par les investisseurs et sur de nombreux échanges menés avec ces derniers pour proposer un cadre pouvant être utilisé par des institutions individuelles ou dans le cadre d'initiatives collaboratives.
La traduction du présent rapport a été financée par BNP Paribas Asset Management.
———————————————————————————————————-
L'initiative Investir dans une Transition Juste (Investing in a Just Transition) est placée sous l'égide du Grantham Research Institute on Climate Change and the Environment et de l'Initiative for Responsible Investment. Cette initiative est menée en partenariat avec les Principes pour l'Investissement Responsable (PRI) et la Confédération syndicale internationale (CSI).
Cette initiative vise à identifier le rôle que peuvent jouer les investisseurs institutionnels en inscrivant leur lutte contre les changements climatiques dans une démarche de développement inclusive. Cette initiative se fonde sur l'engagement pris dans l'Accord de Paris en faveur d'une transition juste.