Why we need clear and transparent monitoring of climate and disaster risk insurance in low-income countries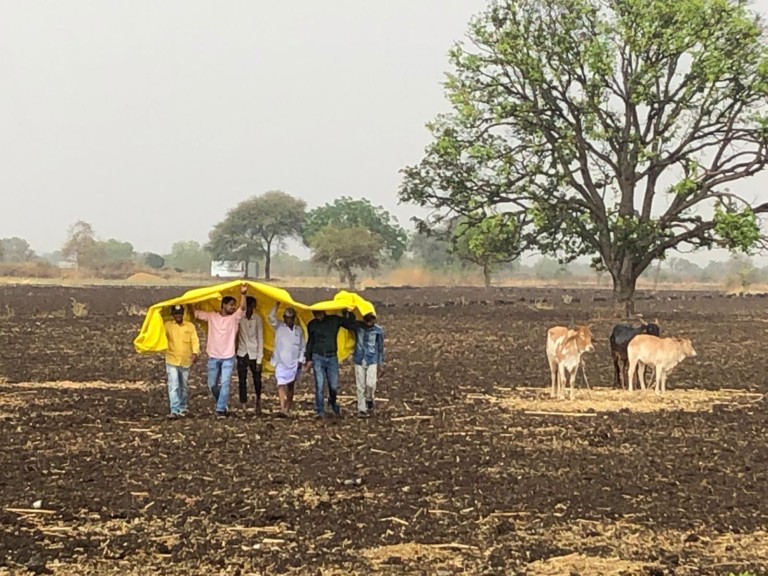 A wide range of success criteria are currently used to evaluate climate and disaster risk insurance. Architesh Panda and Swenja Surminski argue that transparent monitoring and evaluation frameworks are needed to enable greater scrutiny and to assist those funding, demanding or supplying insurance instruments.
Climate and disaster risk insurance (CDRI) has become an increasingly important tool over the last decade in low-income countries (for example, in developing Asia) to strengthen the resilience to climate change of poor and vulnerable communities, as the financial impacts from extreme weather and a changing climate have grown.
With the increasing scale of the climate crisis, traditional financial instruments for disaster recovery in low-income countries – such as humanitarian aid and support from multilateral organisations – have proven insufficient in providing financial resources quickly enough to aid rapid recovery, especially for poor and vulnerable populations.
Complementing post-disaster financing instruments with pre-arranged risk financing including insurance mechanisms, which can offer more timely and effective protection, is increasingly seen as an essential tool for climate risk management. This is reflected in many national and international commitments, such as the UN's Sendai Framework for Disaster Risk Reduction 2015-2030, the Paris Agreement on climate change, and initiatives such as the Insu-Resilience Global Partnership, which aims to provide CDRI coverage to 500 million poor and vulnerable people by 2025.
However, there is still relatively little evidence on the impacts of insurance interventions on poorer households, communities or nations, and it is often very difficult to establish if and how instruments meet the current needs of those at risk or whether insurance helps to prepare for future risks. A clear gap exists between efforts to increase the scale of CDRI and empirical evidence of success on the ground.
Our new working paper examines the need for a framework to assess the impacts of CDRI schemes and monitor their performance, especially in low-income countries, where the disaster insurance protection gap is considerable.
A need for greater transparency and more evidence on impact
Efforts to increase the use of insurance for climate and disaster risk finance in low-income countries span four major policy domains: disaster aid and risk finance; social protection; climate change adaptation; and loss and damage to climate change. Current monitoring and evaluation (M&E) of climate and disaster risk insurance across the domains is highly diverse in nature; there are a number of initiatives and programmes at local, national and global levels and different evaluation criteria are used to measure success in each of the four policy domains.
Clear data collection requirements and reporting frameworks for CDRI are lacking and there is little transparency in the performance data from insurance schemes at all levels; insurance providers only occasionally report on the numbers they insure or their coverage rates. This makes tracking trends in CDRI application difficult.
Thus, there is a need for a transparent M&E framework applied across insurance domains to enable greater scrutiny and understanding for those funding, demanding or supplying insurance instruments. Transparency about the performance of schemes is essential to build trust, avoid misunderstandings and help improve design. Monitoring and evaluating the implementation is also important, to understand how different forms of insurance can support wider development objectives, including access to finance, market development and financial planning. And information about how insurance supports current and future resilience is needed in order to avoid unintended consequences such as maladaptation (where climate actions end up increasing people's vulnerability) and short-lived solutions.
At present various principles guide the design of M&E frameworks, including pro-poor, cost-effectiveness, risk-reduction potential and pre-agreed financing. Which principles are employed where depends on the setting as well as the scale of the insurance intervention, ranging from macro to micro level. Currently evidence on the successful implementation of these principles remains scarce – this needs to change if we are to improve the success of CDRI schemes.
What constitutes success in this context?
Understanding of what success means and for whom is influenced by the fact that the term 'insurance' captures not only a wide variety of CDRI schemes but is also used to fulfil different aims and objectives across the four domains identified above. Thus, there is no clarity on what 'success' looks like: is it the amount paid out, is it the speed of payment and recovery, is it the rate of insurance penetration and coverage, is it poverty reduction or insurance market development, the longevity of a scheme or the amount being invested by funders?
On the one hand, our review of indicators and evaluation criteria of selected global, regional and national level CDRI shows the indicators most commonly used by insurance providers to evaluate success include the number of schemes managed, the percentage of insurance penetration, and the number of countries, businesses or individuals covered.
On the other hand, industry and government stakeholders who are involved in facilitating and implementing insurance, and the users of insurance such as farmers or local communities, have often very different ideas of what success looks like, and this also varies by location and gender. In our case study, stakeholders representing the emerging insurance sector in Africa, for example, most often mentioned increased risk reduction potential as their measure of success. In India male farmers mentioned adequate and timely payouts, while female farmers named improved understanding of insurance procedures. The latter results emphasise the need for gender-responsive criteria for monitoring the success of these instrument. This is important given, too, that women in low-income countries have less access to and usage of insurance and formal financial products than men.
Requirements for a monitoring and evaluation system for CDRI
Effective M&E of climate and disaster risk insurance is cost- and time-intensive, and highly context-specific. Outcome indicators such as the number of people covered, sums given in pay-outs and the number of poor people benefiting from insurance are the most common type of indicators used for evaluation. Impact indicators such as reduced poverty and vulnerability and capacity-building for long-term resilience have been used much less often.
While, over the last few years, 'resilience' has provided a useful grand operational framework for analysing the impact of CDRI, there is still little clarity on how to monitor and measure the climate resilience impact of CDRI. Efforts have largely focussed on indicators reflecting objective resilience, such as household assets or access to social safety programmes. However, there is growing recognition that people have a strong understanding of their resilience capacities, and qualitative and subjective resilience measures, incorporating people's perceptions and beliefs, are increasingly being included in climate resilience measurement guidelines. This is particularly important when considering resilience not as a static phenomenon but as a dynamic process over time. It also underlines the importance of engaging beneficiaries of insurance in these evaluations through surveys and focus-group discussions. Far too often this engagement is limited to initial capacity building or needs assessments, but is not a continuous process that allows insights into how insurance is experienced by those who use it.
Measuring 'success' and 'impact' are inherently difficult, not just in the CDRI context but for most instruments and interventions. It requires clarity on aims, objectives, an understanding on different concepts of 'success' that stakeholders may have, and a collection of robust data and long-term tracking and monitoring success.
We propose that there are at least three important ways to analyse the success of CDRI in the context of climate change:
By looking at the demand-side dimensions, including access and affordability of CDRI.
By looking at the supply-side dimensions, including the availability and scope of CRDI.
By looking at resilience impact dimensions, including whether CDRI is leading to short- and long-term resilience of the people insured.
Further, given the challenges that most low-income countries are already facing in terms of sustainable development and climate risks, how CDRI supports adaptation to climate change needs to be considered at the design stage of insurance and monitored and evaluated transparently alongside other criteria.
CDRI and broader risk financing do not automatically reduce risk but can help to finance and manage it, thus reducing vulnerability to climate change impacts. Transparent monitoring and evaluation can improve the impact of these instruments.