The heatwave faced by the UK and the rest of Western Europe must be viewed as an unnatural disaster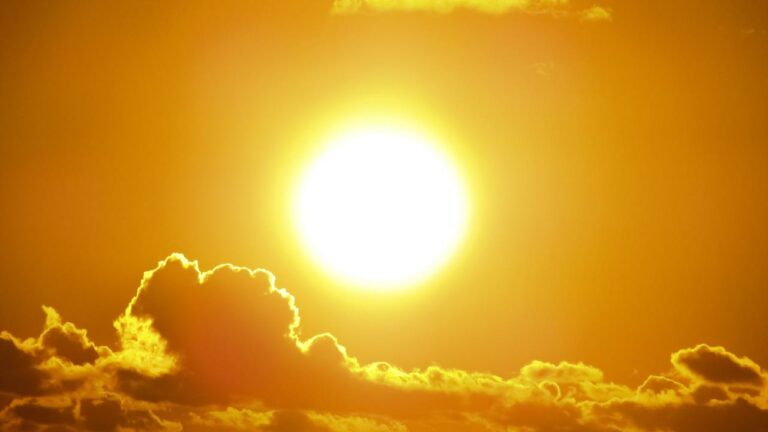 A brutal heatwave is likely to lead to thousands of preventable deaths in the UK and other European countries over the next few days. Bob Ward urges a change in mindset to this increasingly common and deadly form of extreme weather, with more action to combat overheating in housing and accelerate the drive to net zero.
The coming heatwave is an unnatural disaster that has been made significantly more likely by man-made climate change, and its impacts will be exacerbated by a failure of many countries to adapt properly to global warming.
As temperatures will not stop climbing until global emissions of greenhouse gases reach net zero, such heatwaves will grow in frequency and intensity for at least the next three decades.
Temperatures over the next week could exceed 40°C across many countries, including the UK, and approach 50°C in parts of Spain and Portugal.
The UK Met Office has issued a red extreme heat warning for parts of England, and forecast that a new temperature record could be set. The Met Office has calculated that record hot summers in the UK are now 30 times more likely, due to climate change.
The heatwave conditions next week could rival the heatwave that struck Europe in August 2003 and caused more than 70,000 deaths. Scientists have estimated that climate change at least doubled the probability of the 2003 heatwave occurring. Since then, Europe has been experiencing more frequent and intense periods of heatwave conditions. On 28 June 2019, the record in France that was set during 2003 was broken when the temperature reached 45.9°C. A month later, on 25 July 2019, a new UK temperature record was set at 38.7°C.
Death toll from heatwaves
England's health authorities estimated that 572 deaths were linked to the hot weather in late July 2019, while further periods of heatwave during summer 2019 meant that 892 people in total were killed by hot weather that summer. This compares with 2,234 deaths in summer 2003, 2,323 deaths in 2006 and 2,556 deaths in 2020.
Although England introduced a Heatwave Plan following the August 2003 heatwave, an official review published in 2019 by the Policy Innovation and Evaluation Research Unit (PIRU) at the London School of Hygiene and Tropical Medicine concluded that there was no evidence that the Plan had reduced the number of heat-related deaths in the intervening years.
The review also warned that most of the public do not recognise the risks posed by hot weather. It stated: "Most adults in England do not consider themselves at risk from hot weather, including a majority of those considered to be 'vulnerable' (adults with certain health conditions or older adults aged 75 and over). Rather, the general public, especially those aged under 45, tends to hold positive views about hot weather."
Although those most at risk from heat have underlying health conditions, such as respiratory illnesses, temperatures above 35°C can endanger healthy people who do not take adequate precautions.
More action is needed to educate and inform the public about the dangers created by heatwave conditions. One part of the solution could be to name heatwaves in the same way that winter storms are now given names to gain the attention of the public.
Government inaction
The Government has been slow to act on the review by PIRU and has made no major changes to the Heatwave Plan for England in response. It has indicated that it is working on a new health plan to deal with all extreme weather events but this is likely only to provide guidance on how to manage a heatwave once it has become a public health emergency and will ignore other crucial aspects, such as the modification of buildings to prevent them from overheating.
The current Prime Minister has ignored repeated calls to create a National Heat Risk Strategy that would engage all relevant government departments in tackling the growing threat from heatwaves.
Overheating buildings
There is evidence that many of those who die from heat perish indoors in temperatures that are far higher than those occurring outside. In this respect, the Government has also failed to act on the warnings of the statutory Climate Change Committee. In its damning climate change risk assessment last year, the Committee concluded: "Little preventative action is being taken to address health risks from overheating in buildings, and in homes in particular. More than 300,000 homes are due to be built each year across the UK and there is a major risk of lock-in if they are not planned and built to address overheating alongside energy efficiency and low-carbon heating. Inaction now will create unnecessary retrofit costs later and could even leave many existing and new homes uninhabitable as temperatures rise."
The Committee followed up in its progress report to Parliament by pointing out: "A key issue with tackling heat risk is that ownership of the issue is shared across Government departments. There is a lack of cross-departmental coordination in dealing with the multiple health outcomes from overheating and utilising the multiple adaptation options available for mitigating risk."
New building regulations on overheating came into force in England last month. They state: "Reasonable provision must be made in respect of a dwelling, institution or any other building containing one or more rooms for residential purposes, other than a room in a hotel ('residences') to (a) limit unwanted solar gains in summer; (b) provide an adequate means to remove heat from the indoor environment." It remains to be seen how much of an impact these regulations make.
The London Plan prepared by the Mayor of London encourages developers in the capital to employ a "cooling hierarchy" to avoid overheating in buildings. The Plan was published in 2016 but the impacts of this advice are not yet clear.
Time to change our approach
Some commentators in the UK media in recent days have claimed that the increasing attention being paid to the dangers of heatwaves is a sign of a decline in British resilience. But such displays of callousness about hundreds of preventable deaths simply highlights the challenge we face in dealing with the growing risks from climate change.
It is time for the UK to stop thinking of itself only as a cold country, where any bout of summer sunshine is celebrated as an opportunity for beach visits and ice creams. Heatwaves are deadly extreme weather events that will grow worse for at least the next 30 years. We must adapt and do a better job of protecting ourselves, particularly those who are most vulnerable to hot weather.
Crucially, to keep the changes we must make to deal with the effects of heatwaves manageable, the UK must continue to push for the world to reach net zero emissions of greenhouse gases as soon as possible. If we weaken efforts to achieve net zero emissions, as some candidates to be the next Prime Minister have argued, we will end up suffering even worse damage to lives and livelihoods in the future from these unnatural disasters.