New report concludes that recovery from global shocks requires cooperation between countries and companies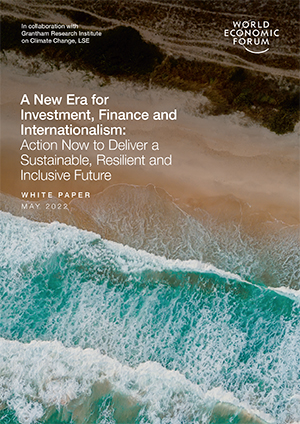 Greater collaboration among countries and between governments and the private sector will be required if the world is to recover from the many shocks it is currently experiencing, according to a new report published today (25 May 2022) by the World Economic Forum at its annual meeting in Davos, Switzerland.
The report on 'A New Era for Investment, Finance and Internationalism' was produced in collaboration with Professor Lord Nicholas Stern and other co-authors at the Grantham Research Institute on Climate Change and the Environment at the London School of Economics and Political Science.
The Introduction to the report, written by Klaus Schwab, the Executive Chairman of the World Economic Forum, Saadia Zahidi, the Managing Director of the World Economic Forum, and Lord Stern, states: The wars and hardening geopolitical divisions we are witnessing have roots in geography and history. But they also underscore the precious opportunity to act together in a spirit of internationalism on objectives that are widely shared.
They add: "International cooperation will be pivotal to achieving climate goals and sustainable, resilient development. Climate action should also be seen as a key part of the energy security agenda in which most countries, in the Global South as well as the Global North, have a shared and overwhelming interest. In a fractured world, the climate agenda represents an important area in which countries can collaborate."
The report highlights "the need to act jointly, urgently and at scale to create a new approach to growth and development", and warns: "We have little time, both because economies are living through multiple shocks and because the crucial direction in which we need to head in the long term starts with the capital that must be put in place today. Delay is dangerous."
The report identifies priorities for overcoming shocks and crises in the short term, laying the tracks for a more inclusive model of prosperity; and transforming the global economy to enable sustainable, strong and resilient growth.
It states: "Internationalism and public-private collaboration, based on an understanding of mutual risk and opportunity and shared humanity, have never been more critical than at this time of deepening global division. The returns if we act together are immense, in terms of expectations for investment and the economies of scale and discovery. The prize of a new, more attractive growth model for the 21st century goes far beyond simple gains from trade."
It adds: "To establish and deliver a strong, and indeed necessary, agenda for recovery and sustainable, resilient, inclusive growth, actors must work together across international structures, geographies, sectors and the public and private spheres to drive progress."
The report also draws attention to the social, economic and ecological need for urgent action. It states: "Inequities and insecurity, in food, health, climate and incomes, can and must be tackled. The current food and energy crises require immediate action to rebalance demand and supply with a view to protecting the most vulnerable. All must act to overcome the COVID-19 pandemic by vaccinating the world by the end of 2022, with a focus on building delivery systems, in addition to financing supplies – with rich countries carrying a special responsibility."
It calls for countries to act over the next few years to "build social cohesion by tackling sources of inequity, such as unequal access to public services and fiscal regressiveness, and sources of insecurity, such as the lack of sufficient care services and the different types of demographic pressures in several countries, from both ageing and young people joining labour markets".
The report suggests that economic growth will come from investment and innovation, requiring clear expectations and clear policies. However, it acknowledges that "for many of the lowest-income countries, debt will be a major constraint, particularly in light of the pandemic, and strengthened international action on debt will be critical to their investment and recovery".
Emerging market and developing countries will need investments and financial support from several different sources, including from the private sector, governments and the multilateral development banks, to manage the risks and promote environmental and social change. The report states: "The extra investment needed is in the trillions of dollars and so, too, will be the necessary financing".
Pointing to the need for "a just transition away from fossil fuels, particularly in emerging markets and developing countries", the report also emphasises the need for clear and credible policies, "especially on carbon pricing, the elimination of fossil fuel subsidies and the phasing out of coal".
For further information about the study, or a copy of 'A New Era for Investment, Finance and Internationalism: Action Now to Deliver a Sustainable, Resilient and Inclusive Future', please contact Bob Ward on r.e.ward@lse.ac.uk or +44 (0) 7811 320346.
Notes to Editors
The World Economic Forum is the International Organization for Public-Private Cooperation. The Forum engages the foremost political, business, cultural and other leaders of society to shape global, regional and industry agendas. It was established in 1971 as a not-for-profit foundation and is headquartered in Geneva, Switzerland. It is independent, impartial and not tied to any special interests. The Forum strives in all its efforts to demonstrate entrepreneurship in the global public interest while upholding the highest standards of governance. Moral and intellectual integrity is at the heart of everything it does. www.weforum.org
The Grantham Research Institute on Climate Change and the Environment was established in 2008 at the London School of Economics and Political Science. The Institute brings together international expertise on economics, as well as finance, geography, the environment, international development and political economy to establish a world-leading centre for policy- relevant research, teaching and training in climate change and the environment. It has an active body of work on sustainable finance, including carbon assessment, central banks, the just transition, resilience and sovereign bonds. It is funded by the Grantham Foundation for the Protection of the Environment, which also funds the Grantham Institute – Climate Change and Environment at Imperial College London. www.lse.ac.uk/grantham/