Consolidating EU–China diplomacy in a changing world and a changing climate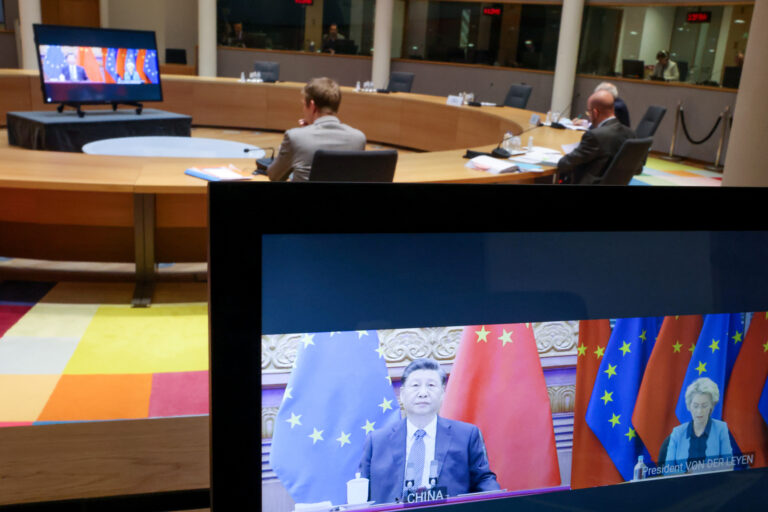 Lucie Xia presents three recommendations for the EU and China to further climate action, now that Track 1 diplomacy has resumed between the two powers.
On 1 April 2022, the 23rd EU–China Summit took place, recharging Track 1 diplomacy between the two leaderships after a hiatus of nearly two years. The summit took place at a time when the existential crisis of climate change had been compounded by the fragility of globalisation and geopolitical tensions.
In this commentary I present three urgent steps, recommended to strengthen EU–China climate diplomacy in the changing global context.
1. Build political momentum
There is an imperative to maintain the highest level of bilateral political engagement and coordination for long-term strategic cooperation between the EU and China. Although the recent summit did not reach a joint statement between the two, the European Council released a press statement highlighting that the EU and China are major global powers with global responsibilities in the changing climate of international politics. Both sides agreed to "continue cooperation on climate change and energy transition, which is necessary to tackle this urgent global challenge". The EU stressed the importance of additional measures, including on phasing down coal, in the run-up to the COP27 climate conference in Sharm-El Sheikh. The statement also said that the EU and China intend to work together to secure a robust and ambitious new global biodiversity framework at the COP15 biodiversity conference in Kunming and that the High-Level Dialogue on Environment and Climate will "meet before the summer".
In the words of Vietnamese diplomat and scholar Trần Văn Dĩnh, "communication is to diplomacy as blood is to the human body"; further bilateral political dialogue would benefit both powers to support up-to-date best practice on tackling climate change. The EU is one of the champions of global climate ambition and its mission to become the first climate-neutral jurisdiction by 2050 is in sync with China's pledge to achieve carbon neutrality by 2060. Building political momentum in EU–China relations to navigate the changing global context has never been more important.
2. Increase whole-of-government efforts
The Intergovernmental Panel on Climate Change (IPCC) warns in its latest report that limiting global warming to 1.5 degrees Celsius will not be possible without "immediate and deep emission reductions across all sectors".
For both China and the EU, climate neutrality should not be a one-dimensional vision but an all-encompassing policy roadmap that calls for a more intersectional approach to reaching net-zero. Climate action in this vein would be fundamentally a strategy of complete economic transformation; both China and the EU – indeed, all countries – should fundamentally transform their economies and societies towards climate neutrality; and both should align all policy instruments and execute a 'whole-of-government' and 'whole-of-economy' approach to tackle climate change.
Critically, both China and the EU need to lead by example to the rest of the world to promote openness in enhancing international research and partnerships to deliver innovative solutions to climate change. In the EU's most recent Communication on its Global Approach to Research and Innovation, its strategy for international cooperation in a changing world, which was adopted in 2021, the EU highlighted China as a "research and innovation powerhouse and a partner for the EU in tackling global challenges". In April 2022 following the EU–China summit, the EU and China signed an administrative arrangement for the period 2021–2024 to support collaborative research projects under two jointly agreed research flagship initiatives: on Food, Agriculture and Biotechnology and on Climate Change and Biodiversity. Both powers should continue to place the science diplomacy agenda at the epicentre of their whole-of-government approach to addressing the climate crisis.
3. Develop a diplomatic strategy on climate
Last but not least, both the EU and China should be open and frank in challenging times to mitigate the politicisation of climate change. The EU and China need to show resilience in their bilateral relations through diplomatic dialogue and communication and to develop a symbiotic relationship between domestic development and bilateral diplomacy. There is an urgent need for a strategic framework for constructive cooperation between the EU and China. Both need to maximise constructive elements of the multifaceted relationship they already have. In this make-or-break decade for planetary climate transformation, China and the EU should have the courage and ambition to take their relationship forward in the name of joint climate leadership, for planet, people and prosperity.
The views in this commentary are those of the author and do not necessarily represent those of the Grantham Research Institute.