Brazil: roadmap to a sustainable future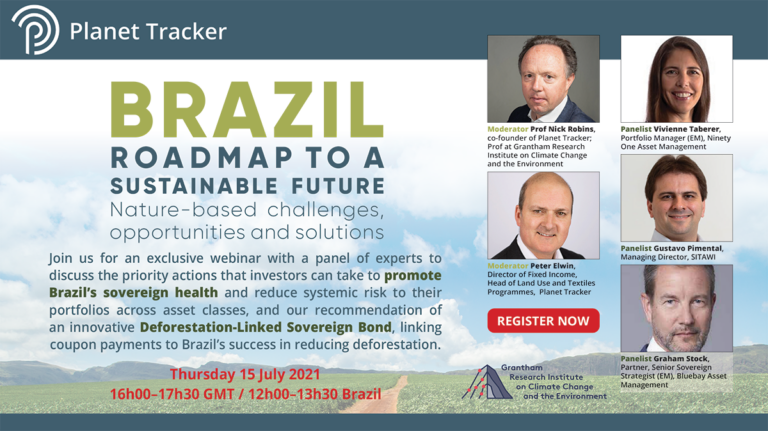 Join Planet Tracker for an exclusive preview of Brazil: Roadmap to a sustainable future, which builds on the award-winning paper 'The Sovereign Transition to Sustainability' jointly written by Planet Tracker and the Grantham Research Institute.
With nature underpinning Brazil's economic strength, this report provides a summary of Brazil's sovereign health and sets out a roadmap for enhancing it, demonstrating how to incorporate the state of a country's natural capital into the assessment of the financial strength of its sovereign bonds.
The report recommends an innovative Deforestation-Linked Sovereign Bond, linking coupon payments to Brazil's success in reducing deforestation, and sets out the priority actions that investors can take to promote Brazil's sovereign health and reduce systemic risk to their portfolios across asset classes.
This webinar will also present a panel of experts to review the findings of the report as well as discuss the nature-based challenges, opportunities and solutions presented.
Panelists:
Gustavo Pimental, Managing Director, SITAWI
Vivienne Taberer, Portfolio Manager (Emerging Markets), Ninety One Asset Management
Graham Stock, Partner, Senior Sovereign Strategist (EM), Bluebay Asset Management
Moderators:
Professor Nick Robins, co-founder of Planet Tracker, Investor Watch and Carbon Tracker and Professor in Practice for Sustainable Finance at the Grantham Research Institute on Climate Change and the Environment at LSE
Peter Elwin, Director of Fixed Income, Head of Land Use and Textiles Programmes, Planet Tracker
Registration