Agreeing the Paris Rulebook: did COP24 deliver? Reflections from the Grantham Research Institute's Post-COP event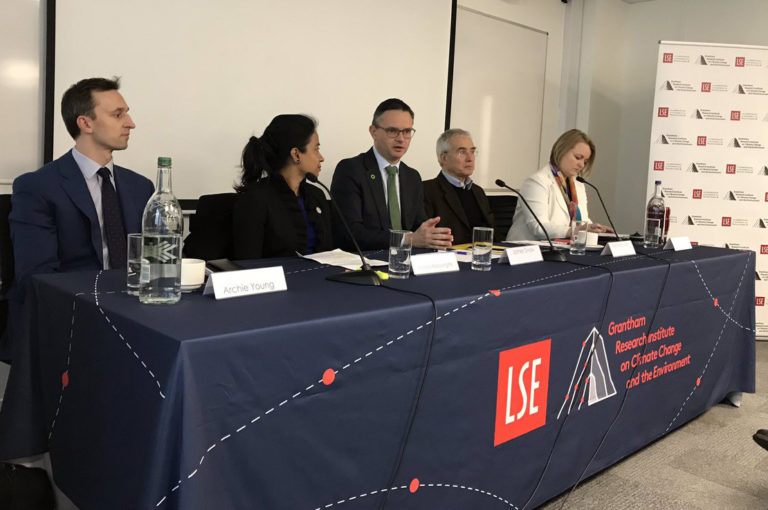 Identifying progress within the annual round of international climate negotiations can be a challenging business. The sessions of the Conference of the Parties (COP) to the United Nations Framework Convention on Climate Change are by their nature slow, technical and nuanced affairs, with ambiguous processes and divergent priorities represented by delegates from almost 200 countries.
This year's negotiations, the 24th session known as COP24 in Katowice, Poland, were no different. The goal of COP24 was not to impose new climate obligations on countries or to come up with a grand statement. Rather, it was to agree the 'Paris Rulebook' which would lay out how the Paris Agreement should be implemented and monitored when it takes effect from 2020. And on 15 December, the Paris Rulebook was formally agreed by the COP: so can we call COP24 a success?
At a post-COP event held at Grantham Research Institute on 18 December, James Shaw, New Zealand's Minister for Climate Change, noted that "the moment you try to construe rules around something that was purposefully constructed to be ambiguous, you will get debate". In this context, the panellists agreed that finalising the rulebook was an impressive feat.
Reaching consensus on the rules – what was agreed?
Implementation guidelines
The Paris Agreement is characterised by a bottom-up, country-led process with two broad focuses. First is the development of forward-looking pledges for emissions reduction trajectories, country-level actions (including measures to prevent, adapt to, and respond to climate impacts) and finance needs to meet these actions. These are encapsulated in countries' nationally determined contributions (NDCs) – intended to be updated and re-submitted every five years with increasing ambition – and their adaptation communications. The second component includes procedures to monitor and evaluate progress towards meeting the commitments. Here, three processes are key: the transparency framework, the compliance mechanism, and the global stocktake, all of which aim to review and ratchet up ambition.
This is where the rulebook comes in. Archie Young, Head of International Climate Change Negotiations at the UK Government's Department for Business, Energy and Industrial Strategy, commented that the rulebook is an essential component of increasing climate ambition by setting down rules and guidelines that will ensure countries provide reliable, comprehensive and detailed information to build confidence in the rulebook in line with the Paris Agreement's five-yearly cycles.
On the development and updating of forward-looking NDCs, agreement was reached on the guidance of what, and how, reporting should happen – including how to report emissions and record them in a public forum. This is a welcome development as current NDCs are varied in terms of content, length and format, which makes comparison and evaluation difficult. Many developing countries, however, were disappointed that the final guidance focused on mitigation, with guidance on adaptation and support components of NDCs removed in the final draft.
On the transparency framework, there was disagreement over the extent to which developing countries should have more flexibility than developed countries in their reporting. Final agreement was reached on a fixed set of rules, applicable to all, but allowing for flexibility for developing countries in light of their individual capacities. This was based on a compromise that acknowledges countries wishing to use the flexibility mechanism need to state why and for how long, as well as how, they will improve their reporting. This is expected to be a point of disagreement in future negotiations, as countries dispute for whom and for how long flexibility can be allowed.
Processes were also agreed for the five-yearly 'global stocktake' of progress towards cutting emissions to remain within the Paris temperature thresholds – albeit after resolving a key crunch issue relating to whether, and how, the issue of loss and damage should be included. Ultimately, a trade-off was reached whereby loss and damage was included in the scope of both the global stocktake and the transparency framework – allowing developing countries to report on the adverse impacts of climate change that they experience – but removed completely from the finance and support sections of the transparency framework.
Financial support
The quantity and predictability of finance flows have often proved a sticking point in negotiations. It is difficult for developed countries, constrained by budgeting cycles, to provide long-term indications of flows. Some progress was made regarding reporting of expected and actual climate finance, however no clear linkages have been included in the Paris Rulebook, so it is unclear if it will be possible to review this information.
This year the arguments around scaling up the long-term finance goal of rich countries mobilising US$100 billion a year from public and private sources to developing countries were surprisingly less combative than at previous COPs, despite the continued deferral of the decision on the process to agree the new goal. One area of concern related to the requirements as to which financial flows count towards the US$100 billion target – these were watered down in the final text through allowing all finance flows to count, not just those that are concessional in nature. Dr Achala Abeysinghe from the International Institute for Environment and Development highlighted the call for both more and better quality climate finance by the Least Developed Countries group, which currently only receives 20% of climate finance despite constituting the poorest 47 countries in the world.
Outside of the negotiating room, developed countries made additional commitments to provide financial support for the low-carbon transition. Germany led by doubling its commitment to the replenishment of the Green Climate Fund (GCF). The World Bank also announced it was doubling its climate change commitments, to US$40 billion a year between 2021 and 2025, while the European Bank for Reconstruction and Development (EBRD) pledged to halt its funding for coal projects and decrease lending to fossil fuels.
The final hours
The major contentious issue emerging from the Katowice negotiations was around the use of 'market mechanisms' to support and finance emissions reduction activities. Despite negotiations running more than a day overtime, many of the issues, including the use of carbon offsets generated under the previous Clean Development Mechanism (CDM) and the 'double counting' of emissions reductions, were deferred to future discussions. The text was held up by one country, Brazil, and this is expected to continue to be a sticking point in the negotiations and will provide a focus for future rounds of talks. Minister Shaw, who co-facilitated the negotiations around this issue, expressed that it was preferable to delay than to undermine environmental integrity in the design of markets.
Ambition remains the defining question and challenge
In general, COP24 can be viewed as having made good progress. Archie Young said that the Paris Rulebook was both "what was necessary and what was possible", but that there is also so much more to be done. As Dr Abeysinghe noted, the rules are not 'self-executing'. Their impact will be judged as positive if countries recommit to strong action on climate change, ramp up their ambitions and demonstrate progress while continuing to consider the "principle of equity and common but differentiated responsibilities and respective capabilities, in the light of different national circumstances" that lies at the heart of the Paris Agreement and the rulebook.
Lord Nicholas Stern, Chair of the Grantham Research Institute, framed COP24 as the start of a new era of climate negotiations which focus on ramping up climate action, culminating at COP26 in 2020 by which time countries are expected to update their climate pledges.
Increasing ambition is an inherently political consideration, and while the rulebook now serves as the bedrock of the system, alone it can only go some way towards influencing countries. In this context, Dr Alina Averchenkova of the Grantham Research Institute highlighted the importance of the Talanoa Dialogue, the collective stocktaking by countries that concluded at COP24, and calls for more pressure to be placed on governments by parliaments, the electorate, civil society and the private sector.
All speakers concurred that there is good reason to believe that stronger ambition is on the horizon. Dr Averchenkova noted the palpable concern from parliamentary members present at COP24 following the Intergovernmental Panel on Climate Change's Special Report on 1.5°C, and Minister Shaw noted how this report had reframed the conversation so that 'everyone was talking about 1.5°C, not 2°C'. Lord Stern provided a stark but optimistic imperative: "It is very important that the scale of what we have to do is clear, but we must also be clear about the attractiveness of the alternative way of doing things… There is no high-carbon long-term growth story."