Innovation, risk and government: perspectives and principles from the social sciences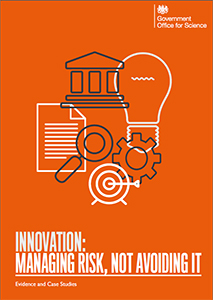 Chapter 1 in: Innovation: managing risk, not avoiding it – The Government Chief Scientific Adviser's annual report for 2014. Government Office for Science.
– Download the Executive Summary
Headline Issue
The infrastructure created by humans and the natural infrastructure of the planet are both vital for our survival and wellbeing. It is only possible for more than seven billion people to inhabit the Earth because of our ability to modify our environment. We achieved this by creating social and physical structures, and by discovering how to harness the fossil energy sources of the planet to power our modern world. But in spite of all our innovation and ingenuity we are still critically dependent on our natural infrastructure, on our interactions with animal and plant health, on weather, climate and all the other aspects of the physical and biological environment of the planet.
At the same time as we were learning how to modify our physical environment to improve our living conditions, we were building social and economic structures. We are as dependent on these as on our built environment. Modern economies were developed through politics, trade and specialization, shaped from time to time by war and conflict. The Industrial Revolution of the eighteenth and nineteenth centuries started in Great Britain, and we are now going through a second equally tumultuous revolution — the Information Technology Revolution — which is likely to play a similarly important role in the development of societies and economies of the future.
In Chapter 1 of the UK Government Chief Scientific Adviser's annual report for 2014, "Innovation: Managing Risk, Not Avoiding It. Evidence and Case Studies", the authors describe how many of the greatest periods of economic growth in the past have been driven by innovation. Indeed, the need to innovate is a fundamental requirement for social and economic progress. By providing a social science point of view, it is clear that there is a delicate interplay between innovation and risk, and the social interactions between public and private sectors that are critical in fostering innovation and determining its effectiveness. Innovation is essential for economic growth, health, wellbeing, security and resilience.
Key messages
Innovative economies are more competitive, respond better to change, see higher returns on investment and create increased living standards. Innovative businesses are more productive and grow faster than businesses that fail to innovate.
Yet it is not only businesses that must innovate: governments and social organisations need to innovate to adapt, respond to and shape the evolution of society. Governments have an essential role in shaping the legal frameworks, institutions and policies that in turn shape the risks and incentives faced by others. It is this balance of risks and incentives that determine what choices innovators, entrepreneurs, investors, inventors, bureaucrats and citizens will make.
In the UK, innovation will continue to be a key source, perhaps the key source, of economic growth. However, competition is becoming ever more fierce, vital global resources are dwindling, and environmental problems are mounting, making innovation an ever-present challenge. Indeed, there is some evidence to suggest that the UK is falling behind many of its major trade competitors when it comes to research and development, which is closely linked to innovation.