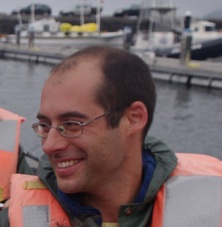 About
Marcelo's PhD focuses on the effects of air pollution from international maritime shipping on Mexico, using non-market valuation and cost-benefit analysis.
The aims of his research are to analyse whether Mexico should become a party to international rules on air pollution from ships (International Maritime Organisation MARPOL Convention's Annex VI on the prevention of air pollution from ships); and to analyse MARPOL Annex VI through the application of the economic theory of international environmental agreements, with a view to improving the effectiveness of the convention.
Background
Marcelo has a BSc in Economics from Universidade Tecnica de Lisboa, an MA in European Economic Studies from the College of Europe, and an MSc in Environmental and Natural Resource Economics from UCL.
Marcelo has most recently worked for the European Commission on air pollution policy. He has also worked as an economist in the Scottish Executive on climate change policy and on water-pricing policy.
Research interests
Cost-benefit analysis;
Non-market valuation;
International trade and the environment;
Economic theory of international environmental agreements;
Political economy of legislation.
Research
This research shows that when the monetary value people place on their health is measured by surveys, the type of institution sponsoring those surveys has an effect on that value. Read more