'The Mail on Sunday' admits publishing more fake news about climate change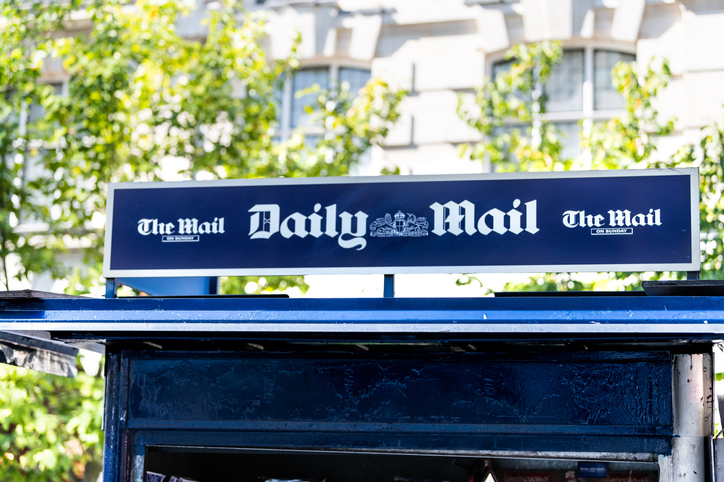 'The Mail on Sunday' newspaper has been forced to publish a statement today admitting that two more articles it published last year about climate change were fake news.
It is the latest humiliation for the newspaper which has been misleading its readers for many years about the causes and potential consequences of climate change.
The statement, published on page 2 of today's print edition, concedes that news stories by its reporter David Rose, published on 12 and 19 February 2017, were inaccurate and misleading, in breach of the Editors' Code of Practice.
They repeated false claims, originally published by 'The Mail on Sunday' on 5 February 2017, about a study by American scientists showing that the so-called 'hiatus' in global warming never occurred. The newspaper wrongly stated that the study was based on "faulty data" and had "duped world leaders".
The online version of Mr Rose's fake news report fooled many people around the world, including Lamar Smith, the Republican Chair of the House of Representatives Committee on Science, Space and Technology in the United States.
I wrote to the newspaper on 6 February 2017 to point out the serious errors in Mr Rose's article, but it refused to publish it in its next edition on 12 February.
Instead it featured another article by Mr Rose under the headline 'How can we trust global warming scientists if they keep twisting the truth?'. A sub-heading stated: 'His revelation that world leaders were duped over vital data sparked fury from the climate change lobby. Here is our reporter's uncompromising response…'.
The article reproduced many of the false claims that were published on 5 February, representing a breach of Clause 1ii) of the Editors' Code of Practice, which states: "A significant inaccuracy, misleading statement or distortion must be corrected, promptly and with due prominence, and — where appropriate — an apology published".
I had also submitted a complaint on 7 February to the Independent Press Standards Organisation(IPSO), which has been set up and funded by a few British newspapers, including 'The Mail on Sunday', to enforce compliance with the Editors' Code of Practice.
However, the newspaper still refused to publish any correspondence to correct Mr Rose's mistakes. On 19 February, it published yet another article by Mr Rose which contained many of the same falsehoods, under the headline: 'US Congress probe into climate data that duped leaders'.
IPSO launched an investigation into the 5 February 2017 article as a result of my complaint, and eventually ruled that it had breached the Editors' Code of Practice. On 17 September 2017, the newspaper published a 647-word "adverse adjudication"by IPSO.
But the newspaper did not correct the articles published on 12 and 19 February, so I submitted a second complaint to IPSO.
'The Mail on Sunday' has finally accepted today that those articles were also inaccurate and misleading. Its correction, published 14 months later, states:
"In September, 2017, the Independent Press Standards Organisation upheld a complaint against a February 5 article 'Exposed: How world leaders were duped over global warming.' Two subsequent articles on February 12 and February 19 contained claims regarding an influential study about global warming, which have been found to be in breach of the Editors' Code: namely the claim that the study was known- irrefutably and as fact – to be critically flawed, based on misleading unverified data, and had led world leaders to be duped by its findings. Corrections to these articles have been published online."
It is important to note that IPSO applied the very weakest of veracity teststo the articles by Mr Rose. It did not rule on whether the content was inaccurate, but instead assessed only if they had accurately reported the false allegations made by Dr John Bates.
This episode exposes the disregard for accuracy that is frequently shown by 'The Mail on Sunday' and Mr Rose when covering climate change and other issues. When I pointed out to the newspaper that Mr Rose's article of 5 February was wrong, it was not interested in correcting it. It chose instead to publish error-filled articles on 12 and 19 February that were filled with his characteristic hubris.
Altogether, five of Mr Rose's articles have been shown to be false over the past year, with IPSO adjudications published on 6 August, 17 September and 24 September 2017.
Given these persistent breaches of the Editors' Code of Practice, the question is whether IPSO will now undertake a standards investigation into 'The Mail on Sunday'. According to the IPSO website, such action is taken when "it has serious concerns about the behaviour or actions of one or more of its members", including when "there may have been serious and systemic breaches of the Editors' Code".
Bob Ward is policy and communications director at the Grantham Research Institute on Climate Change and the Environment and the ESRC Centre for Climate Change Economics and Policy at the London School of Economics and Political Science.