Investors have the power to play a critical role in diverting dangerous climate change – are they willing to use it?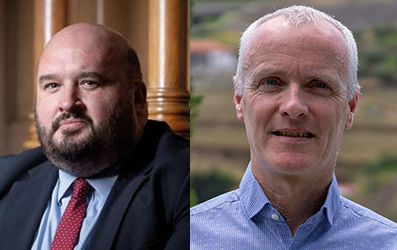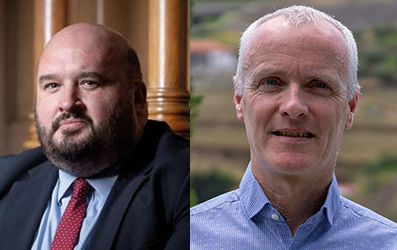 Adam C.T. Matthews and Rory Sullivan set out the ingredients for effective investor action on climate change, in this post for the Sustainable Finance Leadership series.
The term 'climate emergency' succinctly describes the scale and imminence of the threat we face. Climate change is no longer an issue for future generations. It is the defining issue for today.
In describing climate change in these terms we are not arguing that humankind should give up hope. In fact, the evidence shows that solutions are within our grasp. Governments, scientists and economists understand the changes that are required to deliver a low-carbon economy, how much capital is needed to deliver those changes, and how this capital might be raised and deployed. Most of the technical solutions we need to reduce energy consumption and emissions are already available. Furthermore, leaders from across society – political, administrative, business – are committing to act on climate change. However, unless countries decarbonise their economies more quickly and at scale, not only will we exceed a global average temperature rise of 2°C above pre-industrial levels but we will also soon be facing 3 or even 4°C of warming.
Despite the urgency, the actions to date are not enough – as new analysis of the energy sector shows
On 18th September, The Transition Pathway Initiative (TPI) released an assessment of how 135 of the world's largest, publicly listed companies in the energy (oil and gas, coal mining and electricity) sectors are responding to climate change. There are some positive findings in the data:
Almost half of the electricity utilities assessed are already aligned with what the Paris Agreement requires by 2030, or will be on the basis of emissions targets they have set.
Some companies, such as EDF, E.ON, Exelon, Innogy, Ørsted and PG&E, are projected to be nearly zero-carbon by 2030.
Almost one third of the companies (31 per cent, or 42 companies) are considered to have a strategic approach to climate change.
However, the wider picture is sobering. Given that the report looks at many of the world's largest and highest-emitting public companies it is deeply concerning that 69% are not considered to be approaching the issues strategically. In fact, many of these provide little or no information on their approach to managing climate change.
When we look at carbon performance the picture is even more worrying (as illustrated below). Only two oil and gas companies, Shell and Repsol, plan to be aligned with the minimum reductions pledged by countries as part of the Paris Agreement in the form of Nationally Determined Contributions (NDCs). These NDCs, even if fully implemented, are expected to leave us close to a 3°C world. In the electricity sector, 29 of the 59 companies expected to be aligned with the NDCs, but nonetheless only 13 are or expect to be aligned with a below 2°C scenario. The bottom line is that while climate change is on the corporate agenda it is not being treated with anything like the urgency needed.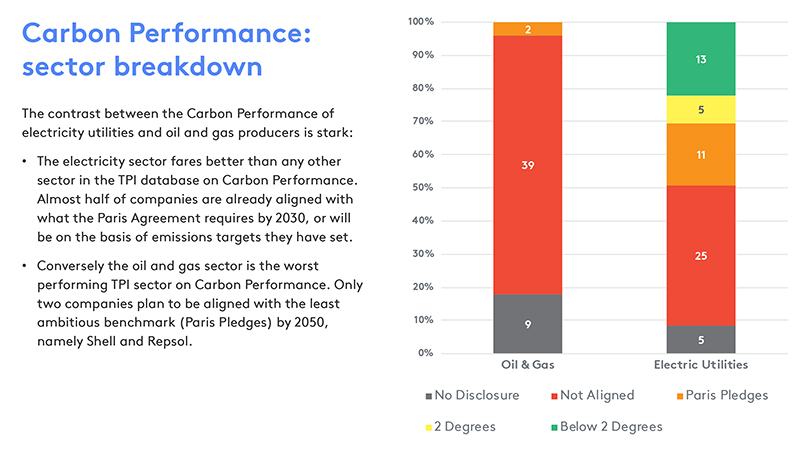 Source: Dietz et al. 2019
Characteristics of successful investor action
Investors have engaged effectively with companies in high-emitting sectors (including energy and others such as transport, food, industrials): they have encouraged these companies to improve their climate change-related disclosures, to better manage climate change-related risks and opportunities, to improve their energy efficiency, and to improve their emissions intensity. However, the data from TPI clearly demonstrate that these efforts are not enough and that there is a need for a much more assertive approach that focuses on delivering real improvements in absolute greenhouse gas emissions. How can investors do this?
1. Focus on delivering substantial reductions in greenhouse gas emissions: Climate Action 100+ shows how this should be done. Focused on ensuring that the world's largest corporate greenhouse gas emitters take action on climate change, it is the largest and most important investor initiative of its kind, supported by more than 360 investors with over US$34 trillion in assets under management. It focuses on 100 'systemically important emitters', accounting for two-thirds of annual global industrial emissions, alongside more than 60 other companies that have a critical role to play in driving the clean energy transition. It aims to secure commitments from these companies' boards and senior management to:
Implement a strong governance framework that clearly articulates board accountability and oversight of climate change risk and opportunities.
Take action to reduce greenhouse gas emissions across their value chain, consistent with the Paris Agreement's goal of limiting global average temperature increase to well below 2°C above pre-industrial levels.
Provide enhanced corporate disclosure in line with the final recommendations of the Task Force on Climate-related Financial Disclosures (TCFD).Climate Action 100+ has demonstrated that it can deliver. Perhaps the most striking example has been the December 2018 joint statement between the oil and gas major Royal Dutch Shell and institutional investors, operating under the banner of CA100+ and the European Institutional Investors Group on Climate Change (IIGCC). The joint statement is the first time investors have come to a common position with an oil and gas company about the nature of their transition to a Paris-aligned future, providing a framework for accountability between its shareholders and board that will underpin future engagement.

The statement committed Shell to:
Targets: Reduce its net carbon footprint ambition by around half by 2050 and to lock the ambition into rolling intermediate targets.
Executive pay: Link delivery of these targets to executive remuneration.
Review: Publish in the company annual reports on progress and provide necessary disclosure to TPI.
TCFD: Align reporting against the criteria of the TCFD.
Lobbying: Review membership of industry associations that lobby on climate change to check this lobbying aligns with Shell's stated support for the goals of the Paris Agreement.The process and outcomes have also shown that it is possible to align the long-term interests of institutional investors with a company that needs to manage an ambitious multi-decadal transition – in effect turning an oil and gas company into an energy provider. Of course, this is just a start – Shell has a long way to go both in implementing these commitments and getting to a point where it demonstrably aligns with a below 2°C scenario, but it is on the right path and shows the potential of what can be achieved.
2. Focus on facilitating the low carbon transition: In mid-September at PRI in Person, the flagship conference of the world's leading responsible investment membership group, the CEO of Shell Ben van Beurden challenged the Climate Action 100+ initiative to engage beyond individual companies and to establish a different dialogue focused on low-carbon/net-zero pathways at the sector level. To make this work, sector actors must come together with investors to establish the interventions required. For example, in the transport sector this will include engine manufacturers, producers of energy and raw materials, airlines, regulators, transport authorities, as well as others. In turn, investors must take a systemic and sectoral approach to the transition, creating sector dialogues that are focused on delivering zero-carbon by 2050, alongside company-specific engagements.
3. Focus on corporate lobbying: Corporate lobbying on climate change is a significant barrier to progress, and investors are at last waking up to this. Too often, the effect of industry lobbying has been to obstruct effective policy action. If the low carbon transition is to happen at the pace required, companies, pension beneficiaries and society need public policy that makes this possible. How corporates and public policy interact, including through advocacy bodies and industry associations, will shape that regulatory landscape.
Investors have begun to challenge the contradiction of companies explicitly supporting the Paris Climate Agreement while also resourcing multiple industry associations to support the exact opposite. This has had a demonstrable impact in a relatively short space of time, injecting an accountability into corporate and industry association lobbying that did not previously exist.
Investors have begun requiring companies to support and lobby for effective measures aligned to the Paris Agreement across all areas of public policy and to ensure that all company agents do the same. A number of companies have now conducted reviews of their industry associations and others in previously challenging sectors have committed to do so, including BASF in chemicals, RWE in power and Heidelberg in cement. Some companies in the oil and gas and mining sectors have also announced their withdrawal from these groups, sending shock waves through industry associations. Some investors have also started to take account of corporate lobbying practices when making AGM voting decisions. For example, Australian, Danish, Dutch and UK investors have supported a shareholder resolution at BHP calling on it to suspend its membership of industry groups, including Australia's Minerals Council, accused of lobbying efforts that are at odds with the goals of the Paris Agreement. The next step will be establishing a new global standard on responsible climate lobbying which companies can sign up is independently monitored and that investors enforce through their voting.
A further area of lobbying that is yet to be addressed but should be the focus of investor attention is the alignment of the financial sector's own lobbying and its alignment to Paris.
4. Focus on implementing effective public policy on climate change: The Investor Agenda has recently called on governments to phase out thermal coal power worldwide, put a price on carbon pollution, end government subsidies for fossil fuels, and to update and strengthen NDCs by 2020. This call has been supported by 515 institutional investors managing $35 trillion in assets, increasing the likelihood that there will be stronger policy responses on climate change, reinforcing the importance of public policy in investment decision-making and engagement.
5. Link investment decision-making and engagement: Investors have a variety of strategies they can use to encourage companies to change. They can engage with companies in informal discussions and they can use their formal rights as shareholders. But they also need to use their influence as investors. They need to demonstrate to companies that engagement – and company responsiveness to that engagement – will be used to inform investment decision-making. This is probably the most significant developing area for investor action, on which leading funds are increasingly focusing. It is particularly important in relation to passive investing.
The Church of England Pensions Board, in partnership with FTSE Russell and the TPI, is in the final stages of creating an index that will preferentially invest in (or 'overweight') those high-impact companies that are aligned with a well-below 2°C scenario, will underweight those that are not aligned with such a scenario, and exclude those that are not aligned with national strategies or do not disclose against the TPI criteria. To a lesser extent, the index will recognise those companies that are considered to have integrated climate change into their business strategies and that are transitioning. This Index could see many trillions of dollars directly incentivising companies to transition.
How far will investors go to play a role in securing a safer future?
What the examples above show is that investors can set a demanding agenda, that they can expect to be heard and that they can expect companies to act. If these actions are to be effective, investors need to be ambitious, demanding and focused on the key levers of change. We recognise that there are challenges – short time horizons, misaligned incentives within the investment industry, and lack of strong incentives for companies to act, to name but a few. But it is possible for motivated investors to overcome these barriers.
There is no question that investors have the power to drive change, the question is are we are truly willing to deploy it to the benefit of many millions of pension fund beneficiaries and of wider society? If we are, then we have a chance to play our historical role in the interests of both our beneficiaries and the children currently marching for their future.
Adam C.T. Matthews is Director of Ethics and Engagement at The Church of England Pensions Board, Co-Chair of the Transition Pathway Initiative (TPI), and a board member of IIGCC.
Dr Rory Sullivan is Co-Founder and Director of Chronos Sustainability, Chief Technical Advisor to the Transition Pathway Initiative and Visiting Professor at the Grantham Research Institute on Climate Change and the Environment at the LSE.
Management Quality and Carbon Performance of Energy Companies: September 2019 is available from the Transition Pathway Initiative website.