In depth: the backtracking on climate change by President Trump's administration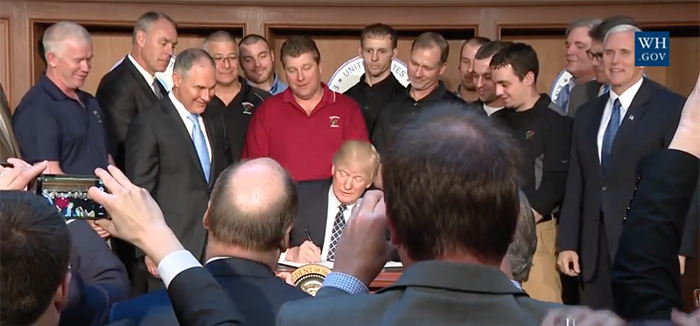 The 'Presidential Executive Order on Promoting Energy Independence and Economic Growth' on 28 March was widely interpreted as a death sentence for the Clean Power Plan, which was introduced by President Obama to speed up the phase-out of coal-fired power plants.
In fact, the Executive Order only signals a review of the Plan, although it is expected that President Trump's administration will not implement it.
The Clean Power Plan had been stalled. On 9 February 2016, the United States Supreme Court had ordered a stay of the Plan until a decision is made on a pending court case against the Environmental Protection Agency (EPA). The petitioners in the case claim that the Plan's federal requirements for emissions cuts infringe on the authority of the States. One of the petitioners in the case was the new boss of the EPA: Scott Pruitt.
The Plan was key to helping the United States meeting the commitments contained in its 'nationally determined contribution' to the Paris Agreement to cut its annual emissions of greenhouse gases by 26-28% by 2025 relative to 2005. It is now unclear how, or even if, the United States will honour its pledges.
The Executive Order also back-tracks on other climate policies introduced by President Obama, including a moratorium on new coal mining on US federal land. But it is only the latest sign that President Trump and his administration are giving up leadership on climate change.
President Trump's proposed budget would devastate the EPA
President Trump's order had been expected for several weeks, particularly when his administration's proposed budget signalled an end to funding for the Clean Power Plan, as part of a massive 31% cut to annual support for the EPA.
According to 'America First: A Budget Blueprint to Make America Great Again' the annual budget for the EPA would be reduced by $2.6 billion in 2017 compared with the previous year, and would shrink its size to the smallest level in 40 years. There would be 3200 job losses from a staff of 15000. Funding for the EPA's research and development would be cut in half.
Scott Pruitt: a safe pair of hands for the EPA?
Mr Pruitt has a track record of taking action against environment regulation. In his former role as Attorney General of Oklahoma, Mr Pruitt swore to combat the "aggressiveness coming out of Washington" and set up a 'federalism unit' to combat "unwarranted regulation and overreach". His LinkedIn profile describes him as "a leading advocate against the EPA's activist agenda".
Mr Pruitt's opponents have questioned whether his anti-federal attitude to environmental regulation is a result of his close ties with business and industry, and they have cast doubt on whether he is fit to lead the EPA.
Mr Pruitt's 'ascension' has been controversial
Mr Pruitt's 'ascension', as a press release from the EPA described his appointment as its Administrator, has been dogged by controversy since President Trump announced his pick in December. According to Republican Senator John Barrasso, Mr Pruitt's confirmation hearing was the longest on record for an EPA Administrator, lasting more than six hours. He was asked 200 questions by the Senate Committee on Environment and Public Works. After the hearing, the Committee asked another 1078 written questions, the most ever for an EPA nominee.
Mr Pruitt was subject to intense scrutiny and debate during his nomination hearings (part 1, part 2) and interrogated about his attitude towards the EPA, which he has taken to court 14 times, and 8 cases of which are still ongoing. He also has a track record of denying that there is a consensus on that human activity is driving climate change, an issue that he sidestepped during his confirmation hearing but which flared up again last month when he told CNBC news that he "would not agree that [human activity on the climate] is a primary contributor to the global warming that we see". And questions still remain about his relationships with energy companies.
Doubts still linger about Mr Pruitt's links to industry
Nine Freedom of Information requests were filed requesting emails from Mr Pruitt as Attorney General of Oklahoma. A subsequent lawsuit by a watchdog group, the Center for Media and Democracy, sought documents and emails exchanged between Mr Pruitt's office and energy companies, including Koch Industries, Devon Energy, Murray Energy and the American Petroleum Institute. These are all businesses that might be affected by EPA regulations while Mr Pruitt is Administrator Mr Pruitt. And they are businesses that in the past donated of hundreds of thousands of dollars to PACs (Political Action Committees) associated with Mr Pruitt.
The Freedom of Information requests submitted to the office of Oklahoma's Attorney General were left unanswered for two years. Less than 24 hours before Mr Pruitt's scheduled confirmation as EPA Administrator, a judge ruled that Mr Pruitt's office had breached Oklahoma's Open Record Act by withholding the thousands of emails. The judge ordered his team to hand over the documents.
How cosy is Mr Pruitt's relationship with energy companies?
In 2014, 'The New York Times' revealed that in 2011 Mr Pruitt's office copied a letter written by Devon Energy, a petroleum company in Oklahoma, almost word for word onto his official stationary. Mr Pruitt added his signature and had it posted to the EPA. The letter asserted that federal regulators were grossly overestimating the amount of air pollution caused by drilling by energy companies.
The new cache of emails reveal more of the same. Mr Pruitt's practice of sending letters drafted by energy companies has not been limited to Devon Energy. He used template language from American Fuel and Petrochemical Manufacturers, an oil and gas lobby group, in his opposition to ozone limits and to the renewable fuel standard program in 2013. The lobby group sent the wording to Mr Pruitt with the suggestion that the argument would be more credible coming from a state.
The Center for Media and Democracy is still in court seeking to obtain 1,600 pages withheld by Mr Pruitt's old office, and responses to eight additional open records requests.
Mr Pruitt was confirmed as EPA Administrator despite the questions over his links to energy companies
Following the judge's ruling, Democrats held an all-night session in the Senate in an attempt to delay the vote on Mr Pruitt for the second time, hoping to wait for the contents of the withheld emails to be revealed.
The 10 Democrats on the Committee on Environment and Public Works had already boycotted the first confirmation vote for Mr Pruitt, questioning this lack of transparency about his activities as Oklahoma Attorney General of Oklahoma. Republicans accused the Democrats of having a 'temper tantrum'. The Chair of the Environment and Public Works Committee, Republican Senator John Barrasso, suspended some of the rules to move the nomination out of the committee on 2 February without the Democrat members.
The Democrats' second protest was not successful and the Senate confirmed Mr Pruitt as EPA Administrator on 17 February by 52 votes to 46. The EPA's press release announcing Mr Pruitt's confirmation included quotes from fellow Republicans and business leaders, some of whom described the EPA "tone deaf" and "one of the most vilified agencies in the 'swamp' of over-reaching government".
Mr Pruitt's appointment may not end all EPA action on climate change
With Mr Pruitt as Administrator, it seems unlikely that the EPA will continue to lead on climate change. In his first speech to EPA employees, Mr Pruitt said that it is possible to be "pro-energy, pro-jobs and pro-environment" but he was silent on climate change, not mentioning it once.
The White House's web pages on climate change were removed on the day of President Trump's inauguration. For now, most of the EPA's pages on climate change and on its research programmes are still live on its website but with an EPA administrator who doubts the scientific consensus on the links between climate change and human activity, they may not survive much longer.
However, the EPA cannot abandon all action on climate change. In April 2007, the United States Supreme Court ruled that greenhouse gases are air pollutants covered by the Clean Air Act. Accordingly, in December 2009, the EPA published its endangerment finding that six greenhouse gases, including carbon dioxide, "taken in combination endanger both the public health and the public welfare of current and future generations". This means that the EPA is legally required to regulate greenhouse gases, so it is likely to be taken to court if it abandons the Clean Power Plan without replacing it with other action. However, Mr Pruitt is being urged by some campaign groups to overturn the EPA's endangerment finding, which would likely put him on a collision course with both the courts and scientists.
Victoria Druce is senior media relations officer at the Grantham Research Institute on Climate Change and the Environment at the London School of Economics and Political Science.