G7 Economies must restore private investment to ensure a strong recovery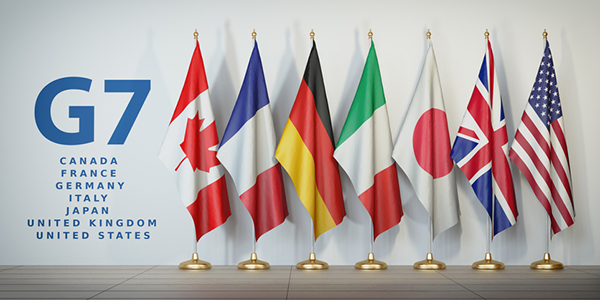 A new paper published today (8 March) by the Grantham Research Institute on Climate Change and the Environment at the London School of Economics and Political Science urges G7 economies to adopt an ambitious vision of a zero-carbon future, with strategies to restore and sustain private investment. This is necessary to ensure a sustained, strong and non-inflationary recovery from the COVID-19 pandemic.
The joint paper, Fiscal responsibility in advanced economies through investment for economic recovery from the COVID-19 pandemic, cautions against a premature tightening of public budgets, which would almost certainly slow the pace and durability of economic recovery.
"When the COVID-19 pandemic battered the economy and health of nations across the world, the first tasks were to tackle the virus, to prevent economic collapse, and to protect jobs and livelihoods. The task now is recovery, and if that is to be sustained, strong and non-inflationary, it must be driven by private investment," said co-author Professor Nicholas Stern, Chair of the Grantham Research Institute on Climate Change and the Environment.
"And we must recognise that one reason for the decline in both private investment and productivity has likely been the neglect of infrastructure investment. We now have huge opportunities from the drive to the zero-carbon and climate-resilient economy. In most advanced economies, every extra dollar of public borrowing currently generates two to three additional dollars of output, thereby crowding in private activity and generating prosperity."
The paper underscores the importance of public policy in securing investor confidence, fostering strong and sustainable private sector investment and in providing the enabling infrastructure required to boost productivity growth, as well as the sound management of public debt.
The paper argues that the economic shock that has been suffered because of the COVID-19 pandemic was made worse by decades of slowing productivity growth across G7 countries and a cumulative shortfall of infrastructure spending. However, it cautions against austerity measures, arguing that the risks associated with higher public debt for advanced economies able to borrow in their own currency are currently substantially outweighed by the potential benefits from public action to drive investment for a sustained recovery.
"We know there are concerns that further borrowing could lead to unsustainable government debt and an increase in inflation, but the markets are signalling no immediate problem in financing increased public borrowing, with real interest rates set to remain close to historic lows" said co-author Dimitri Zenghelis, Project Leader on the Wealth Economy project at the Bennett Institute for Public Policy, University of Cambridge, and Visiting Senior Fellow to the Grantham Research Institute on Climate Change and the Environment.

"Historically low interest rates reflect the market's hunt for returns. Governments should seek ambitious and resilient recovery strategies that absorb the current excess desired global saving by the private sector, provide the enabling infrastructure required to boost sustainable, non-inflationary productivity growth and pay off public debt."
The paper goes on to describe the necessary public investment, policies and institutions required to secure sustainable, resilient and inclusive growth. This, it says, will be easier for individual countries to pursue, and the resulting recovery will be stronger, if countries act together.
The paper recommends:
Coordination of policies across government to put global savings to productive use and drive economic recovery, investment and structural change.
Countries commit to invest in R&D and deployment of new technologies and related networks, including mission-orientated support, to draw in private finance and induce productivity-enhancing clean innovation.
A clear and coherent macroeconomic and structural policy landscape for investment in recovery now and for building robust, resilient, and sustainable assets that can secure strong productivity growth over the coming decades.
Secure debt sustainability through investment in productive capacity and growth, rather than short term reliance on self-defeating fiscal tightening. Public investment and infrastructure banks, operating with clear sustainability mandates, play a crucial role in reducing, sharing, and managing policy risk and thereby encouraging private investment.
All governments, and particularly those of the G7, seek to make their fiscal policies for the recovery 'predictably flexible', with transparent and credible criteria for reducing deficits over the medium term as sustainable growth returns.
Please see Fiscal responsibility in advanced economies through investment for economic recovery from the COVID-19 pandemic (link will be live when embargo lifts). For interviews with the authors please call or email Niamh Brannigan +353 870928997 or email n.brannigan@lse.ac.uk
Notes to Editors:
The Centre for Climate Change Economics and Policy (CCCEP) was established in 2008 to advance public and private action on climate change through rigorous, innovative research. The Centre is hosted jointly by the University of Leeds and the London School of Economics and Political Science. It is funded by the UK Economic and Social Research Council. www.cccep.ac.uk
The Grantham Research Institute on Climate Change and the Environment was established in 2008 at the London School of Economics and Political Science. The Institute brings together international expertise on economics, as well as finance, geography, the environment, international development, and political economy to establish a world-leading centre for policy-relevant research, teaching and training in climate change and the environment. It is funded by the Grantham Foundation for the Protection of the Environment, which also funds the Grantham Institute – Climate Change and the Environment at Imperial College London. ww.lse.ac.uk/grantham/