From transport to development: considering the role of multi-stakeholder partnerships in integrating small businesses into Africa's priority 'development corridors'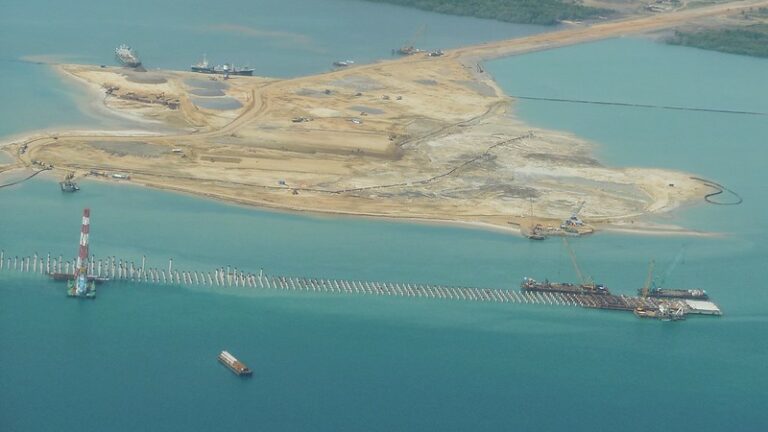 So-called 'development corridors' in sub-Saharan Africa are failing to deliver benefits for local communities. Kate Gannon considers the role that multi-stakeholder partnerships could play in supporting entrepreneurship in these corridors and in enabling them to deliver not just infrastructure, but a more integrated and equitable form of development.
Development corridors – geographical areas identified as a priority for investment to catalyse economic growth and development – are being given a central role in African national development strategies, as governments look to the private sector and international finance streams to achieve national development ambitions. National development blueprints envision these corridors fast-tracking human development across multiple sectors, over large, interconnected geographical landscapes. As respondents in our recent research from East Africa explain, development corridors are about "opening up" access to underdeveloped regions and decentralising development, "so that the national cake can trickle down to… rural areas which feel marginalised".
There is, however, often a wide gap between these intended visions and the reality seen on the ground. Corridors are generally mobilised around a backbone of hard infrastructure, such as roads, railways, ports, dams and pipelines. Alongside such mega-infrastructure, governments often make commitments to deliver broader interventions to structure enabling business environments that support entrepreneurship within corridors. Yet, governance of development corridors is often weak and fragmented, meaning such interventions have been slow to materialise. The scope of these interventions is also often quite limited – restricted, for example, to border posts and supporting service facilities around train and petrol stations.
Development corridors therefore often appear largely premised on a linear model of development, which assumes infrastructure universally brings development, creates jobs and supports entrepreneurship in areas such as agricultural value chains. In practice, inclusive development, the type of which national governments have committed to deliver through the Sustainable Development Goals (SDGs), does not materialise from infrastructure development alone, as corridor communities, studied through the Development Corridors Partnership, are illustrating. "It's basically a transit town" a respondent explained of a town positioned along a new road in the LAPSSET corridor in Isiolo County in Kenya. "[People passing through] don't even spend time sleeping or spending money. So, [communities] are not feeling… that development."
As corridors have been manifesting merely as 'transport corridors', with uneven development gains, local communities are also finding themselves on the frontline of trade-offs and impacts that come with corridor development. Construction of Kenya's standard gauge railway (SGR), for example, has pushed corridor populations further into poverty. For adjacent communities, land insecurity has increased and populations have been displaced without adequate compensation. Local passenger buses and long-distance trucking companies are being put out of business by the economies of scale privileged by the SGR. And, as elite travellers speed past in comfortable trains, they no longer even stop to buy roadside snacks. As "those who are advantaged get even richer, and the poorer become poorer comparatively", social tensions are also arising within corridors, compromising the sustainability and effectiveness of development outcomes.
If corridors are to avoid compromising commitments within the SDGs to equitable development, a new approach is needed: One that integrates deliberate strategies to build connections to livelihoods and small enterprises into corridor design. Small business in Africa – particularly those within rural areas – face a range of barriers within their business environments, which go beyond basic infrastructure. A more holistic response to addressing barriers to their growth and inclusion is therefore required.
Where and how do 'multi-stakeholder partnerships' come in?
With colleagues, I recently published a paper in the journal Climate Risk Management, which considers the role that multi-stakeholder partnerships (MSPs) can play in supporting small enterprises in Africa to grow and to adapt to climate change. MSPs are collaborative arrangements between public, private and civil society sectors, often built on the same philosophy as that underpinning the concept of the corridors: of mobilising the private sector in development action.
Unlike large-scale tender and contract-focused public-private-partnerships (PPPs), the likes of which are intended to finance much core infrastructure in corridors, MSPs, which are often brokered by non-governmental organisations and other development actors, also make use of 'softer' forms of collaboration to unlock private sector participation in development activities. These can include knowledge exchange, value chain and market analysis, research and development, data access, relationship building, training and capacity building, business incubation and lobbying activities. By creating shared value for private sector companies, MSPs seek to support the development of business linkages, goods and services that serve a development goal and that companies will be independently motivated to maintain, beyond public or donor financing windows.
Our paper identified some promising evidence from Kenya that suggests MSPs could play an important role in integrating local businesses (which are overwhelmingly agricultural) into corridor value chains and development architecture. This research found, for example, that MSPs can be used to compensate the private sector for the additional risk and cost associated with developing and delivering new market linkages, technologies and financial services that target poorer, small-scale businesses in remote regions, such as those transected by corridors.
Respondents in our research also suggested that partnerships offer an opportunity to harness several stakeholders' capacities and resources, to build a portfolio of activities that work across sectors, activities and scales, to address multiple barriers within business environments in tandem.
The potential for MSPs to adopt a flexible and decentralised structure also appeals – theoretically at least – to participatory paradigms that suggest development should be implemented locally where vulnerability is experienced, and to agendas seeking more integrated governance, with coordination beyond sectoral and institutional silos.
Taking a wider view of development corridors
Development planners need to look beyond the development of corridor mega-infrastructure and towards a more interconnected set of policies, programmes and initiatives, that can harness development synergies and address the barriers that prevent marginalised populations from participating in and benefitting from current corridor investments. Strategic partnerships that coordinate public and private agricultural investments, develop soft as well as hard infrastructure, and overcome barriers to investment, could play a key role in upscaling the inclusion of small enterprises in corridors and these should be more actively integrated into corridor design. Indeed, this is the premise of the SAGCOT corridor in Tanzania which, alongside key infrastructure, pursues a cluster approach to connect investors to smallholder outgrowers, or contract farmers, in key agricultural value chains.
Our research on MSPs in Kenya, and indeed early research from SAGCOT corridor, suggests that these approaches will also require careful implementation if they too are to avoid reproducing and exacerbating existing inequalities. Dependence on market mechanisms for delivering development services means that MSPs can risk excluding the poorest groups. Meanwhile, without sufficient planning and safeguarding built into partnerships, they may expose small businesses to new risks and vulnerabilities, for example through structuring dependencies on new, potentially fragile, markets. It is, nevertheless, clear that a broader, more integrated and cross-sectoral approach to the design and development of Africa's corridors is needed if corridors are to be mobilised as the sites of integrated and inclusive development that they are intended to be. I suggest integrating MSPs into the design of corridors may play an important role in realising this vision.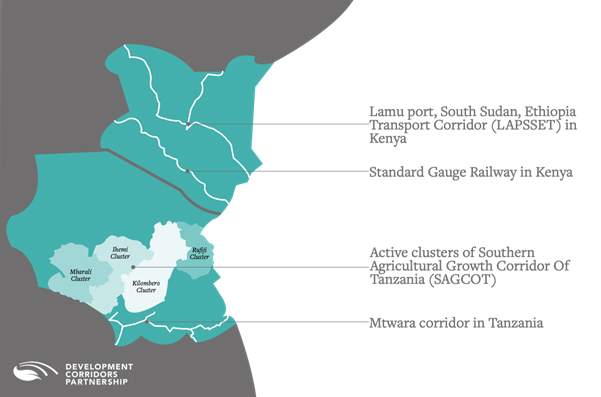 ---
This commentary draws on research produced through the Development Corridors Partnership published in two recent articles:
Gannon K E, Pettinotti L, Conway D, Surminski S, Ndilanha E and Nyumba T (2022) Delivering the Sustainable Development Goals through development corridors in East Africa: A Q-Methodology approach to imagining development futures, Environmental Science and Policy, 129: 56-67.
Gannon K E, Crick F, Atela J and Conway D (2021) What role for multi-stakeholder partnerships in adaptation to climate change? Experiences from private sector adaptation in Kenya, Climate Risk Management, 32: 100319.