Four ways women have brought needed change to the climate movement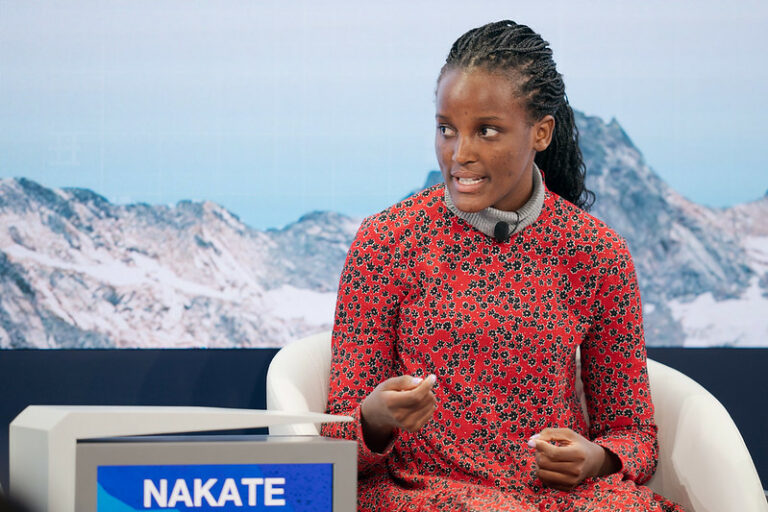 From the first person to launch legal action on climate change to today's inspirational young activists, women help to shape the climate movement for the better and they should be further empowered to participate in climate decision-making at all levels, writes Eléonore Soubeyran.
Women are often portrayed as no more than victims of climate change. While it is true that climate change has unequal impacts on women, including on their health and wellbeing as well as on their livelihoods and opportunities for advancement, such narratives can be counterproductive as they reduce women, especially those living in the Global South, to powerless actors who need to be saved. This affects how women view their role within the climate movement and how they are treated by others, as well as how support to help them cope with climate impacts is designed and implemented.
Far from being passive individuals, women have a long history of involvement in climate action. In this commentary I highlight four ways in which they have shaped the climate movement as we know it today, showcasing the contributions of specific individuals.
1. Representing the vulnerable
Female heads of state have been vocal advocates for the most vulnerable countries to the impacts of climate change. Mia Mottley, the current Prime Minister of Barbados, delivered a powerful speech at COP26 in which she demanded world leaders 'try harder', reminding them that a rise in global temperatures of 2°C above pre-industrial levels would effectively be a 'death sentence' for small island nations. She has since outlined concrete proposals in the Bridgetown Initiative to reform the global financial system in order to enable developing countries to access resources to build their resilience to climate change impacts, invest in the low-carbon transition, and support development. Hilda Heine, former President of the Marshall Islands, has also urged developed countries to raise their ambitions for climate action, and called for gender-equal solutions that address the specific needs of women and involve them in climate decision-making.
There are also many examples of women providing a voice for underrepresented groups in the global climate movement, which is mostly dominated by Western and White voices. Vanessa Nakate, a climate activist from Uganda, advocates for more racial diversity. Kera Sherwood-O'Regan (Kāi Tahu), an Indigenous climate justice expert from New Zealand, is pushing for greater recognition of the rights of Indigenous people and people with disabilities in climate negotiations. Hindou Oumarou Ibrahim, President of the Association for Indigenous Women and Peoples of Chad (AFPAT), campaigns for greater participation of Indigenous people in the climate movement, and for better integration of their knowledge and traditions in climate solutions. Sharon Hanshaw, a salon owner from Mississippi, set up Coastal Women for Change to give low-income residents of East Biloxi a voice in the recovery process after Hurricane Katrina federal relief failed them.
2. Changing the narrative
Women have been instrumental in raising awareness of risks to the climate and the environment posed by human activities. Rachel Carlson, an American marine biologist and nature writer, catalysed the environmental movement with the publication of her book Silent Spring in 1962, which illuminated the widespread damage to the environment and human health caused by the use of synthetic pesticides. The book captured the public imagination by demonstrating how humans were beginning to create an inhospitable world: in her words, 'in nature, nothing exists alone'. Subsequent writers have raised the alarm on the devastating consequences of unmitigated climate change and biodiversity loss, such as the American journalist Elizabeth Kolbert, best known for her books Field Notes from a Catastrophe (2006) and The Sixth Extinction: An Unnatural History (2014).
Women have also played an important role in raising the political profile of climate change and demanding concrete change. In the late 1980s, Margaret Thatcher's speeches to the Royal Society and the UN General Assembly helped put climate change on the national and international political agenda. More recently, young climate activists such as Greta Thunberg and Howey Ou have challenged a narrative pushed by fossil fuel interests that places equal blame on all individuals for the climate crisis. They have demanded that world leaders and corporations be held accountable for their failure to adequately tackle climate change since the creation of the United Nations Framework Convention on Climate Change (UNFCCC) in 1992. Young female activists have campaigned in spite of violent pushbacks and sexists attacks from their opponents, including threats of violence, infantilisation by the media and male leaders, and even accusations of mental instability.
3. Challenging established power structures
Women's historical fight for social justice, historical exclusion and social disadvantage has positioned them as leaders in working to uphold the rights of vulnerable communities and challenging established power relations. In 2005, Inuit activist Sheila Watt-Cloutier, along with 62 other Inuit petitioners from Alaska and Canada, launched the first legal action on climate change: a petition to the Inter-American Commission on Human Rights seeking relief for violations against Indigenous Inuit people. They argued that unchecked greenhouse gas emissions from the United States, the world's largest emitter at the time, were endangering the Inuit people's lives and livelihoods; in other words, they were violating their 'right to be cold'. Although the petition was rejected, it reframed climate change as an urgent human rights issue and paved the way for future legal proceedings.
Other women have followed Watt-Cloutier's example. Nemonte Nenquimo, an Indigenous leader of the Waorani Nation, successfully sued the Ecuadorian government in 2019 to protect 500,000 acres of Waorani ancestral territory in the Amazon Rainforest from oil extraction, setting a legal precedent for Indigenous rights in Ecuador. In 2017, when she was just nine years old, the Indian environmental activist Ridhima Pandey sued the Indian government for its insufficient actions to mitigate climate change, notably citing the principle of intergenerational equity to argue that children and future generations have the right to a healthy environment. Anjali Sharma similarly challenged the Australian government in 2020 on the breach of its duty of care to protect young people from climate change.
4. Converting the debate into action
Women are underrepresented in decision-making and leadership roles in climate policy processes at the national and international level; for instance, women made up less than 34% of country negotiating teams at COP27. This affects the quality of policy outcomes as relevant differences between women's and men's experience of climate change are often overlooked, but research also suggests that this could lead countries to adopt less stringent climate change policies. Despite the limited participation of women in these processes, they have played major roles in translating political debates into international climate action. For example, Laurence Tubiana (former French climate ambassador) and Christiana Figueres (former Executive Secretary of the UNFCCC) are widely recognised for their key role in the adoption of the Paris Agreement in 2015 following more than 20 years of failed international climate negotiations.
But transformative action on climate change does not only take place at the international level. Nobel Prize laureate Elinor Ostrom's work was key in challenging previous conceptions of climate action, as she emphasised that working at the local and regional levels is just as important as international action to tackle climate change. And indeed, women had been leading grassroots community organising to protect the environment and address local needs long before the Paris Agreement. Wangari Maathai, a Kenyan environmental and political activist, founded the Green Belt Movement in 1977 to combat environmental degradation and to meet the basic needs of rural women in Kenya by encouraging them to plant trees. The movement quickly grew with over 51 million trees planted to date, and Maathai became the first African woman to win the Nobel Peace Prize, for her contribution to sustainable development, democracy and peace.
The tendency to depict women only as victims of climate change, particularly those who live in the Global South, is problematic. As this commentary has highlighted, women have a long history of leading essential work on climate change, from the local to the international levels. Further, it disempowers women by implying that they have no control in the response to the climate crisis. Instead, we should be seeking to empower women by enabling their active participation in climate decision-making processes at all levels and ensuring that gender considerations are fully integrated in climate policymaking. In doing so, the voices and experiences of all women should be equally represented.