Dozens of banks, investors and institutions commit to financing a just transition for the UK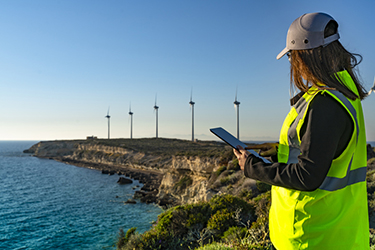 Banks, investors and financial institutions will join forces (on November 19th) with universities and trade unions to launch the UK's first alliance to finance a just transition.
Coordinated by the Grantham Research Institute on Climate Chance and Environment at the London School of Economics, The Financing a Just Transition Alliance (FJTA) is supported by almost 40 organisations.
"As we seek to Build Back Better following the pandemic, establishing a just transition is more important than ever to realise a low-carbon economy in an equitable, inclusive way that provides new opportunities for impacted workers. With COP26 in the UK, the Alliance will help push the agenda of the just transition by establishing concrete actions to work toward a better future for all. We look forward to collaborating with the Alliance in the future," said Fiona Reynolds, CEO of the Principles for Responsible Investment.
The objective of the Alliance is to translate the growing commitment to a just transition across the financial sector into real world impact. This means delivering the UK's climate goals in ways that provide positive social results in terms of workers and communities and leave no-one behind.
"With the focus moving to the economic recovery from the Covid-19 pandemic, there is a real opportunity for the UK's climate goals and the transition to a net-zero economy to be made an integral part of any growth measures. The Grantham Research Institute and Leeds University report published recently in partnership with UK Finance, shows how the banking and finance industry can support this just transition in way that takes into account the social impact on local communities. The new Alliance will enable the sector to put into practice the important recommendations set out in the report," said Bob Wigley, Chair of the UK Finance.
The Alliance will focus on the role of investors, banks and other financial institutions, including public finance and community finance in the UK. It will concentrate its work on three levels: first, financing place-based needs across the country, second, financing corporates (eg shareholder engagement) and third, national action and policy frameworks (eg the new green sovereign bond).
"As we rightly ramp up our national efforts to reach net zero, it is vital we secure a just transition so that working people aren't left behind. That's why we welcome this new alliance, which will help finance a just transition to a fairer and greener economy with decent work at its heart," said Paul Nowak, Deputy General Secretary of the Trades Union Congress.
The Alliance will specifically seek to deepen the implementation of the recommendations from the twin reports on the role of investors and banks that have been published by the Grantham Research Institute together with its partners. The Alliance will encourage tangible action and profile promising case studies.
"It is now clear that a just transition is crucial for delivering a successful shift to a net-zero and resilient economy in the UK. It is also clear that financial institutions can play an important role to help achieve this, working with policymakers and other stakeholders across the country. This imperative has been underscored by the COVID," said Nick Robins, Professor in Practice – Sustainable Finance, at the Grantham Research Institute.
The Alliance will aim to identify concrete steps that the financial sector can take to scale up climate action which also delivers positive social impact, both in terms of maximising the social benefits of net zero and also making sure no one is left behind. Achieving this will help to accelerate progress towards the UK's climate goals, generate real social outcomes and contribute to long-term financial success. The Alliance will present its findings ahead of the COP26 climate summit in November 2021.
The Alliance fits well with the UK government's policy of delivering a green recovery and 'levelling up' after the crisis, generating agreement that an ambitious green and fair recovery is now needed in the year ahead, particularly on the road to COP26.
Notes to Editors:
FJTA launch event details:
Date: 19 November 2020
Time: 4:30 pm – 6:00 pm (BST)
Venue: Zoom

Speakers:
Nick Robins, Professor in Practice – Sustainable Finance, Grantham Research Institute, LSE
Katarzyna Szwarc, Policy Fellow, – Sustainable Finance, Grantham Research Institute, LSECarlota Garcia-Manas, Senior Responsible Investment Analyst, Royal London Asset Management
Rachel McEwen, Chief Sustainability Officer, SSE
Rishi Madlani, Head of Sustainable Finance & Just Transition, NatWest
Elizabeth Corley, Chair, Impact Investing Institute
You can register for launch event here.
Alliance members:
Abundance Investment; Aviva Investors; Barclays; Big Society Capital; British Business Bank; Brunel Pension Partnership; CCLA; CDC; Church Commissioners; Climate-KIC; Ecology Building Society; Federated Hermes; Finance Innovation Lab; Friends Provident Foundation; Green Finance Institute; HSBC UK; Impact Investing Institute; Institutional Investor Group on Climate Change; Investor Forum; Local Government Pension Fund Forum; L&G; Lloyds Banking Group; Nationwide; NatWest; Principles for Responsible Investment; Responsible Finance; Royal London Asset Management; SouthWest Mutual; Thirty Percy Foundation; Triodos; TUC; UK 100; UK Finance; UKSIF; and Unity Bank. The Place-Based Climate Action Network, as well as the Belfast, Edinburgh and Leeds Climate Commissions are also members along with the Grantham Research Institute, London School of Economics.
– END –
For further information and for interview requests please contact Niamh Brannigan at n.brannigan@lse.ac.uk or call +353 870928997
Notes for editors
About The Grantham Research Institute on Climate Change and the Environment
Established in 2008 at the London School of Economics and Political Science, the Institute brings together international expertise on economics, as well as finance, geography, the environment, international development and political economy to establish a world-leading centre for policy-relevant research, teaching and training in climate change and the environment. It is funded by the Grantham Foundation for the Protection of the Environment. www.lse.ac.uk/grantham/