The sovereign transition to sustainability and healthy food systems – the case of Brazil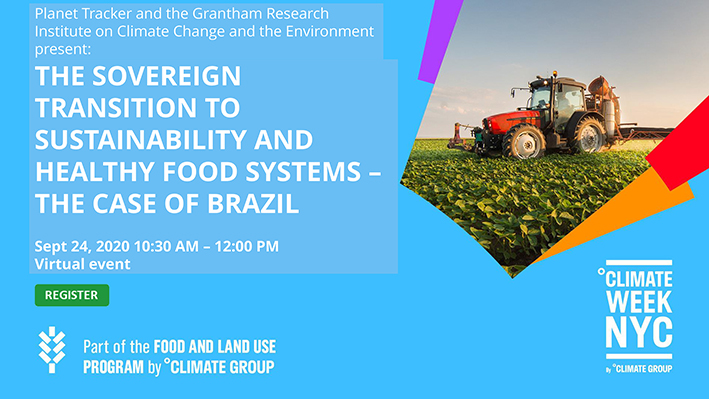 This webinar by the Grantham Research Institute on Climate Change and the Environment and the think tank Planet Tracker will assess the potential for Brazil to provide healthy diets for its people while preserving its natural capital and retaining its agricultural export leadership. This is an event for Climate Week NYC.
Please register for the webinar here.
Chair: Nick Robins, Professor in Practice for Sustainable Finance at the Grantham Research Institute and co-founder of Planet Tracker
Speakers:
Matt McLuckie, Director of External Relations, Head of Food and Land Use Programme, Planet Tracker
Graham Stock, Partner, BlueBay Asset Management
Gustavo Pimentel, Managing Director, Sitawi
Time: 3:30-5pm BST (London)/10:30am-12pm Eastern Time (US and Canada)
Background
Short-term acute shocks of the 2020 COVID-19 pandemic have highlighted many vulnerabilities of a 'just-in-time' food production and distribution model, while longer term systemic shocks are being exacerbated by climate change, water stress, exceeded planetary boundaries, ongoing globalisation, and heightening political instability. Brazil is a country at particular risk of reaching tipping points due to deforestation of the Amazon, which has global as well as national implications.