Video - Paris and beyond: lecture by World Bank Group VP, Rachel Kyte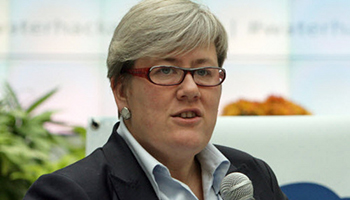 Paris and beyond: how will we gain traction and build momentum for the orderly transition to a zero carbon and resilient economy? LSE Grantham Research Institute public lecture by Rachel Kyte, World Bank Group Vice President and Special Envoy for Climate Change
Introduced and chaired by Professor Samuel Fankhauser
The Paris Accord, the hoped for ambitious agreement, to be decided at the 21st Convention of the Parties of the UNFCCC, this December, will set us on a new pathway towards zero carbon growth. When the negotiators go home, what messages will they have sent to economic actors globally? How will an orderly transition to zero carbon growth be managed and financed? In response to overwhelming scientific consensus and a compelling economic case that we need to change the course of our carbon history, how will CEOs, Heads of State and others respond to the question "when you knew, what did you do?"
Rachel Kyte (@rkyte365) is a World Bank Group Vice President and Special Envoy for Climate Change. As a leading advocate for action to combat climate change because of its intrinsic link to poverty and development, Ms. Kyte is the leading figure for the World Bank Group in efforts to campaign for an ambitious agreement at the 21st Convention of the Parties of the UNFCCC this December. She is leading work on climate change adaptation, mitigation, climate finance, and disaster risk and resilience across the institutions of the World Bank Group, including IBRD, IDA, IFC, and MIGA.
Professor Samuel Fankhauser is Co-Director at the Grantham Research Institute on Climate Change and the Environment and Deputy Director of the ESRC-funded Centre for Climate Change Economics and Policy, both at the London School of Economics.
The Grantham Research Institute on Climate Change and the Environment (@GRI_LSE) is a research centre at LSE. The Institute's research looks at the economics of climate change, and aims to inform policy and academic debate.
Suggested hashtag for this event for Twitter users: #LSEKyte
This event is free and open to all with no ticket or pre-registration required. Entry is on a first come, first served basis. For any queries see LSE Events FAQ or contact us at events@lse.ac.uk or 0207 955 6043.
Media queries: please contact the Press Office if you would like to request a press seat or have a media query about this event, email LSE.Press.Events@lse.ac.uk. Please note that press seats are usually allocated at least 24 hours before each event.
From time to time there are changes to event details so we strongly recommend that if you plan to attend this event you check back on this listing on the day of the event.
Podcasts
We aim to make all LSE events available as a podcast subject to receiving permission from the speaker/s to do this, and subject to no technical problems with the recording of the event. Podcasts are normally available 1-2 working days after the event. Podcasts and videos of past events can be found online
Twitter and Facebook
You can get immediate notification on the availability of an event podcast by following LSE public lectures and events on Twitter, which will also inform you about the posting of transcripts and videos, the announcement of new events and other important event updates. Event updates and other information about what's happening at LSE can be found on the LSE's Facebook page.
CPD
This event has been certified for CPD purposes by the CPD Certification Service. Self-Assessment Record forms will be made available for delegates wishing to record further learning and knowledge enhancement for Continuing Personal and Professional Development (CPD) purposes. For delegates who wish to obtain a CPD Certificate of Attendance, it is the responsibility of delegates to register their details with a LSE steward at the end of the event and as of 1 September 2014 a certificate will be sent within 28 days of the date of the event attended by the CPD Certification Service. If a delegate fails to register their details at the event, it will not prove possible to issue a certificate. (For queries relating to CPD Certificates of attendance after a request please phone 0208 840 4383 or email info@cpduk.co.uk).
Accessibility
If you are planning to attend this event and would like details on how to get here and what time to arrive, as well as on accessibility and special requirements, please refer toLSE Events FAQ. LSE aims to ensure that people have equal access to these public events, but please contact the events organiser as far as possible in advance if you have any access requirements so that arrangements, where possible, can be made. If the event is ticketed, please ensure you get in touch in advance of the ticket release date.
WIFI Access
LSE has now introduced wireless for guests and visitors in association with 'The Cloud', also in use at many other locations across the UK. If you are on campus visiting for the day or attending a conference or event, you can connect your device to wireless. See more information and create an account at Join the Cloud.
Visitors from other participating institutions are encouraged to use eduroam. If you are having trouble connecting to eduroam, please contact your home institution for assistance.
The Cloud is only intended for guest and visitor access to wifi. Existing LSE staff and students are encouraged to use eduroam instead.