Environmentalism and Global International Society - video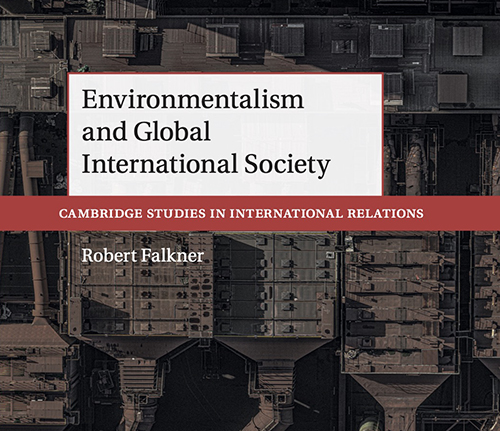 Hosted by Department of International Relations and the Grantham Research Institute on Climate Change and the Environment
In this launch event for the new book Environmentalism and Global International Society, the panelists discuss the extent to which international relations has been greened and whether international society is capable of addressing major ecological challenges.
Climate change and other environmental threats have moved to the top of the international agenda. All major powers are now committed to fighting global warming and ensuring environmental sustainability. But it has not always been thus. How did the society of states come to accept a responsibility for the global environment? And how deeply committed are states to safeguarding the planet?
Speakers
Steven Bernstein is Distinguished Professor of Global Environmental and Sustainability Governance, University of Toronto. He is a professor in the Department of Political Science and Co-Director of the Environmental Governance Lab at the Munk School of Global Affairs and Public Policy. He also co-edits the journal Global Environmental Politics and is a lead faculty member of the Earth Systems Governance Project.
Barry Buzan is Emeritus Professor of International Relations at the LSE (formerly Montague Burton Professor); honorary professor at Copenhagen, Jilin, and China Foreign Affairs Universities; a Senior Fellow at LSE Ideas; and a Fellow of the British Academy.
Robert Falkner (@robert_falkner) is an Associate Professor of International Relations at LSE. He serves as the Research Director of the Grantham Research Institute on Climate Change and the Environment at LSE and as the Academic Director of the TRIUM Global Executive MBA, an alliance between LSE, NYU Stern School of Business and HEC Paris. He is also a Distinguished Fellow of the Munk School of Global Affairs and Public Policy at the University of Toronto.
Kathryn Hochstetler is Professor of International Development and Head of the Department of International Development at LSE. Kathy holds a PhD in Political Science (Minnesota), but has always been interested in the interdisciplinary study of environment and development.
Chair
Milli Lake (@MilliLake) is an Associate Professor in the Department of International Relations. She studies political violence, state-society relations, and institutional reform. She co-directs the Women's Rights After War project, a project that falls under LSE's Gender Justice and Security HUB, and is jointly funded by the National Science Foundation and the UKRI Global Challenges Research Fund.
Join this event
Register to join this event online (via Zoom)
Current LSE staff and students only are able to request single tickets to join this event in person here. Please note that you will need to use your LSE email address in order to request a ticket otherwise your request will not be processed.
---
More about this event
We are now in our 93rd year – one of the oldest as well as largest IR (@LSEIRDept) departments in the world, with a truly international reputation. We are ranked 2nd in the UK in the QS World University Ranking by Subject 2021 tables for Politics and International Studies.
The Grantham Research Institute on Climate Change and the Environment (@GRI_LSE) was established by the London School of Economics and Political Science in 2008 to create a world-leading centre for policy-relevant research and training on climate change and the environment, bringing together international expertise on economics, finance, geography, the environment, international development and political economy.
This event forms part of LSE's Shaping the Post-COVID World initiative, a series imagining what the world could look like after the crisis, and how we get there.
You can order the book, Environmentalism and Global International Society (UK delivery only), from our official LSE Events independent book shop, Pages of Hackney.
Twitter Hashtag for this event: #LSEGlobalEnvironmentalism