A green and global Europe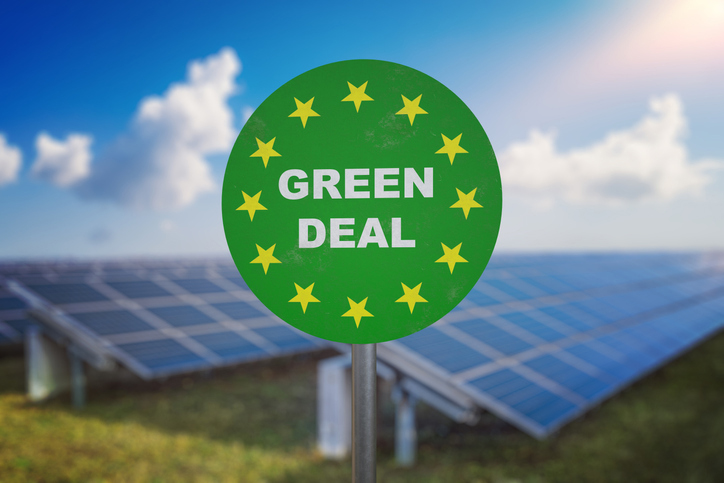 Join us for the launch of Nathalie Tocci's new book, A Green and Global Europe, Cambridge. This public event is free and open to all. No ticket or pre-registration is required. Entry is on a first come, first served basis.
After years of existential crisis, Europe has found a new raison d'être: the European Green Deal and the energy transition that lies at its core. This green Europe represents a normative vision, an economic growth strategy, as well as a route to a political Union that would enhance EU integration and legitimacy. But it can only be realised if it addresses head-on the social, economic, political and geopolitical ramifications of this epochal change.
In A Green and Global Europe Nathalie Tocci explains how the unprecedented nature of the current energy transition represents both a unique opportunity and a huge challenge to Europe's future prosperity. The EU, she argues, must not act in isolation or ignore the adverse effects of the transition on member states and neighbours. It must also address the global cleavages that may arise with China, the transatlantic relationship and the Global South as a result of the EU's green agenda. By adopting a truly global approach to the energy transition, Europe can deliver on its responsibilities to people and planet alike, and avoid unleashing social, economic and security problems that could come biting back at the Union.
Meet our speaker, discussant and chair
Nathalie Tocci (@NathalieTocci) is Director of the Istituto Affari Internazionali, Honorary Professor at the University of Tübingen, independent and non-executive board member of the energy company Eni and Europe's Futures fellow at the Institute for Human Sciences (Institut für die Wissenschaften vom Menschen, IWM). She has been Special Advisor to EU High Representatives Federica Mogherini and Josep Borrell. In that capacity, she wrote the European Global Strategy and worked on its implementation. She has been Pierre Keller Visiting Professor at the Harvard Kennedy School and, prior to joining Eni, she was independent board member of Edison. Her major publications include: Framing the EU's Global Strategy, Springer-Palgrave Macmillan, 2017 (author); The EU, Promoting Regional Integration, and Conflict Resolution, Springer-Palgrave Macmillan, 2017 (co-editor. Nathalie is a frequent media commentator, with regular op-eds in Politico Europe and La Stampa, as well as being a regular panelist on BBC's "The Context". She has published in Foreign Affairs, El Pais, Project Syndicate, and is often interviewed by major international television and newspaper outlets, including Al Jazeera, CNN, Le Monde amongst many others.
Robert Falkner (@robert_falkner) is a Professor of International Relations at LSE and Academic Director of the TRIUM Global Executive MBA, an alliance between LSE, NYU Stern School of Business and HEC Paris. He is a Distinguished Fellow of the Munk School of Global Affairs and Public Policy at the University of Toronto and was the Research Director of the Grantham Research Institute on Climate Change and the Environment until 2022. His research focuses on global environmental politics, global political economy, and the role of business in international relations. Recent publications include Great Powers, Climate Change and Global Environmental Responsibilities (co-edited with Barry Buzan) (Oxford University Press, 2022), Environmentalism and Global International Society (Cambridge University Press, 2021), The Handbook of Global Climate and Environment Policy (edited, Wiley-Blackwell, 2013) and Business Power and Conflict in International Environmental Politics (Palgrave, 2008).
Federica Bicchi (@F_Bicchi) is Associate Professor in the International Relations of Europe in the Department of International Relations at the London School of Economics and Political Science (LSE). She is also the Director of the European Foreign Policy Unit of LSE. Her current research interests centre on the digitalisation of European foreign policy, on the interaction between the EU and its member states in international affairs and on the European External Action Service (EEAS). Her recent publications include Europe and the occupation of Palestinian territories since 1967, 2020 (editor), European Diplomacy in Practice, 2018 (co-editor).
How can I attend?
This public event is free and open to all. No ticket or pre-registration is required. Entry is on a first come, first served basis.
More about this event
The European Foreign Policy Unit (EFPU) acts as a focus for research and teaching on issues relating to the attempts to create a collective European foreign policy. The International Relations Department is one of the world's leading centres for research into European foreign policy, and EFPU aims to build on and contribute to that reputation.
The Grantham Research Institute on Climate Change and the Environment was established by the London School of Economics and Political Science in 2008 to create a world-leading multidisciplinary centre for policy-relevant research and training on climate change and the environment, bringing together international expertise from across LSE and beyond, including on economics, finance, geography, the environment, science, law, international relations, development and political science.
Twitter Hashtag for this event: #LSETocci