Roger Fouquet - research in progress
Net Domestic Consumer Surplus (1700-2017): A New Indicator of Consumer Welfare
Roger Fouquet is currently working on estimating the Net Domestic Consumer Surplus (NDCS) for the United Kingdom over the last three hundred years. NDCS measures the area below the demand curve for each consumer category and above the price line, and sums all the consumer categories to produce an aggregate value. NDCS offers a new macroeconomic indicator of economic welfare and a complement to GDP.
The preliminary results indicate that the broad trend in Net Domestic Consumer Surplus (NDCS) per capita is similar to GDP per capita – showing the improvements in welfare from the end of the nineteenth century, major increases since the 1950s and a decline following the Great Recession of 2007-8.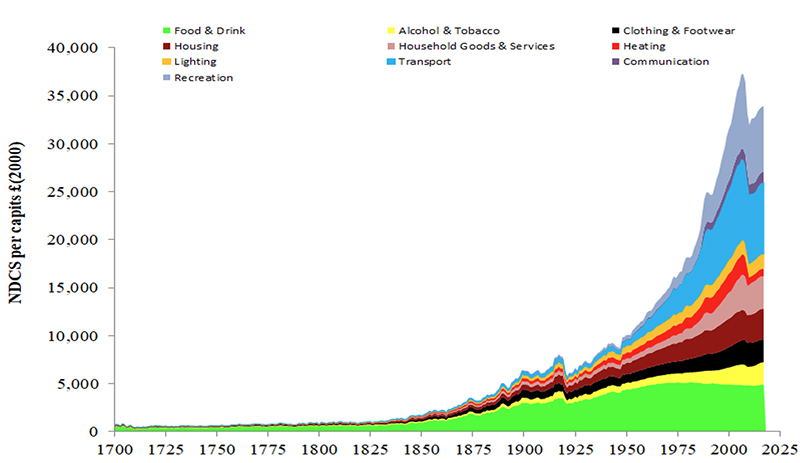 However, GDP per capita heavily under-estimates the consumer welfare gains at early stages of economic development and over-estimates the consumer welfare gains at later stages of economic development. For instance, each pound or dollar produced today is not generating as much consumer welfare as 90 years ago.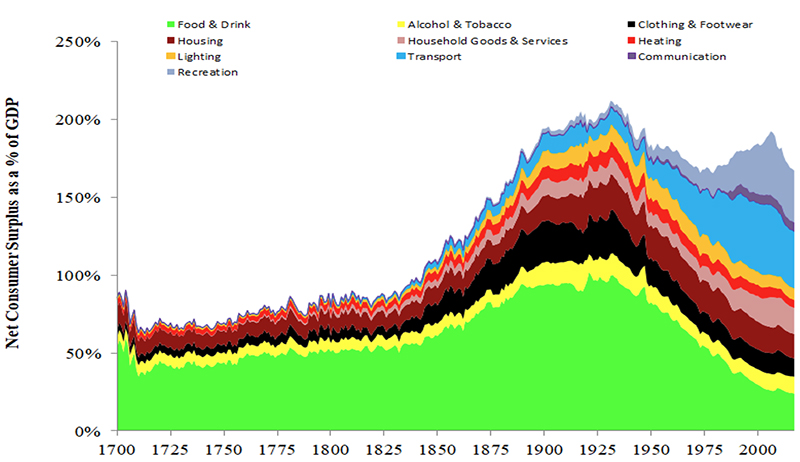 This research is still at an early stage – these estimates should be seen as at the proof-of-concept stage. In other words, they will now be tested for robustness and compared with alternative modelling approaches to measuring NDCS, as well as compensating demand curves for income changes. From there, the estimates will be refined.
Also, an understanding of the differences between NDCS and GDP in individual countries, and the differences between NDCS values across countries will generate important knowledge. Thus, the next stage will be to refine these estimates and estimate NDCS for other economies to offer a comparison and generate greater generalisable evidence. This empirical analysis can provide the pre-modelling of the relationship between economic development and net benefits of consumption with the hope that it will inspire new theoretical models of this relationship.
Furthermore, one of the project's aims is to better understand the limits of consumerism by comparing the net benefits of consumption with the environmental costs of consumption. Finally, this knowledge can help reinterpret the gains from economic growth and refine policies and broader industrial strategies.
This research is still seeking financial support to complete the next stages. If you are interested in supporting this research, please contact Roger Fouquet r.fouquet@lse.ac.uk.