PERC Flood event review 'Bernd'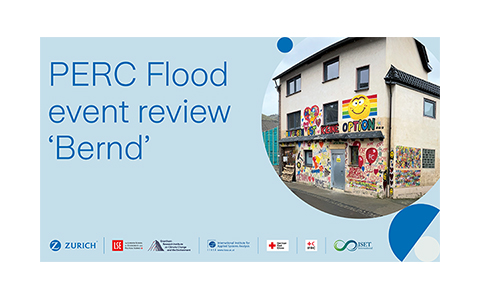 In July 2021, weather system 'Bernd' caused catastrophic damage and human suffering in several European countries. Severe flooding, particularly in Germany, claimed more than 230 lives and left many communities in ruins. Preliminary estimates of the total economic losses in the affected areas across Europe range from €40 bn to €50 bn. For Germany the 2021 floods were the costliest disaster in its history and the deadliest in 60 years.
The Post-Event Review Capability (PERC) methodology assesses the impact of weather events in search of practical recommendations for reducing future damage. PERC identified significant shortcomings in the levels of preparedness for the dimensions of this event, as well as the management of the crisis and the reconstruction process. As climate change will further intensify extreme weather events, decisive action is needed to the reduce the impacts of a such an event.
Recommendations
Current flood models and procedures require a major overhaul – reducing calculation times, increasing transparency, and incorporating a more nuanced approach to varying types of flooding. Crucially, flood statistics must also take historic events, as well as future climate change implications, into consideration.
An increased distribution of simpler, lower-cost measurement stations for rainfall and river levels will provide real-time updates on developing events. These could be operated and maintained by the communities where they are installed, with the data then integrated into wider forecasting networks.
In many cases, existing disaster law significantly hindered the response to the 2021 flooding. Guidelines for applying subsidiary principles, and for procurement, training, and operation for natural hazard events must be urgently revised to ensure that all aspects of emergency response plans are fit for purpose. Improved standardization across nations and regions must also be prioritized, including minimum requirements for equipment and personnel capacity.
The appointment of a 'Flood Delegate' to oversee the complete reconstruction effort after a disaster would ensure that a coordinated, climate-smart approach is adopted, reducing future risks. The designation of 'Flood Zones', in which special flood emergency laws can be implemented, will accelerate the timeline for reconstruction.
Szönyi M., Roezer V., Deubelli T., Ulrich J., MacClune K., Laurien F. and R. Norton. PERC floods following "Bernd". Zurich, Switzerland. Zurich Insurance Company, 2022.