Global progress on adaptation implementation (Chapter in the: Adaptation Gap Report 2022)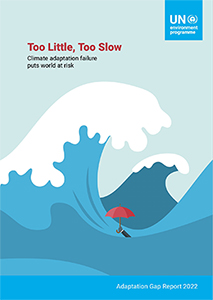 Where do we stand globally on adaptation? One of UNEP's annual flagship reports, the Adaptation Gap Report provides a detailed account and is an important input to COP27. For adaptation, which cannot be measured on a single global metric, the report provides a unique overview of progress along planning, finance and implementation.
For the first time, the UN Secretary-General released a statement that accompanies the report's launch.
The Grantham Research Institute has been an important contributor to the Adaptation Gap Report for the last few years. Timo Leiter is lead author of Chapter 4, 'Global progress on adaptation implementation', in the 2022 report. This chapter provides an overview of implemented adaptation worldwide, analysing what adaptation actions have been undertaken, for whom, where and against which climate hazards and risks.
Key messages from Chapter 4, Global progress on adaptation implementation
The number and financial volume of adaptation actions supported by the Adaptation Fund (AF), the Green Climate Fund (GCF) and the Global Environment Facility (GEF) more than doubled between 2016 and 2018 and have remained constant since 2019 – at an average of around US$500 million per year. Without further increases, increasing climate risks could outstrip adaptation actions and thus widen the adaptation gap even more.
Only around one-third (40% in relation to funding volume) of the actions reported by bilateral climate finance providers as primarily aiming at adaptation were found to directly target climate risk reduction. Actions labelled as adaptation must better elaborate their contribution to adaptation.
Not every climate action can be expected to deliver substantial co-benefits for adaptation or mitigation. The potential for co-benefits between adaptation and mitigation is higher in some sectors than in others.
Attention needs to be paid to potential trade-offs in the implementation of adaptation and mitigation to avoid progress in one objective hampering another or hampering sustainable development. Trade-offs can occur despite substantial co-benefits and therefore need to be considered independently.
Read the Adaptation Gap Report 2022: https://www.unep.org/resources/adaptation-gap-report-2022