Do healthy home checklists nudge people to test their home for radon? Evidence from a randomised control trial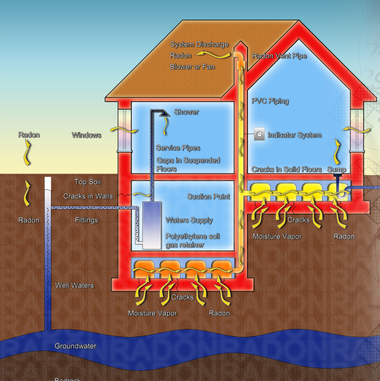 Radon degrades indoor air quality and is the leading cause of lung cancer after smoking.
The authors of this paper examined if a 'Healthy Home Checklist' would nudge households to purchase a radon test online. Households in Ottawa, Canada, were mailed postcards with a checklist that framed testing for radon as a routine action to check air quality and keep a healthy home. The postcards also included a vendor website link where people could buy a test kit online. A control group did not receive a postcard.
More test kits were purchased by the households who received a postcard, but take-up was low – only seven tests were purchased in the treated groups and one test in the control group. These results suggest that this form of 'nudge' was not necessarily a cost-effective strategy to elicit a purchase.
Key points for decision-makers
Radon is present in all homes. It is an invisible, odourless, and tasteless gas so the only way to know exposure levels is to test for it.
Public demand for tests is deemed too low – Statistics Canada found that 7% of Canadian homes were tested for radon in 2017 and 3% in 2009.
The authors used a cluster randomised control trial with 15,043 households across 22 postal route groups in Ottawa, using postcards as a method to nudge recipients to purchase a radon test.
The study was conducted in partnership with Health Canada's National Radon Program.
The authors used two variations of the postcard. The postcard in treatment A directed people to a vendor website where a test could be directly purchased with one click. In treatment B, people were directed to a product aggregator website, currently recommended by Health Canada, which offers more product choice, health risk information and at least four clicks to purchase a test. So a secondary aim was to explore if testing could be increased by making the online purchasing experience easier.
The authors found that the nudge increased test purchases, but the low-take up – seven tests in the combined treated groups versus one in the control – suggests this nudge is not a cost-effective strategy in isolation.
Directing people to a website with more information, more product choice and more clicks to purchase (treatment B) was not less effective, suggesting that more 'friction' on the purchase website did not deter purchases in this context.
Based on the results of this trial, the average cost (from printing and mailing) to Health Canada for encouraging a household to purchase a radon test kit was CA$416.41. The cost of a radon testing kit purchased online typically ranges from CA$30 to $60.
That said, there may have been additional benefits from this study, like increased awareness and radon risk perception, which the authors cannot measure.