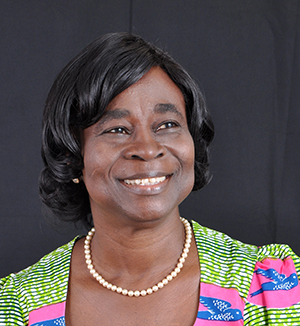 About
Professor Yaa Ntiamoa-Baidu holds a First Class BSc. Zoology degree from the University of Ghana, a PhD in Zoology from Edinburgh University and is a Fellow of the Ghana Academy of Arts and Sciences. She is a biodiversity and environmental specialist, has been one of the leaders in environment and nature conservation in Africa, and has received meritorious awards in recognition of her contribution to wildlife research, training and capacity development in Africa. She is currently the Chair of the Centre for Biodiversity Conservation Research, University of Ghana (cbcr-ug.org).

Background
Prof Yaa Ntiamoa-Baidu served as an Assistant Game Warden and Deputy Head of Department (Research Division) in the erstwhile Ghana Game & Wildlife Department, from where she moved to join the University of Ghana in 1985 as a Lecturer. She was appointed Professor of Zoology in 2003 and held various administrative positions in the University, including Pro-Vice Chancellor – Research, Innovation & Development), Dean, School of Research and Graduate Studies and Head, Department of Zoology. Her notable contributions to the UG include: mentoring and fundraising to support early career faculty and PhD training, leading the establishment of the UG's Office of Research, Innovation and Development, the Pan African Doctoral Academy (PADA), the Centre for Climate Change and Sustainability Studies and the Office of Institutional Advancement.
Her international experience includes serving as: Director for WWF International Africa and Madagascar Programme, based in Switzerland (1998-2008); Advisor on biodiversity issues for the Corporate Responsibility Forum of BHP Billiton (2010-2019); member of Council of BirdLife International for nearly a decade and Vice President for Africa up to 2012; member and subsequently Chair of the Ramsar Convention's Scientific and Technical Review Panel (1993-1999). She was one of the five African environment experts selected to meet President Clinton (then President of the United States) in 1998, and spokesperson for environment and biodiversity at the World Summit Civil Society Hearings in New York in 2005.
Among her many contributions to environment and nature conservation are the establishment of the Ghana Wildlife Society (a national NGO) and the Centre for Biodiversity Conservation Research (formerly Centre for African Wetlands).

Research Interests
Environmental conservation and sustainable development.
Climate change adaptation.
Wildlife resources utilisation, with particular focus on bushmeat.
Role of wild animals in zoonotic disease transmission.
Ecological studies on wetlands and waterbirds.