Update on complaint about 'The Times'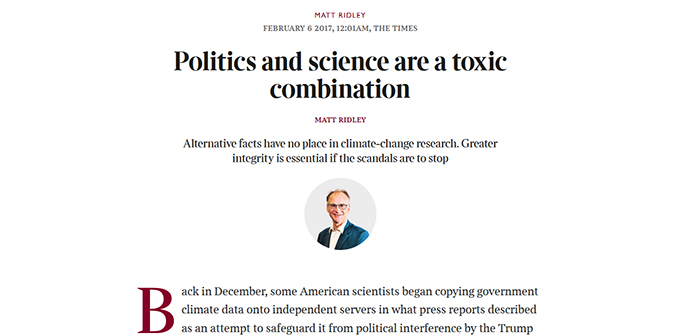 The Independent Press Standards Organisation (IPSO) has today published a disappointing, but not surprising, decision about a number of inaccurate and misleading statements in a column published in 'The Times' on 6 February 2017.
The column by Viscount Ridley, a hereditary peer and adviser to the Global Warming Policy Foundation, contained at least 11 false claims about which I submitted a complaint to IPSO.
It decided not to uphold my complaint on the grounds that its Complaints Committee considered Viscount Ridley's column to be wholly opinion.
This is consistent with IPSO's previous rulings about the systematic misreporting of climate change issues by some newspapers, in which it confines itself to assessing whether opinions are accurately represented, rather than whether the opinions are based on facts or falsehoods.
For instance, in December 2016, IPSO decided not to uphold a complaint by Dr Phil Williamson of the University of East Anglia, who had pointed out a number of blatantly inaccurate and misleading statements in an article about ocean acidification published by 'The Spectator' magazine.
IPSO's ruling on Dr Williamson's complaint stated: "The article was clearly a comment piece, in which the author was expressing sceptical views on ocean acidification, and describing sceptical views expressed by others, that were contrary to the academic consensus. The Committee's role is not to make findings of fact or to resolve conflicting evidence in relation to matters under debate. Rather, it assesses the care taken not to publish inaccurate, misleading or distorted information, and establishes whether a distinction is clearly made between comment, conjecture and fact, in determining whether the Code has been breached."
I submitted my complaint to IPSO because Viscount Ridley's column clearly violated the Editors' Code of Practice, which states in Clause 1: "The Press must take care not to publish inaccurate, misleading or distorted information or images, including headlines not supported by the text".
In a letter to 'The Times, I pointed out the false claims, but it refused to publish any criticism of the column. In doing so, the newspaper also contravened the following clause from the Code: "A significant inaccuracy, misleading statement or distortion must be corrected, promptly and with due prominence, and — where appropriate — an apology published".
After a long exchange between the newspaper, the regulator and me, IPSO concluded that there was no breach of the Code, citing the following clause: "The Press, while free to editorialise and campaign, must distinguish clearly between comment, conjecture and fact".
Viscount Ridley's column was based on an inaccurate and misleading article in 'The Mail on Sunday' and a blog by Dr John Bates, complaining about a journal paper by Thomas Karl and his co-authors which was published in the journal 'Science' in June 2015.
IPSO chose to focus its investigation of my complaint on "whether Dr Bates' concerns had been presented in a significantly inaccurate or misleading way".
It ruled: "These concerns were clearly distinguished as Dr Bates's claims based on his professional experience, which was explained, and had been accurately reported in the column, as claims."
In addition, IPSO examined false statements by Viscount Ridley about the significance of Dr Bates's allegations. It ruled: "These were statements of the columnist's opinion. His views, however controversial, did not raise a breach of Clause 1."
Nevertheless, almost six months after publication of Viscount Ridley's article, it is apparent that it was inaccurate and misleading.
Dr Bates provided a different account of his concerns when challenged by journalists in the United States. For instance, he told Associated Press that there had been "no data tampering, no data changing, nothing malicious".
Unsurprisingly, the paper by Dr Karl and co-authors has not been retracted by the journal 'Science', despite Viscount Ridley's false claims.
Viscount Ridley has repeatedly used his column in 'The Times' to promote climate change denial, usually without disclosing his affiliation to the Global Warming Policy Foundation, which lobbies against policies to limit greenhouse gas emissions.
A letter from 13 members of the House of Lords to the Editor of 'The Times', John Witherow, in April 2016 warned that "some of your recent coverage of man-made climate change and energy risks bringing discredit on your paper".
This IPSO ruling, which has endorsed the publication of inaccurate and misleading material by 'The Times' because it was expressed as an opinion, will not help the poor reputation of the British Press.
A recent survey found that UK newspapers were the least trusted in the European Union by their domestic readerships.
The study by the European Broadcasting Union's Media Intelligence Service gave the British newspapers a net trust rating of minus 51.
IPSO has yet to reach a final decision on a separate complaint I submitted about an article in 'The Mail on Sunday' which also made false claims in relation to Dr Bates's blog.
Bob Ward is policy and communications director at the Grantham Research Institute on Climate Change and the Environment at the London School of Economics and Political Science.