Response to the 'Green Jobs' Package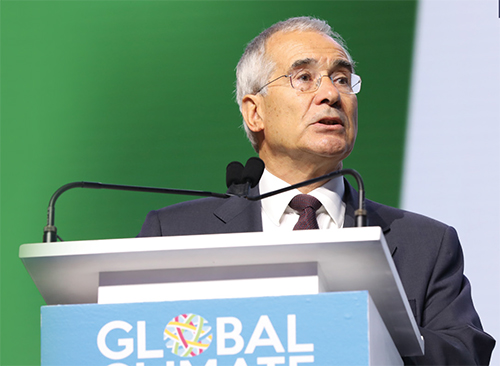 Responding to the Chancellor's announcement of a £3 billion investment package to create green jobs and upgrade buildings, Professor Lord Nicholas Stern, Chair of the Grantham Research Institute on Climate Change and the Environment at the London School of Economics and Political Science, said:
"This is an important package of measures showing that the drive to net-zero emissions can create economic growth and new high-quality jobs, as well as making the UK's economy sustainable and resilient. The task of decarbonising heating systems and improving the energy efficiency of buildings will provide employment and growth opportunities across the country . And so too will investing in our natural carbon stores and natural habitat, our land, waterways and biodiversity".
"From now on all our investments must be aligned with the net-zero target. If they are, we can find a much more attractive form of growth and development, including cities where we can move and breathe and ecosystems that are robust and fruitful, and full of new job opportunities. This must be more than one element in a package for the next couple of years. It should be the beginnings of a new approach to growth. There should be no going back to the old fragile, inequitable and dangerous structures".
The full details of the £3bn package of measures to support tens of thousands of green jobs is set to be unveiled by the Chancellor on Wednesday. It will include a £1 billion commitment to decarbonise public sector buildings, £50m to pilot innovative approaches to retrofitting social housing at scale to make them greener and more energy efficient, as well as a £40m scheme to improve England's treasured landscapes.
The package of new green jobs should be seen as a positive start to a sustainable and resilient economic recovery on the way to the transformation to a zero-carbon economy. It is hoped that the £5bn 'New Deal' investment plan announced by the Prime Minister last week will take similar account of the UK's need to achieve net-zero greenhouse gas emissions by 2050.
For more information please contact me n.brannigan@lse.ac.uk +44 (0) 7933997989
About The Grantham Research Institute on Climate Change and the Environment
Established in 2008 at the London School of Economics and Political Science, the Institute brings together international expertise on economics, as well as finance, geography, the environment, international development and political economy to establish a world-leading centre for policy-relevant research, teaching and training in climate change and the environment. It is funded by the Grantham Foundation for the Protection of the Environment. www.lse.ac.uk/grantham/