Lord Stern to receive top energy policy prize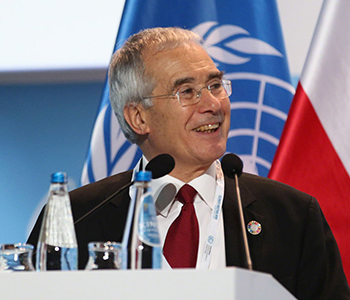 The Kleinman Center for Energy Policy at the University of Pennsylvania is to award its 2022 Carnot Prize to Professor Lord Nicholas Stern, Chair of the Grantham Research Institute at LSE. The Carnot Prize is the University's award given to those who make distinguished contributions to energy policy. The award was given in recognition of Lord Stern's "scholarship on climate change and the energy transition".
In announcing the award Mark Alan Hughes, founding faculty director of the Kleinman Center for Energy Policy, said:
"Nicholas Stern sounded an early alarm on the economic impacts of climate change, but even more significantly he has contributed his economic analyses to other scientific perspectives that together provide broader guidance to decision-makers toward a cost-effective transition to a sustainable energy system consistent with the challenges of climate risk."
About the prize Lord Stern said:
"The Carnot Prize is a great honour for which I am very grateful. It is a privilege to join the very distinguished group of past recipients. The opportunities in transforming our energy systems changed enormously for the better in the last 15 years or so."
Previous winners of the award include:
• 2020 – Sheila Oparaocha, International Coordinator and Program Manager at Energia
• 2019 – Cheryl LaFleur, Commissioner of the Federal Energy Regulatory Commission
• 2018 – Piyush Goyal, India's Minister of Railways and Coal
• 2017 – Gina McCarthy, Former Administrator of the EPA
• 2016 – Fatih Birol, Executive Director of the International Energy Agency
• 2015- Daniel Yergin, Author and Energy Expert
Lord Stern is due to accept the award at a ceremony at the University of PennsylvaniaLord Stern will accept the prize during an award ceremony on Tuesday 19 April 2022 in the Kleinman Center Energy Forum. During this event, economist Frank Diebold (Paul F. and Warren Shafer Miller Professor of Social Sciences, and professor of economics, finance, and statistics at the University of Pennsylvania) will deliver a policy lecture on predictive modelling.

Register here to join this event online from 4:00 PM – 5:30 PM EDT (9:00 PM-10:30 PM BST) on Tuesday 19 April.