India for net zero: is 2070 the real deal?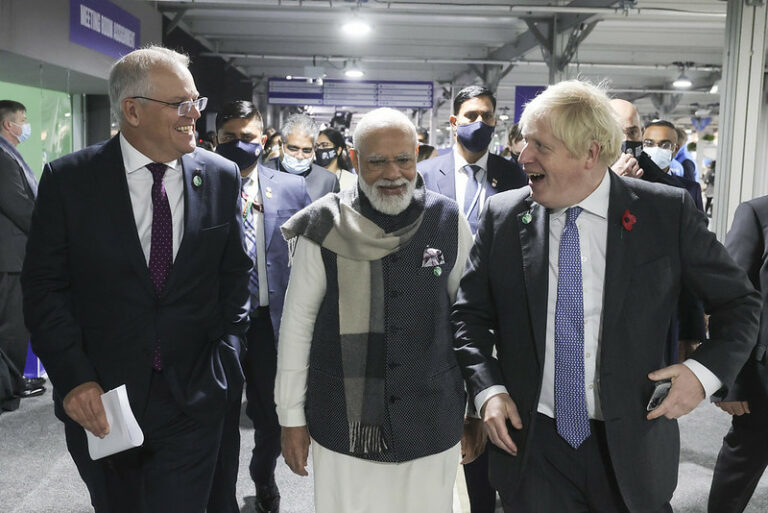 Kamya Choudhary unpacks the commitments India has made at COP26 and proposes ways the country can strengthen its hand further.
Last week at COP26, India's Prime Minister Narendra Modi set the tone for the country's climate action trajectory by outlining five strong commitments. By 2030, India will increase its renewable non-fossil energy capacity to 500GW, meet 50% of its energy demand from renewable energy sources and reduce the economy's carbon emissions intensity by 45%. It will also seek to reduce its total projected carbon emissions by 1 billion tonnes by 2030 and reach its net-zero target by 2070.
A shift in outlook?
These announcements mark a significant shift in the way the country visualises its role in global climate action. In the past, India has made clear that only those responsible for historical emissions are responsible for reducing them. But now it is showing recognition that acting on climate is the path to development, and that India values resilient, inclusive and sustainable growth.
One way India is participating in coordinating international climate action is through its role in the International Solar Alliance. It is also leading by example with ambitious targets to curtail emissions and demonstrating progress on its nationally determined contributions (NDCs).
However, the announcements have been met with some scepticism. This has largely centred on two arguments: first, that 2070 is not ambitious enough relative to most economies, which have pledged to reach net zero by 2050; and second that specificity on how such goals will be achieved and financed is lacking.
Is 2070 ambitious enough?
On the timeline debate, the Indian government's 2070 date is not drastically different from most pre-COP26 estimates of what is economically viable for the country. For example, the International Energy Agency's India Energy Outlook 2021 report identified the mid-2060s in its Sustainable Development Scenario, and the Centre for Social and Economic Progress estimated 2065–2070 to be a fair target for net zero in India.
India's 2070 target takes into account its contribution to total emissions in comparison to emissions released historically by developed countries, and includes policies that prioritise its economic growth. The Centre for Science and Environment details that 2070 is on a par with the commitments of industrialised nations considering OECD countries and China have significantly delayed their own net zero targets. Despite being the third largest global emitter, India's emissions are relatively low in per capita terms. This makes India's 'enhanced' commitments not only ambitious but also more useful, as it is prioritising reducing as well as removing emissions from the atmosphere.
India's 'enhanced' commitments combine short-, medium- and long-term accountability measures to ensure that its net zero target is not just a "diplomatic-tick box". This combination could see India's annual greenhouse gas emissions peak by 2030, as noted by Professor Nicholas Stern. This strategy strengthens India's mandate for a transition to a low-carbon economy.
Time for a clear plan – curtailing coal, power sector reforms and more
Post-COP26, the Indian government will have a chance to elaborate on its announcements.
To add clarity to its strategy, India can focus on how its coal and gas-dependent power sector will adapt to a net zero future and which greenhouse gases will be covered by its current commitments. India should also begin curtailing coal investments and developing repurposing plans for new and old coal plants. By leveraging international collaborations and targeted financing, such as those outlined by the Brookings Institution or the World Bank, India can transition away from coal while supporting the communities and regions impacted by this change.
Additional political pivots include adopting a formal emissions peaking year, power sector reforms and a deeper focus on carbon capture, utilisation and storage (CCUS). Expanding renewable energy generation capacity would mean India will also need strong renewable energy recycling processes in place. These can include regulatory laws and infrastructure to ensure a sustainable end-of-life for its installations.
Who foots the bill?
Fast-paced progress in technological innovation and a consequent reduction in costs will continue to influence how much India can achieve by mid-century. Potentially, it could even make it possible to move the net zero goalpost forward. Facilitating this reorientation in policy and access to associated technology requirements requires financing: Prime Minister Modi indicates $1 trillion would be needed.
While India stepped up its commitments at COP26, international climate finance failed to deliver on the $100 billion commitment. Its mobilisation is anticipated to be delayed till 2023. The finances required for the scale of change demanded of countries like India must reflect the principal of climate justice and historic responsibility. Historic polluters, now wealthier countries, must first deliver on the promised $100 billion, and then at least double this commitment. Supporting India's transition is supporting global climate change mitigation and adaptation. India's journey will serve as a blueprint for how other developing countries can approach and finance sustainability while supporting economic growth.
Adequate and transparent international climate finance mobilisation will boost the credibility of the work that world leaders gathering at COP26 are pursuing. Developed countries must begin channelling international climate finance in a way that can be tracked to measure contributions, its final impacts, and ensure equitable access. India has decisively supported the call to protect collective global futures and current 'commons' by shifting gears to a more resilient development trajectory. The wealthier world is responsible for financing this shift and investing in a low-carbon global economy. The real question they now face is, can they afford not to?
Monitoring progress
India's track record on working towards its Paris Agreement targets and other ambitious goals reflects very positively on the country's capacity to deliver on its promises. The real test now will be how it progresses in the lead-up to 2030 and 2070 and what India's revised NDCs include.