Fleet Street's last dinosaur of climate change denial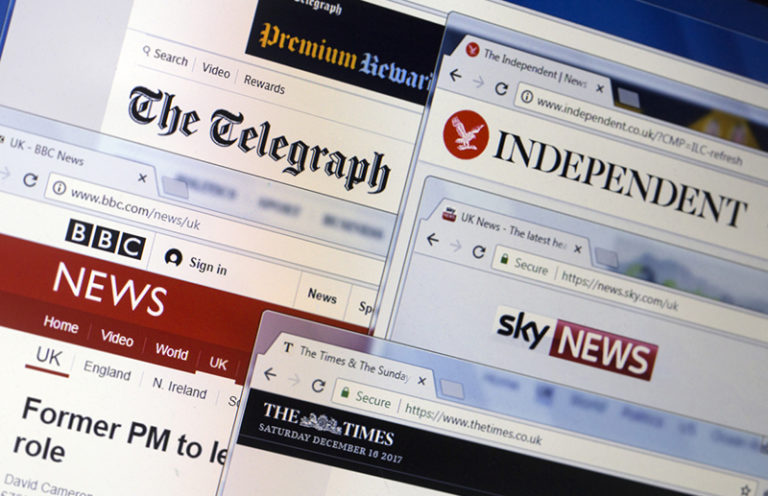 The leader writers at The Daily Telegraph have demonstrated once again that their deeply ideological opposition to climate change policy makes them an unreliable source of information on the topic.
Many of Britain's national newspapers now accept the causes and potential consequences of climate change, including, belatedly, most of the right-leaning titles. But there is one remaining dinosaur which, like The Spectator magazine, desperately clings to climate change denial: The Daily Telegraph.
Over the past few years, the newspaper, for which I worked very briefly as a science reporter during the 1990s, has published at regular intervals inaccurate and misleading polemics about climate change in its Comment section and its leading articles.
Some of these have continued the newspaper's longstanding rejection of the scientific evidence for climate change, including an infamously daft article in 2006 which claimed that global warming stopped in 1998.
More recently it has promoted 'lukewarmer' climate change denial, reluctantly accepting the basic physics of the greenhouse effect, but still promoting the myth that climate change will not have much of an adverse impact.
These have included an error-filled leading article in June 2019 which plagiarised, from prolific 'lukewarmer' Dr Bjorn Lomborg, bogus figures about the economics of the UK's plans to cut its greenhouse gas emissions.
This week The Daily Telegraph published a leading article that was also critical of the UK Government's efforts to cut greenhouse gas emissions. But it was full of sloppy errors and false arguments, revealing that the newspaper's leader writers still do not know what they are writing about.
The article was prompted by the UK Government's announcement this week that it would accept the advice of the UK Climate Change Committee and legislate a Sixth Carbon Budget that would mean our annual emissions will be cut by 78 per cent by 2035 compared with 1990.
It was widely welcomed as a bold move by Boris Johnson's Government as it seeks to lead by example ahead of the 26th session of the Conference of Parties (COP26) to the United Nations Framework Convention on Climate Change, due to be held in Glasgow, Scotland, in November.
But the Telegraph's leading article chose to snipe instead. Its final paragraph states: "When ministers grandstand in order to demonstrate their green credentials they make little mention of the bills to be paid. They need to be more honest with the voters who will be asked to pay for these pledges."
I agree that the Government should be honest about the significant investments that are required to achieve the UK's target of reducing its annual emissions to net zero by 2050. But the Telegraph's article was not honest in addressing this issue.
Detailed analysis by the independent experts at the Climate Change Committee for the Sixth Carbon Budget found that annual investments to realise net zero emissions will need to rise from about £10 billion in 2020 to about £50 billion by 2050. These are large sums, but equivalent to less than 1 per cent of the UK's projected GDP over this period.
The Committee's calculations also show that much of this investment will be balanced by savings, mainly by avoiding the expensive import of fossil fuels. It estimated that, for instance, electrification of the UK's road transport would save the country over £20 billion a year by 2050.
The Committee's report concludes: "By 2050, aggregate operating cost savings will be similar to the annual investment requirements for the Net Zero transition." And these calculations do not include the huge economic benefits of avoided climate change impacts and other severe consequences of fossil fuel use, such as local air pollution. However, none of these economic benefits are mentioned in the Telegraph's article. It is not clear whether this was the result of ignorance or dishonesty.
The article included several other factual errors. It stated: "A parliamentary report says replacing gas boilers with green alternatives could cost homeowners up to £25,000." There has been no parliamentary report that makes such a claim. There was a letter on 21 December 2020 from Philip Dunne, the Chair of the House of Commons Environmental Audit Committee, to Kwasi Kwarteng, the Secretary of State for Business, Energy and Industrial Strategy, which addressed the cost of heat pumps and measures to make homes more energy efficient so that they do not waste as much heat. The letter stated: "The Northern Housing Consortium told us it will cost an average privately owned household £19,300 for retrofit and £5,000 for a heat pump." These retrofits include new radiators, insulation and underfloor heating.
However, the response from Lord Callanan, the Parliamentary Under-Secretary of State at the Department of Business, Energy and Industrial Strategy, indicated that the costs would be much lower. His letter stated: "Some homes will inevitably require upgrades to the heat distribution system for a heat pump to operate effectively, which could cost between £500-£1,500, but most homes in the UK are technically suitable for a heat pump with no improvements to the fabric efficiency of the building. That being said, lowering heat losses by investing in energy efficiency will improve the performance of a heat pump and reduce the overall cost of heating."
Of course, this information was ignored by the writer of the Telegraph article. The newspaper has never shown much enthusiasm for measures that would improve the energy efficiency of the UK's homes, even though it would save its readers significant sums of money from wasted heat.
The article also stated: "New boilers are to be phased out within just 12 years and 600,000 heat pumps installed." This is plain wrong. The Government set a target in November 2020, as part of the 'The Ten Point Plan for a Green Industrial Revolution', to increase the number of heat pump installations every year to 600,000 by 2028. There are no plans to phase out gas boilers in the UK's 29 million homes "within just 12 years". The Climate Change Committee did point out in its advice to the Government about the Sixth Carbon Budget that its 'Balanced Pathway' assumes no new gas boilers will be installed after 2033, unless they can be converted to run on electricity or hydrogen.
The leader writer could have avoided these mistakes by reading the article by Telegraph Environment Editor, Emma Gatten, who reported the correct information just a few pages further forward in the same edition of the newspaper.
The article contained one further mistake. It stated: "Boris Johnson has agreed with his advisers that carbon dioxide should be cut by 78 per cent by 2035 compared with 1990 levels. The previous target was a 68 per cent cut by 2030." Again, this exposes a fundamental lack of understanding. The 68 per cent reduction in annual emissions by 2030 is not "a previous target" but instead is a separate commitment made by the UK in its 'nationally determined contribution' to the Paris Agreement, which was announced on 12 December 2020. Unlike the Sixth Carbon Budget, it does not include the UK's contribution to international aviation and shipping, but both targets are consistent with each other and with the goal of reaching net zero emissions by 2050.
All these inaccurate and misleading claims appeared in a leading article that was less than 300 words in length. It demonstrates either huge incompetence or dishonesty, and a remarkable contempt for the newspaper's readers.