Fans of fossil fuels offer Africa an unfair choice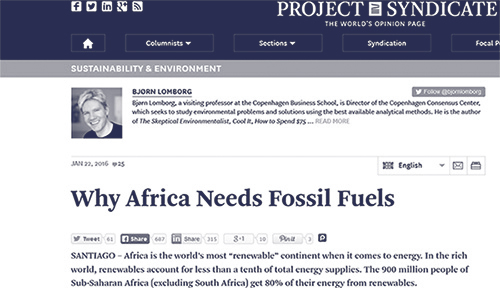 A handful of campaigners who promote the use of fossil fuels are using newspaper articles to offer a deeply unfair choice to people living in the poorest countries of the world.
Op-eds by Bjorn Lomborg, Matt Ridley and others argue that if poor countries want to develop and grow economically, rich countries should ensure they are supplied with oil, coal and natural gas, rather than cleaner sources of energy, even though the poorest countries are most vulnerable to the harm caused by the burning of fossil fuels through local air pollution and climate change.
Yet analysis by experts and governments around the world indicate that it is both feasible and desirable to provide access to energy sources that do not damage lives and livelihoods through pollution from fossil fuels.
In March 2015, Viscount Ridley wrote an article for the 'Wall Street Journal', under the headline 'Fossil Fuels Will Save the World (Really)', in which he downplayed the risks of climate change and claimed that the world should not be "subsidizing wealthy crony capitalists to build low-density, low-output, capital-intensive, land-hungry renewable energy schemes, while telling the poor to give up the dream of getting richer through fossil fuels".
Viscount Ridley is a member of the "Academic Advisory Council" of the Global Warming Policy Foundation, set up by Lord Lawson to campaign against policies to limit greenhouse gas emissions. His article contains a number of errors.
For instance, he argued that the sensitivity of the Earth's climate to rising atmospheric concentrations of greenhouse gases must be low, based on an article published by a libertarian lobby group, even though a comprehensive survey by the Intergovernmental Panel on Climate Change (see Box 12.2) of the academic literature shows a range of estimates by scientists.
Bjorn Lomborg's flawed article
Similarly a new article by Dr Bjorn Lomborg, under the headline 'Why Africa Needs Fossil Fuels', has been distributed to newspapers around the world by Project Syndicate. But like Viscount Ridley, Dr Lomborg, who has a PhD on 'Simulating Social Science', makes a number of mistakes.
For instance, Dr Lomborg writes that the 'World Energy Outlook 2015', published last November by the International Energy Agency (IEA), estimates that "if all countries fulfill the pledges made at the Paris climate change conference last month, the proportion of renewables could increase slightly in the next 25 years, to 18.7%". This is simply not true.
In fact, the IEA's 'New Policies' scenario took into account emissions cuts by 2025 or 2030 that had been pledged by countries by 1 October 2015 in 'intended nationally determined contributions' (INDCs) ahead of the 21st session of the Conference of the Parties (COP21) to the United Nations Framework Convention on Climate Change in Paris.
But the Paris Agreement that emerged from the summit acknowledged that the pledged emissions cuts would be insufficient to limit the rise in global mean surface temperature to well below 2°C above its pre-industrial level, and that they should be revised every five years to increase their strength.
This means that emissions reductions embodied in the Paris Agreement should eventually exceed those assumed by the IEA's '450 Scenario', in which 28.9% of the world's total primary energy demand in 2040 is met through renewables, with a further 10.7% supplied by nuclear power plants.
A paper released by Dr Lomborg ahead of the Paris summit, claiming that the INDCs would make very little difference to global warming by the end of the century, contained a critical error that renders its conclusions invalid.
Dr Lomborg's article refers to a previous IEA report published in 2014, 'Africa Energy Outlook', to highlight a scenario ('African Century Scenario') in which Africa's total primary energy demand increases by 90% between 2013 and 2040, and the consumption of fossil fuels rises by 113%, accompanied by a climb in annual carbon dioxide emissions of 96%.
He ignores the IEA's '450 Scenario', consistent with having a 50 per cent chance of limiting global warming to no more than 2°C, with Africa's total primary energy demand increasing by 52% between 2013 and 2040, and the consumption of fossil fuels rising by 26% but annual carbon dioxide emissions remaining the same.
Under-estimating the damage to Africa from climate change
Dr Lomborg claims that the doubling of fossil fuel use in the 'African Century Scenario' would be much more beneficial to Africa than a low-carbon path based on flawed assumptions. First he argues that the high-carbon path would only generate 4 billion additional tonnes of carbon dioxide, which would just cause US$140 billion in damage through climate change. But both these figures are massive under-estimates.
First, the difference in annual emissions between the 'African Century Scenario' and '450 Scenario' in 2040 alone is more than 1 billion tonnes, so the actual difference in total accumulated emissions over the 25 years from 2015 would be at least double the 4 billion tonnes claimed by Dr Lomborg.
Second, Dr Lomborg estimates the damage caused by climate change by multiplying the emissions between 2015 and 2040 by an average 'social cost of carbon' (the incremental damage caused by the emission of one tonne of carbon dioxide) of US$35 per tonne of carbon dioxide, which he suggests is the "US official (though, likely somewhat exaggerated) social cost figure". In fact, the United States Environmental Protection Agency uses values for the social cost of carbon that are much higher, ranging from a median of US$36 per tonne in 2015 to US$60 in 2040, and recognising a huge range of uncertainty which means the value in 2040 could be close to US$200. And even these figures are under-estimates since they are based on models that omit the largest potential impacts of climate change (one prominent economist has written: "These models have crucial flaws that make them close to useless as tools for policy analysis").
In addition, this calculation relates to the global impacts of Africa's carbon dioxide emissions, not the impacts on Africa alone. In fact, Africa is vulnerable to impacts caused by emissions around the world, and if its emissions increase hugely by 2040, as Dr Lomborg advocates, it will undermine the goal, set out in the Paris Agreement, to reduce global emissions, to the detriment of Africa in particular.
Hence Dr Lomborg's article significantly understates the true economic impacts of climate change on Africa that would result from the additional carbon dioxide emissions. And those impacts can already be seen through increased risks to lives and livelihoods in vulnerable communities across Africa from sea level rise and changes in extreme weather events. For instance, the Food and Agriculture Organization of the United Nations warned last month that 10.2 million people in Ethiopia are now considered "food insecure" following a drought that led to crop failures in the country. Although the failure of the summer rains is directly linked to the El Niño that began in 2015, the lack of spring rainfall is connected to climate change, which has been implicated by researchers in a recent drying trend in the Horn of Africa.
Under-estimating the damage to Africa from air pollution
Similarly, Dr Lomborg's suggestion that the increased burning of fossil fuels will only increase the economic damage caused by external air pollution by US$30 billion during the period between 2015 and 2040 does not stand up to scrutiny. First Dr Lomborg only cites coal as a source of external air pollution and does not acknowledge the damage caused by diesel and other oil products. Second, he ignores a recent study by the International Monetary Fund which estimated that the lack of effective policies and instruments to prevent economic damage due to external air pollution in Africa amounted to an implicit subsidy for fossil fuels of more than US$13 billion in 2013 alone. Given that the 'African Century Scenario' assumes an increase by 2040 of about 77% in the annual consumption of coal and a 92% rise in oil use each year, compared with the '450 Scenario', Dr Lomborg has clearly under-estimated the economic impacts of local air pollution due to the increase in fossil fuel use that he calls for.
The damage that local air pollution from fossil fuel use already causes to lives and livelihoods in Africa is clearly evident in Nigeria. The World Bank estimates that air pollution reduces the country's gross national income by 1% and the national government is struggling to control the problem.
Over-estimating the benefits of burning fossil fuels
As well as vastly under-estimating the damage caused to lives and livelihoods in Africa through the increased consumption of fossil fuels, Dr Lomborg offers very high estimates of direct benefits of US$7 trillion by 2040, although he does not explain how this figure has been calculated. The IEA indicates that cumulative fiscal revenues from increased oil and gas production in the 'African Century Scenario' would be about US$4 trillion by 2040, based on the assumption that the oil price reaches US$130 per barrel in real terms. This may have seemed reasonable in October 2014, when the IEA's report was published and the oil price was about US$90 per barrel, having been above US$110 per barrel earlier that year. However, in January 2016, the oil price sunk below US$30 per barrel. It is very difficult to predict what the price of oil will be over the next 25 years. Predictions of large revenues in 2040 predicated on a high oil price may turn out to be little more than wishful thinking.
Dr Lomborg implies that the higher consumption of fossil fuels will increase access to electricity for hundreds of billions of people across Africa in 2040. But he does not acknowledge that the IEA indicates that the 'African Century Scenario' assumes "growth in supply coming predominantly from mini-grid or off-grid solutions". This does not mean that fossil fuels, rather than solar power, would be the most effective way to generate electricity, particularly in rural communities.
In the 'African Century Scenario' highlighted by Dr Lomborg, more than 300 billion people in sub-Saharan Africa would still not have access to electricity in 2040, and over 500 billion would not have clean cooking facilities, instead of burning biomass in badly-ventilated conditions and exposing themselves to huge risks from indoor air pollution.
Dr Lomborg completely ignores the 'New Deal on Energy for Africa', launched in September 2015, which aims to achieve universal access to energy in Africa by 2025. Speaking at the launch, the President of the African Development Bank, Akinwumi A. Adesina, said:
"Africa is rich in energy resources, but poor in energy supply and access. Ladies and gentlemen, listen to our potential. Africa has potential for 11 terawatts of solar energy, 350 gigawatts of hydropower, 110 gigawatts of wind power, and an additional 15 gigawatts of geothermal potential. Yet, the continent generates the same level of electricity as Spain or Belgium. With these immense resources, Africa should accelerate investments in technology, innovations, policies and regulations to speed up a renewables revolution. Africa cannot power its homes or businesses with potential. Africa must unlock its huge renewable energy potential and combine this with conventional energy to light up and power Africa."
It seems that Dr Lomborg's deeply unfair proposition to Africa, that the continent can only have economic development and growth by becoming more dependent on fossil fuels, is both based on flawed assumptions, and rejected by Africans themselves.
Bob Ward is policy and communications director at the Grantham Research Institute on Climate Change and the Environment and the ESRC Centre for Climate Change Economics and Policy at the London School of Economics and Political Science.