Climate change could "play havoc" with seasonal economic patterns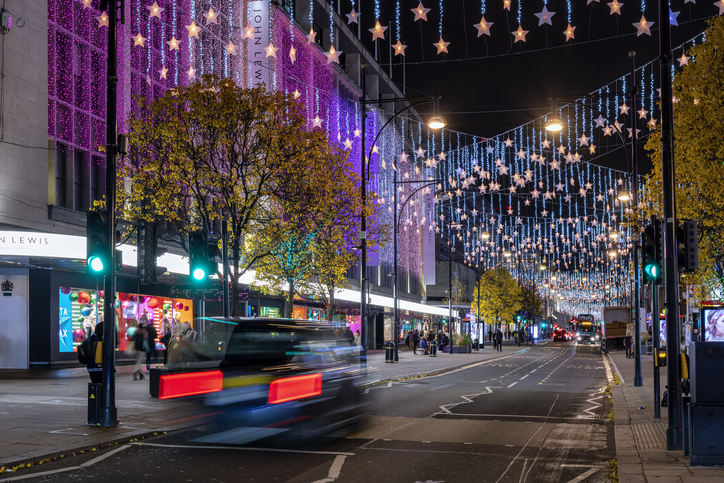 Economic production goes up at the end of the year – and it's not just because of Christmas. Christmas spending booms and summer holiday lulls do not fully explain recurring seasonal variations in economic productivity, finds new research for the first time, overturning long-held assumptions. Instead, these fluctuations appear to be driven to a large extent by temperature changes. This has potentially profound implications for economic production in a world with a changing climate.
The new research is published today in a working paper by the Grantham Research Institute on Climate Change and the Environment at the London School of Economics and Political Science (LSE),titled Seasonal temperature variability and economic cycles. The lead author is Manuel Linsenmeier who has previously published work on the economic impact of temperature variability.
Linsenmeier's paper upends conventional wisdom about the relative importance of end-of-the-year consumption booms and holiday activity on economic production. Previous research focused on only a few selected countries in the Northern Hemisphere and did not examine the fundamental drivers of economic fluctuations. In fact, the paper found that the end of year increase in production in countries in the Southern Hemisphere is likely to be because that is when these countries experience summer. And while there is a winter spending bump in some Northern Hemisphere countries due to Christmas, this effect is less than it would be if temperature was not such a strong driver of production overall. The new paper used quarterly gross domestic product (GDP) data from 98 countries around the world, representing all continents and a large range of socioeconomic contexts and climates. The author developed a new empirical method that takes into account expectations about recurring temperature changes.
The paper found that temperature has a large effect on seasonal economic cycles. In many countries, the effect of temperature is strong enough to explain almost all of the observed seasonal economic cycles. The results indicate that climate change, which will affect seasonal temperatures, will lead to a reallocation of economic activity across seasons.
In general, warmer temperatures were associated with higher levels of economic productivity. Looking more closely at this, the paper found that some industries were more sensitive to temperature changes, namely: agriculture, construction, manufacturing, utilities and mining. This may be because workers in these industries tend to be more productive in warmer weather.
Manuel Linsenmeier, a PhD candidate at LSE's Grantham Research Institute on Climate Change and the Environment, said:
"This research shows for the first time that seasonal economic cycles are affected by temperature itself. This does not mean that summer holidays or increasing spending before Christmas do not matter, but that their relative importance needs to be reconsidered. I have looked at 98 nations around the world and found that at a fundamental level, temperature variations can explain a significant and large share of seasonal changes in economic activity.
"The most likely explanation for this is that many industries are vulnerable to temperature changes – such as agriculture, construction, manufacturing, utilities and mining – because the workforces are exposed to outdoor temperatures. Climate change will see some countries warming more quickly in winter than in summer. In other countries, we will see the opposite.
"But people shouldn't think that a warmer world will be a more productive one. In fact, our research indicates that climate change will play havoc with economic patterns, which will lead to uncertainty for investors, employers and workers. The paper provides yet more reason for governments and international agencies to work together to limit global temperature rises."
The paper found that, globally, countries with a summer peak in economic productivity are slightly more common than countries with a winter peak in economic activity (55 of 98 countries). In the Northern hemisphere, 'winter-peak' countries are more common (49 of 81 countries).
The paper will be submitted for peer review to be published in a leading academic journal.
To see the full paper, or interviews with the author, please contact Anna Ford on a.ford1@lse.ac.uk or gri.media@lse.ac.uk.
Notes to Editors:
The Grantham Research Institute on Climate Change and the Environment was established in 2008 at the London School of Economics and Political Science. The Institute brings together international expertise on economics, as well as finance, geography, the environment, international development and political economy to establish a world-leading centre for policy-relevant research, teaching and training in climate change and the environment. It is funded by the Grantham Foundation for the Protection of the Environment, which also funds the Grantham Institute – Climate Change and the Environment at Imperial College London. www.lse.ac.uk/grantham/