Can the UK pull off a new 'sprint-for-wind' to cut emissions and energy bills?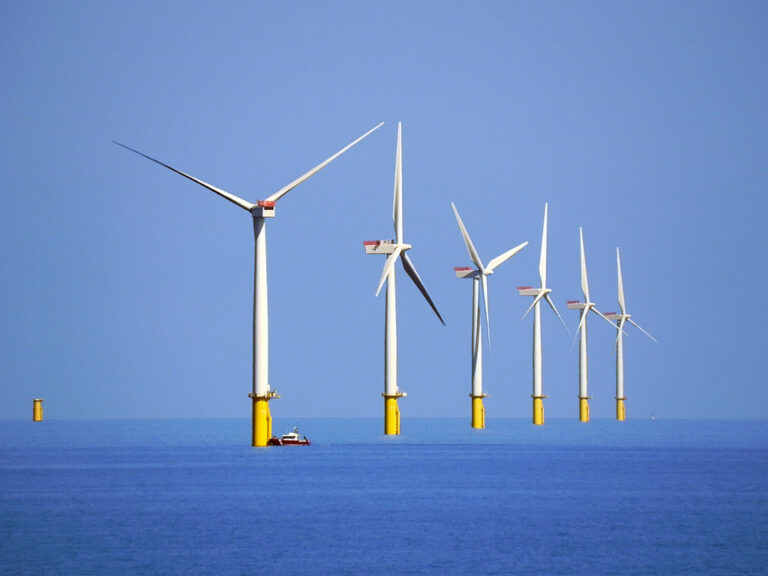 Dependence on imported fossil fuels is central to the current energy crisis in the UK. New clean electricity production will be critical to bringing down household energy costs and meeting ambitious climate goals. In the UK wind power can play a much bigger role but expansion requires planning reforms and revenue sharing, explains Stephen Jarvis.
April has brought with it a 54 per cent increase in energy bills for households across the UK. To make matters worse, another price hike of similar magnitude is anticipated in October. Escalating oil prices are also saddling drivers with higher costs at the pump. Even accounting for the short-term financial support provided by the Government, the burden placed on struggling household finances in the coming months will be severe and without further financial help, millions will be pushed into fuel poverty.
The immediate cause of this crisis is the sky-high price of natural gas and oil. Wholesale natural gas prices in the UK and Europe are now around four times the normal level seen over the past decade. This also has knock-on effects for the price of electricity, due to the important role of gas-fired power generation.
The short-term options for tackling spiralling energy costs remain limited. If anything, the crisis is likely to get worse before it gets better. Each day that the war in Ukraine grinds on only strengthens the case for Europe to be much bolder in cutting off its reliance on imported Russian oil and gas. But while the short-term situation remains fraught, the medium and long-term path forward could not be clearer. Reliance on volatile imported fossil fuels is the cause of this crisis, and so ending reliance on volatile imported fossil fuels is the solution.
More renewables are needed, and sooner, the current crisis shows
There have been calls in some quarters for policymakers to try to boost domestic oil and gas production. Such an approach seems misguided. While short-term efforts to source new imports of oil and liquefied natural gas may be necessary, it will be years before significant new domestic production can come online. Even if it does, the UK's dwindling reserves mean there is no hope of a return to the boom years of the eighties and nineties. Imports will continue to play an essential role in meeting oil and gas demand, and so energy prices will continue to be at the mercy of volatile global supplies. This is all to say nothing of the environmental folly of locking in continued dependence on dirty fossil fuels.
Instead, the current crisis is crying out for the rapid acceleration of efforts to shift towards cleaner, greener sources of energy. The UK already has an ambitious goal to reach net-zero greenhouse gas emissions across the economy by 2050. Meeting those goals while boosting energy security is a two-for-one deal that countries across the world should be jumping at.
Critical for achieving the transition away from fossil fuels is the complete decarbonisation of the electricity system, now slated to take place in the UK by 2035. Getting to a carbon-free grid is vital because it can support the electrification of all kinds of end uses that currently rely on fossil fuels, such as heat pumps for heating or electric vehicles for transportation. Switching these activities to run on clean, home-produced electricity reduces dependence on imported fossil fuels, bringing down household energy costs and reducing volatility for household budgets.
Breaking down barriers to increasing wind power
One of the UK's best hopes for weaning the electricity sector off fossil fuels is the rapid expansion of renewable power. Alongside a continued role for nuclear, the UK's largest source of domestic clean electricity is wind power. Wind already provides close to a quarter of the UK's electricity generation and is could provide as much as two-thirds by 2050. With electricity demand expected to grow substantially in the coming decades, electricity generation from wind will need to increase more than five-fold from current levels.
One of the largest barriers to the efficient deployment of additional wind power in the UK is the planning permission process. Fewer than half of the wind projects (onshore and offshore) proposed over the past three decades have received planning approval. Planning applications are also slow, taking an average of two years from submission to final decision. This is four times longer than for solar power projects.
Onshore wind has faced particular challenges. Planning changes in 2015 created a de facto moratorium on new onshore wind projects. The veto power this has given local planning authorities has probably taken an even greater toll than the cuts to subsidies that were made at the same time, not least because most wind projects are now so cheap that they no longer need any subsidies at all.
Even offshore wind, where government support has been more consistent, has not been immune to planning problems. The Norfolk Vanguard offshore wind project was successfully challenged over concerns about the impact the onshore cables and substations would have on the landscape. Ultimately the project was re-approved, but this case illustrates how the objection of a single resident can tie up a project set to power almost 2 million homes.
Considering local impacts in context
Concerns expressed by local residents are genuinely deserving of consideration, of course. For example, there is evidence from a range of studies that wind turbines adversely affect the property values of nearby residents, likely reflecting unwanted impacts on the view, or noise and shadow flicker from rotating turbines. Concerns have also long been raised about impacts on wildlife.
However, it is critical to place these local impacts in context. All large infrastructure projects – motorways, railways, airports or power plants – create impacts for local residents. In general, the local impacts of a wind project are concentrated on a small number of nearby residents. In aggregate these costs are often small in comparison with the substantial environmental and energy security benefits, particularly for larger projects.
Local planning authorities already pay particular attention to the impacts of these projects on nearby residents. In fact, for every additional £10 million in local property value costs that a wind project creates, the chance of getting approved by local planning officials goes down by 3 per cent. This appears to happen irrespective of the wider social benefits of these projects, such as their role in mitigating climate change or improving energy security.
That local officials pay attention to the interests of their constituents is not surprising, but narrowly defending the interests of a small number of residents does risk valuable projects being delayed or abandoned. Similarly, failing to coordinate deployment across different local authorities also leads to suboptimal siting of projects throughout the country. My own research indicates that the localised and fragmented nature of the UK's planning process has potentially increased the cost of the UK's deployment of wind power to date by £8–23 billion, or around 10–29 per cent.
Increasing support through planning reforms and revenue sharing
It is against this backdrop that the role of wind power in the UK's future energy strategy must be decided. Clearly reforms to the planning process are long overdue; particularly changes that allow more wind deployment to be coordinated and decided at a regional or national level. For instance, there are large gains from concentrating capacity at larger projects in the most productive areas but this kind of outcome is discouraged by existing planning guidelines.
If an accelerated rollout is to have broad support, though, local residents must meaningfully share in the benefits. Some steps have already been taken in the UK to ensure more tax revenues from renewable energy projects go to local authorities, and to encourage developers to establish community benefits schemes. But currently the financial gains nearby residents can expect from a new wind project are often small or uncertain. Making the provision of certain benefits mandatory could help alleviate locals' concerns and ensure less politically influential communities are not left behind. Those benefits could come from greater community ownership or even direct payments through discounts on residents' energy bills.
Rather than pursuing a second 'dash for gas', then, the true test of whether the UK can tackle the root cause of the current crisis will be whether it can pull off a new 'sprint for wind'. Combined with a redoubled effort to retrofit homes, install heat pumps and switch to electric vehicles, there is real promise that the energy sector of the future will no longer be beholden to the volatile fossil fuel markets that plague it today.
The views in this commentary are those of the author and do not necessarily represent those of the Grantham Research Institute.