A letter to the British Prime Minister from 100 members of the climate change research community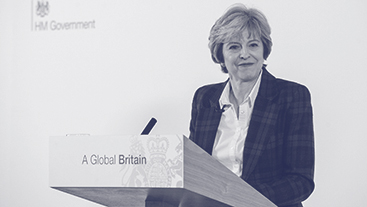 A letter from 100 members of the climate change research community in the UK has been sent to the Prime Minister, Theresa May, to highlight potential threats and opportunities from Donald Trump's election as President of the United States.
It warns that the President-Elect's administration could "severely weaken climate change research and data-gathering undertaken by federal organisations in the United States". This would, according to the signatories to the letter, "diminish the provision of robust and rigorous evidence that is used by policy-makers and researchers around the world, including in the United Kingdom".
The letter calls for the UK to "to respond decisively to these developments", and the signatories state: "We stand ready to support and assist our counterparts in the United States, as collaborators, co-authors and colleagues, in resisting any political attempts to prevent, hamper or interfere with vital research on climate change".
I signed the letter because of worrying signs that President-Elect Trump's administration, and their allies in the United States Congress, may be planning a purge of federally-funded climate researchers.
According to 'Scientific American' and other media in the United States, President-Elect Trump is being advised on space policy by a former Republican Congressman, Robert Walker.
Mr Walker co-authored an article in October 2016 which complained that the National Aeronautics and Space Administration (NASA) has been "largely reduced to a logistics agency concentrating on space station resupply and politically correct environmental monitoring". It argued that "NASA should be focused primarily on deep space activities rather than Earth-centric work that is better handled by other agencies".
This has been interpreted by some scientists as a threat to NASA's climate monitoring and research activities. Mr Walker has subsequently claimed that he does not want to shut down the research but only to move it out of NASA.
Further concerns about the fate of federally-funded research under President Trump have arisen from news that a member of his transition team had distributed a questionnaire seeking the names of all staff at the Department of Energy who have contributed to domestic and international policy-making on climate change.
The President-Elect's transition team subsequently claimed that the questionnaire had not been authorised. However, Mr Trump's choice as Energy Secretary is Rick Perry, the former Governor of Texas, who has previously pledged to abolish the Department that he is now set to lead.
Mr Trump's choices for other members of his administration do not inspire much confidence either. For instance, Scott Pruitt, Oklahoma's attorney general, is due to head the Environmental Protection Agency, but has criticised other States that have tried to discover whether ExxonMobil had privately accepted the risks of climate change while publicly denying them.
For his part, Mr Trump has said relatively little recently about climate change, except during an interview with 'The New York Times' shortly after his election.
While the claim that he has "an open mind" on climate change has been the subject of much hope-filled speculation, most of his statements displayed little more than confusion and misunderstanding.
For instance, Mr Trump wrongly claimed during the interview that "the hottest day ever was in 1890-something, 98". In fact, according to the World Meteorological Organization, the hottest temperature ever recorded was 56.7 Celsius degrees at Furnace Creek, Death Valley, California, on 10 July 1913.
Even more importantly, Mr Trump did not mention that 2016 replaced 2015 as the warmest year on record globally.
Another revealing statement in Mr Trump's interview was:
"I know we have, they say they have science on one side but then they also have those horrible emails that were sent between the scientists. Where was that, in Geneva or wherever five years ago? Terrible. Where they got caught, you know, so you see that and you say, what's this all about. I absolutely have an open mind."
This seems to be a garbled reference to the emails that were illegally hacked in 2009 from the Climatic Research Unit at the University of East Anglia in the UK.
Although climate change deniers falsely suggested the emails showed evidence of fraud by researchers, these were thoroughly debunked by several investigations, including the official independent inquiry commissioned by the University of East Anglia.
Mr Trump's statements indicate that he seems to have obtained most of his current knowledge about climate change from unreliable online sources, such as articles published by Breitbart, rather than from talking to America's best minds at the National Academy of Sciences.
Mr Trump was also asked by the newspaper if he intends to withdraw the United States from the Paris Agreement, which has now been ratified by 115 countries and entered into force on 5 November. He replied: "I'm going to take a look at it".
If Mr Trump decides, as many fear, to formally withdraw the United States from the Agreement, it would take until 4 November 2020, the day after the next Presidential election, to complete the process.
If he does so, Mr Trump's administration will be following the example set by the United States under the last Republican President, George W. Bush, by failing to honour an international commitment on climate change.
Mr Bush announced early in his presidency that the United States would not ratify the Kyoto Protocol, which President Clinton's administration signed in November 1998.
There were also many shocking examples of political interference with climate change research during Mr Bush's presidency.
For instance, Dr James Hansen, who was head of the NASA Goddard Institute for Space Studies, revealed in 2006 that the Bush administration had tried to prevent him from speaking publicly about climate change.
There was further controversy when it emerged that a member of Mr Bush's team, Philip Cooney, had been watering down reports about the evidence for climate change.
Mr Cooney subsequently left the Bush administration to join ExxonMobil. The oil company had attracted criticism after the disclosure that its senior lobbyist sent a memo the President Bush's Council on Environmental Quality calling for the removal of senior scientists from their positions because they had spoken publicly about the risks of climate change.
All of this suggests that the climate change research community in the UK should remain vigilant over potential attempts by Mr Trump's administration to harm the work of their counterparts in the United States.
Update – March 2017
Letter from Nick Hurd MP, Minister of State, 8 March 2017
Bob Ward is policy and communications director at the Grantham Research Institute on Climate Change and the Environment at the London School of economics and Political Science.