How does trade contribute to climate change and how can it advance climate action?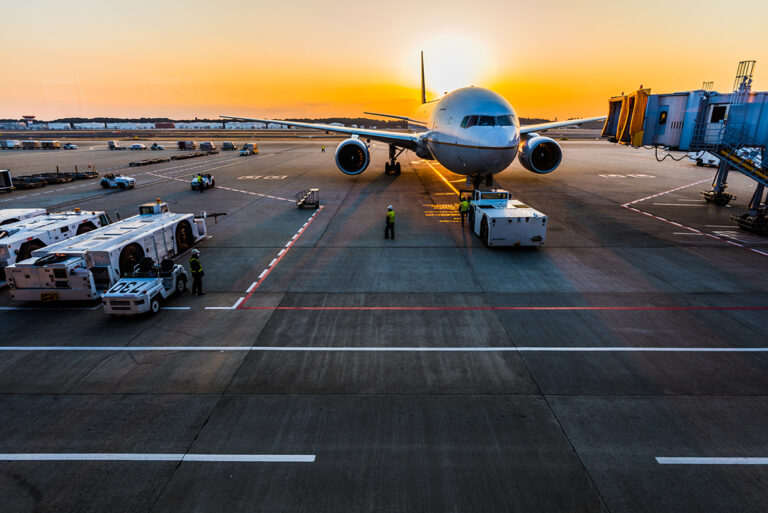 Trade is a significant generator of greenhouse gas emissions but it can also be harnessed to help reduce the cost of climate change mitigation and speed up the low-carbon transition. One aspect of this is to focus on reducing emissions from trade itself, notably the associated transport systems; but also, trade can facilitate the exchange of environmental goods and clean technologies such as renewables. At the same time, it is important to understand how climate policy affects trade and what further international cooperation and standards will be critical to ensure that trade is a positive, not a negative, influence on climate change action (this is covered in a separate Explainer).
Why is it important to reduce emissions from trade and how can this be achieved?
Around 20–30% of global CO2 emissions are associated with international trade and therefore it is important to reduce these emissions as part of wider efforts to mitigate climate change. The impacts of climate change also pose significant physical risks to trade and mitigating climate change is the best way to avoid these worsening significantly. Some of the risks can be managed in part by diversifying supply chains and building buffer stocks (for example, a company could source raw materials whose production can be affected by extreme weather from more than one region to spread the risk), but these strategies have their limits. Furthermore, such strategies would involve compromising on the fundamental building blocks of the modern trade system, whereby countries tend to specialise in economic sectors in which they have some comparative advantage and try to benefit from economies of scale and the optimisation of global value chains. Therefore, reaching global net zero and limiting temperature rise to well below 2°C, the goal of the Paris Agreement, is the most effective and sustainable strategy for protecting the global trade system.
Globalisation and the fragmentation of production processes have been important contributors to rising emissions due to increases in the transportation and disposal of goods as part of complex global value chains. More than 75% of the emissions embedded in international trade come from just a few sectors, including energy and transport. Freight transport can be decarbonised through sustainable aviation fuel, moving to lower-carbon modes of transport – including zero-emission vehicles on land and sea – and improvements in fleet efficiency. Such shifts require regulatory incentives and innovation, which in turn requires investment. Several countries have introduced initiatives to incentivise progress, including the ReFuelEU Aviation initiative launched as part of the EU's 'Fit for 55' package in 2021 and the US Sustainable Aviation Fuel Grand Challenge launched in 2022. Reducing the transport emissions associated with trade has added benefits for human health, as the transport sector is the biggest contributor globally to the most harmful fine particulate pollution. This form of air pollution is strongly linked to heart, brain, respiratory and lung diseases and many forms of cancer.
The large-scale availability of low-carbon transport will take time to achieve, especially in shipping and aviation. In the meantime as a complementary policy, efforts can be made to reduce the physical distances covered in the name of international trade through a focus on local and resilient production methods and the circular economy (in which there is more local reuse and recycling).
How can trade be used to advance decarbonisation of the global economy?
Trade itself can accelerate the diffusion, dissemination and deployment of clean technologies and low-carbon goods and services. By providing opportunities for economies of scale, efficiency improvements and access to the skills and knowledge, trade can be instrumental for creating and enhancing incentives for innovation in clean technologies and can support such innovations to be affordable and directed to where they are most needed – for instance, to manufacturing sectors in developing countries.
The solar energy industry demonstrates how international trade can accelerate the investment and innovation needed to deliver the low-carbon transition. Over the last decade, the deployment of solar photovoltaics has hugely increased while costs have significantly fallen. This is in large part thanks to global value chains that have made the industry more efficient by spreading the production of inputs (such as the silicon solar cells) widely across different regions, so that risk to any one constituent part is also spread. Further cost reductions have been made possible by economies of scale enabled by international trade. Breakthroughs in energy storage and transmission are now needed to facilitate the trade of solar and other renewable energy across countries and thus respond to the varying levels of energy supply and demand caused by the uneven nature of access to sunlight and wind.
This Explainer was written by Danae Kyriakopoulou with Georgina Kyriacou and Natalie Pearson.
See also:
How does climate change impact on international trade?
How do climate policy and carbon border adjustments affect international trade?
What are 'critical minerals' and what is their significance for climate change action?