Expert stakeholder workshop and round-table discussions with farmers on crop insurance and climate resilience in Maharashtra, India
To understand if and how interventions such as crop insurance support farmers' resilience it is important to include perceptions and subjective experiences of the farmers themselves.
The ERICI project is currently conducting field work in Maharashtra to investigate the resilience impact of insurance. During April 2019 several round-table discussions with farmers and an expert stakeholder workshop took place which collected different insights and perceptions on the role of insurance.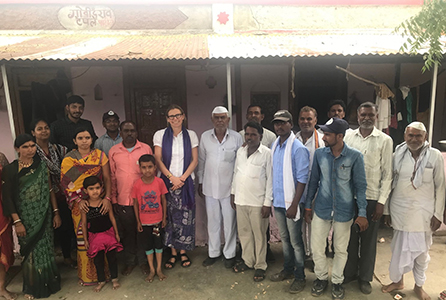 Context
Agricultural systems are extremely vulnerable to climate change, given their sensitivity to variations in temperature, precipitation and the occurrence of natural events and disasters such as droughts and floods. This is especially so in India, where the majority of the population is largely dependent on agriculture as a source of livelihood. In this context, it becomes imperative to adopt Climate-Resilient Agriculture measures at scale to address the current and future impact of climate change on agriculture. Resilient agriculture focuses on interventions aimed at enhancing the resilience of agricultural systems and the social systems that depend on them.
Resilience is commonly defined as the ability of a system and its component parts to anticipate, absorb, accommodate or recover from the effects of a hazardous event in a timely and efficient manner. This includes ensuring the preservation, restoration or improvement of the essential structures and functions of such systems.
Crop insurance is widely considered as a tool to boost the resilience of the farmers to the increased risk from droughts, floods and other climate related impacts. The government of India introduced Pradhan Mantri Bima Fasal Yojana (PMFBY) and Weather Based Crop Insurance Scheme (WBCIS) in India in 2016 to better manage the risks to agriculture from natural disasters and climate change and to increase the resilience of small and marginal farmers to the increasing impacts of climate change. As with any other insurance, crop loss insurance works on the idea of spreading risk across a large number of people exposed to the same risk – in this case, farmers. However, the evaluation of the impacts of insurance on resilience of farmers still lacks evidence on the ground.
In order to gather more evidence two meetings with farmers were conducted in the villages of Thigalkheda and Chandai Tepali in the Jalna district of Maharashtra, India. Around 25 farmers participated in each village meeting.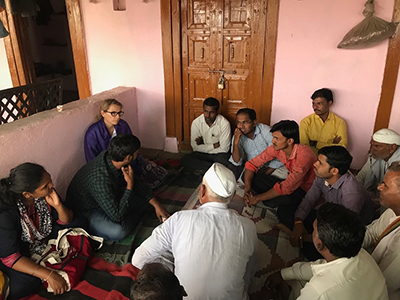 The Grantham Research Institute and Watershed Organisation Trust (WOTR) also organized a one-day workshop on crop insurance and resilience in Pune, India. The workshop included stakeholders from the crop insurance sector in Maharashtra as well as representatives from the Grantham Research Institute and Watershed Organisation Trust (WOTR). Led and moderated by Dr. Swenja Surminski from the Grantham Research Institute, with contributions from Dr. Architesh Panda (Grantham Research Institute), Arpan Golechha (WOTR) and Upasana Koli (WOTR), the workshop focused on resilience aspects of crop insurance in Maharashtra, India. It involved introducing the ERICI project to the participants and gathering insights from different stakeholders involved in insurance and resilience in Maharashtra. It also identified opportunities for linking insurance to long-term resilience in India. The main objective of the workshop was to explore the current role of insurance in resilience building in Maharashtra at farmer and community level through discussion with expert stakeholders.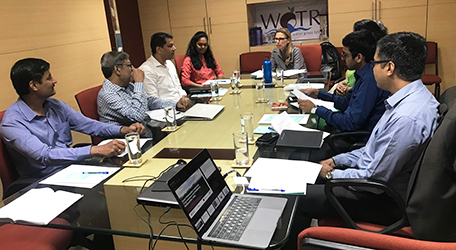 Initial observations
The definition of success for crop insurance schemes varies. Farmers, insurers and others involved in the design and implementation of insurance have different views on measuring the success of crop insurance schemes. Some see it is a welfare scheme, while others see it as a commercial product.
There has been limited end-user awareness about the insurance products in the region despite new rules to increase the budgetary allocation towards increasing awareness.
The payout amount is a key component but should not be the only criteria to judge the outcome of the crop insurance scheme. Speed of payout, use of payout and productivity of the payout are also relevant. Delay in insurance payout is a structural as well as budgetary and fiscal bottleneck.
Improved use of technology in measuring the loss, speeding up the process, and reducing hassle and transaction costs appear crucial for the future success of the crop insurance schemes.
There is currently very limited focus on how crop insurance can support longer-term adaptation and help farmers to address rising risks. Potential challenges in terms of insurance incentivizing a focus on cash-crops and the move away from more drought resilience traditional crops. There are also limited interactions between the insurance sector and farmers beyond loss/pay-out – this is an opportunity to be explored further.