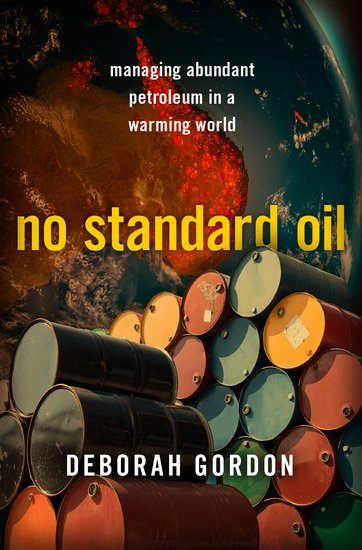 Deborah Gordon talks about her new book No Standard Oil. This is followed by a panel discussion and Q&A with the audience
In No Standard Oil, environmental policy expert Deborah Gordon examines the widely varying climate impacts of global oils and gases, and proposes solutions to cut greenhouse gas emissions in this sector while making sustainable progress in transitioning to a carbon-free energy future. The next decade will be decisive in the fight against climate change. It will be impossible to hold the planet to a 1.5o C temperature rise without controlling methane and CO2 emissions from the oil and gas sector. Contrary to popular belief, the world will not run out of these resources anytime soon. Consumers will continue to demand these abundant resources to fuel their cars, heat their homes, and produce everyday goods like shampoo, pajamas, and paint. But it is becoming more environmentally damaging to supply energy using technologies like fracking oil and liquefying gas. Policymakers, financial investors, environmental advocates, and citizens need to understand what oil and gas are doing to our climate to inform decision-making.

In No Standard Oil, Deborah Gordon shows that no two oils or gases are environmentally alike. Each has a distinct, quantifiable climate impact. While all oils and gases pollute, some are much worse for the climate than others. In clear, accessible language, Gordon explains the results of the Oil Climate Index Plus Gas (OCI+), an innovative, open source model that estimates global oil and gas emissions. She identifies the oils and gases from every region of the globe-along with the specific production, processing, and refining activities-that are the most harmful to the planet, and proposes innovative solutions to reduce their climate footprints. Global climate stabilization cannot afford to wait for oil and gas to run out. No Standard Oil shows how we can take immediate, practical steps to cut greenhouse gas emissions in the crucial oil and gas sector while making sustainable progress in transitioning to a carbon-free energy future.
Copies of No Standard Oil can be pre-ordered here
Deborah Gordon, Senior Principal, Climate Intelligence
Deborah Gordon is a Senior Principal in the Climate Intelligence Program at Rocky Mountain Institute where she is leading RMI's Oil and Gas Solutions Initiative. Deborah also serves as a senior fellow at the Watson Institute of International and Public Affairs at Brown University and the principal investigator for the Oil Climate Project. Her research has spearheaded the development of the Oil Climate Index Plus Gas (OCI+), a first-of-its-kind analytic tool that compares the lifecycle climate impacts of global oil and gas resources. Deborah Gordon is the former director of the Energy and Climate Program at the Carnegie Endowment for International Peace. Trained as a chemical engineer and policy analyst, she works on global oil and gas issues relating to climate change. After beginning her career with Chevron, Deborah managed an energy and environmental consulting practice, taught at the Yale School of Forestry and Environmental Studies, and directed the Energy Policy Program at the Union of Concerned Scientists. Deborah is currently a stakeholder in NASA's Carbon Monitoring System program, and she has testified before Congress and served on National Academy of Sciences panels.
Panel Discussion
Chair:
Simon Dietz is an environmental economist with particular interests in climate change and sustainable development. He has published research on a wide range of issues and works with governments, businesses and NGOs on topics of shared interest, such as carbon pricing, institutional investment, and insurance. Simon is based at the London School of Economics and Political Science (LSE), where he is Professor of Environmental Policy in the Grantham Research Institute on Climate Change and the Environment, and the Department of Geography and Environment. He is also co-editor of the Journal of the Association of Environmental and Resource Economists, Vice President of the European Association of Environmental and Resource Economists, a CESifo Research Network Fellow, a Principal consultant at Vivid Economics, a Fellow of the Royal Society of Arts, a Food Systems Economics Commissioner, and research lead for the Transition Pathway Initiative.
Panellists:
Dan Gardiner is a Climate Transition Specialist at the Institutional Investor Group on Climate Change (IIGCC) and a Technical Adviser for the Transition Pathway Initiative (TPI). Dan has been with TPI since 2018 and helped develop the methodologies it uses to assess the carbon performance of the oil and gas and mining sectors. He recently joined IIGCC to assist in the development of additional tools to help accelerate the transition to net zero. His background is as a sell-side equity analyst at numerous firms including Deutsche Bank and Arete.
Joule Bergerson, Associate Professor and Canada Research Chair in Energy Technology Assessment, University of Calgary. Dr. Bergerson's primary research interests are systems-level analysis for policy and decision making of energy system investment and management. The focus of her work is developing tools and frameworks for the assessment of prospective technology options and their policy implications from a life cycle perspective. To date, her work has addressed fossil fuel derived electricity, oil sands development, carbon capture and storage and renewable energy systems. Dr. Bergerson is the lead researcher for the Life Cycle Assessment of Oil Sands Technologies project, a collaborative project between the University of Calgary and the University of Toronto, with industry and government participants. The project's aim is to use modern hybrid life cycle assessment techniques to assess the economy-wide impacts, including greenhouse gas emissions, of current and proposed oil sands projects. These techniques will help prioritize research and development activities, by identifying technologies – or optimal combinations of technologies – that would provide particularly large life cycle benefits. An open source tool, PRELIM, was released in April, 2015, which has also been adopted as part of the Oil Climate Index (OCI). The OCI, developed by the Carnegie Endowment's Energy and Climate Program, Stanford University and the University of Calgary, is a first of its kind which compares crude oil resources around the world.
Register in advance for this webinar

After registering, you will receive a confirmation email containing information about joining the webinar.