Video - Human rights and climate change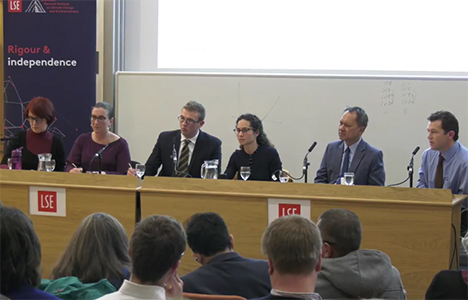 Hosted by the Grantham Research Institute on Climate Change and the Environment and LSE Law
An expert panel discussed the links between human rights and climate change, and whether rights-based climate change claims are one future path to spurring climate action.
Roberto Eugenio T Cadiz is a focal commissioner for Business and Human Rights, Environment and Sustainable Development Goals at the Commission on Human Rights of the Republic of the Philippines.
Dr Luke Harrington – Researcher and College Lecturer, University of Oxford.
Kristin Casper – Litigation Counsel for Greenpeace's Global Climate Justice and Liability Project at Greenpeace Canada.
– Download presentation slides
Annalisa Savaresi is a lecturer in Law, University of Stirling.
– Download presentation slides
Joana Setzer is a British Academy Postdoctoral Fellow, at the Grantham Research Institute on Climate Change and the Environment.
– Download presentation slides
Stephen Humphreys is an Associate Professor of International Law.
Twitter Hashtag for this event: #LSEclimatechange