Designing effective climate legislation - launch of World Bank reference guide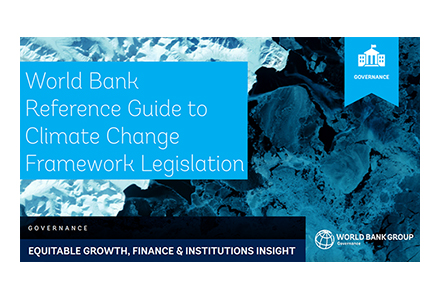 9:00AM – 10:30AM Washington DC
8:00AM – 9:30AM Mexico City
10:00AM – 11:30AM Santo Domingo
5:00PM – 6:30PM Nairobi
Action to address climate change requires coordination among multiple stakeholders and a capability to plan, implement, and sustain a credible commitment to increasingly ambitious policies over multiple political cycles. National climate change framework legislation can help meet this challenge. The event will launch the World Bank Reference Guide to Climate Change Framework Legislation. Effective framework legislation ensures that a country has a strong institutional architecture to govern actions on climate change.
This is a joint event of the World Bank and the Grantham Research Institute on Climate Change and the Environment at the London School of Economics and Political Sciences.
Based on a review of more than 30 countries, the Guide identifies 12 critical elements of climate framework legislation and provides links to good practice examples. The Guide is helpful for countries looking to adopt or amend climate change legislation. The event will provide participants with an understanding of the elements and an opportunity to hear from officials with practical experience drafting, passing and implementing climate change legislation.
Speakers
Introductory remarks
Bernice Van Bronkhorst
Global Director, Climate Change, World Bank
Ms. Van Bronkhorst, a Dutch national, joined the Bank in 2005 as an Urban Specialist in the Latin America and the Caribbean Region. She has since held various positions, including as Sector/Practice Manager from 2012-2016 for the Disaster Risk Management and Climate Change unit in the South Asia Region and, most recently, as Practice Manager for Urban Development and Disaster Risk Management for East and Southern Africa in the Social, Urban, Rural and Resilience GP. At present Global Director, Climate Change, she oversees the key strategic priorities and implementation of the Climate Change Action Plan, working closely with Climate Change Management team and staff, other Global Practices, and internal and external clients.
Moderator
Dr Alina Averchenkova Distinguished Policy Fellow, Grantham Research Institute – London School of Economics and Political Sciences
Dr. Averchenkova leads Governance and Legislation theme at the Grantham Research Institute at the LSE. Her recent work focuses on the experiences with national climate governance, climate and energy laws globally, and on policy credibility. Dr Averchenkova is co-author of the Reference Guide on Climate Change Framework Legislation. In 2019-2020 Alina served on the UK Secretary-General's expert group on climate finance. Prior to joining the LSE in 2013, Alina led strategic global initiatives on sustainable development at KPMG as a Global Director for Climate Change and Carbon; supported international climate change negotiations as a Programme Officer at the Secretariat of the UN Framework Convention on Climate Change. Prior to that working for First Climate, and for the Environmental Defense Fund and for the Russia's Bureau of Economic Analysis she focused on climate policy in economies in transition. Dr. Averchenkova holds a BSc in Geography from the Moscow State University, and an MSc and a PhD in Economics and International Development from the University of Bath.
Presenter
Nicholas Menzies
Senior Governance Specialist, World Bank
Nicholas Menzies is a Senior Governance Specialist in the Governance Global Practice at the World Bank. He has worked as a land and natural resources lawyer for indigenous communities in Australia, on legal empowerment and access to justice issues in Cambodia and in providing policy advice to the Papua New Guinean cabinet on participatory budgeting, micro-enterprise development and gender-based violence. Nicholas has also worked in progressive political advocacy, building social movements for political, cultural and environmental action. At the World Bank, Nicholas works on climate change and justice reform. Nicholas leads the Climate Change Governance Community of Practice. Nicholas is also a member of the Bank's Sexual Orientation and Gender Identity Task Force.
Discussant
Dr Marco Heredia
Climate Change Director, Secretariat of Environment and Natural Resources, Mexico
Dr. Marco Heredia has served as a public servant, in the Department of the Environment of the Federal District Government; in the Federal Attorney for Environmental Protection and the Ministry of Environment and Natural Resources. Internationally, he served as a Monitoring and Evaluation Officer, and as an Environmental Legislation Program Officer at the Commission for Environmental Cooperation in Montreal, Canada. He is Head of the General Coordination of Climate Change for the Evaluation of Mitigation and Adaptation Policies in the National Institute of Ecology and Climate Change, where he also serves as Technical Secretary of the Coordination of Evaluation, the body created by the General Law of Climate Change to carry out the evaluation of the National Climate Change Policy.
Dr. Heredia holds a Master and a Doctorate in Law from the National Autonomous University of Mexico (UNAM). Bachelor of English Teaching from the same university; Diploma in Public Policy Evaluation from the Center for Economic Research and Teaching. Graduated from the Diploma in Results-Based Budgeting from the Ministry of Finance and Public Credit; and the diploma in virtual environments and learning objects also by the UNAM.
Discussant
H.E Dr Wilber Ottichilo, Governor Vihiga County, Kenya
Dr. Wilbur Ottichilo was elected Member of Parliament for Emuhaya Constituency in Vihiga Country, Western Kenya in 2008. Prior to becoming Member of Parliament, from 2002-2008 he was Director General for the Regional Center Mapping of Resources for Development (RCMRD) an affiliate institution of the United Nations Economic Commission for Africa (UNECA) with the objective of building capacity in Geoinformation for Sustainable Development by applying modern Remote Sensing Technologies.
As a Member of Parliament, Dr. Ottichilo is a Committee Member of the Education, Science and Technology, a Parliamentary caucus on Renewable Energy and Climate Change. In the past 10 years in Parliament, he has introduced four Motions on Science, Technology and Innovation. He has worked with civil society organizations, government agencies and local communities to prepare Kenya's Climate Change Law.
Dr. Ottichilo has a PhD in Environmental Science from the Institute of Geo-Information and Earth Sciences in the Netherlands, with focus on using Remote Sensing in Environmental Assessment and Management.
Discussant
Alan Ramirez
Technical Director, National Council for Climate Change, Dominican Republic
Biographical details to follow shortly.
How to participate
Join via WebEx
Add to Calendar
Please note that you will need to have the WebEx app installed in order to join.
Meeting number: 180 513 0381
Meeting password: HgeJKpTu825